FISH MARKET • RESTAURANT • OYSTER BAR
3004 East Burnside Street • 971-806-6747
* MARKET OPEN 10AM–8PM EVERY DAY EXCEPT TUESDAY *
* RESTAURANT OPEN 11AM–8PM EVERY DAY EXCEPT TUESDAY *
(Both closed every Tuesday)
Please read our Covid-19 house rules HERE  •  We accept EBT/SNAP/Oregon Trail.
WE'RE OPEN / EVERYTHING MUST GO!
So yo, here's the story. With safety precautions and 
covid protocols
in effect and a team who takes this stuff very seriously because our livelihood depends on it, Flying Fish made it 19 months through a pandemic without a single scare. Well, earlier this week we had our first positive. On Tuesday (our weekly day of rest), we announced on Facebook and Instagram that one of our kitchen team members tested positive for covid, and as a precaution, we closed the restaurant until our staff could test negative. That's happened and is happening, and we will reopen the restaurant TODAY AT 4PM and resume regular hours this weekend. We wish our staffer a speedy recovery and look forward to their safe return to work. Just wanted you to know. This sort of urgent(ish) midweek announcement is a good reason to follow us on social media 
@flyingfishpdx
: 
FB
 & 
IG
.
---
EAST COAST OYSTER FIRE SALE!
Because of the paragraph above, we have a surplus of oysters and we want you to have em. East Coast oysters at cost – $1.25/per. Get em while you can, they'll be gone in a jiffy. But! We also have the regularly priced oysters as usual, which you can read all about just below, along with this week's fresh fish and shellfish.
---
NATIONAL SEAFOOD MONTH, HOORAY!
Hot diggity dawg, with two full days left in October, we bid YOU a happy National Seafood Month, something you might imagine is near and dear to our hearts. (We just heard of it too, but we celebrate, okay?) And for the occasion, Captain Lyf Gildersleeve has penned his latest blog post, one in honor of the hard-working people on the boats and in the shops that make our industry go round, and most importantly, survive these zany times. The post is made in partnership with the Marine Fish Conservation Network – have a look at it HERE.
---
TINS FOR THE WIN
Why, it was just last week that this very email was singing the praises of tinned fish – the very varieties sold on the shelves inside our shop. And heckin' A, we noticed Portland Mercury's 2021 Food & Drink Guide (shoutout to the Eating Sustainably subtitle!) had a whole feature on tinned fish. And there we are! Indeed, we have Patagonia Provisions mussels in a red pepper broth, among other fine selections from the Basque to the Puget. Inquire within. (Thanks, Mercury!)
---
FLYING FISH FOR THE WIN
While we're tooting horns (TOOT TOOT), shoutout to KGW News for covering last week's Battle of the Chefs in Beaverton, which pitted Ringside, El Gaucho, Rex Hill Winery and others in a pro-am cookoff with an appetizer, side dish, dessert, and cocktail. We encourage you to watch that video linked here, but SPOILER ALERT FLYING FISH WON!!!
---
TURKEY TIME A COMING – ONLY 20 AVAILABLE!
Okay! Thanksgiving is officially less than a month away, so you better  get on that turkey reservation! We've got 20 beautiful birds reserved from our buds at Totum Farm. They're $8.99/lb for healthy, free range, non-GMO turkeys and all we need is a $20 deposit to hold one for you. Email Lyf – oregonfreshfish@gmail.com – and he'll send you an invoice to get you squared away.
---
The CHEFSHACK is almost ready! Stay tuned for the new thing on the patio. And as for right now? By god let's finally talk some fresh fish.
FISHES FOR YOUR DISHES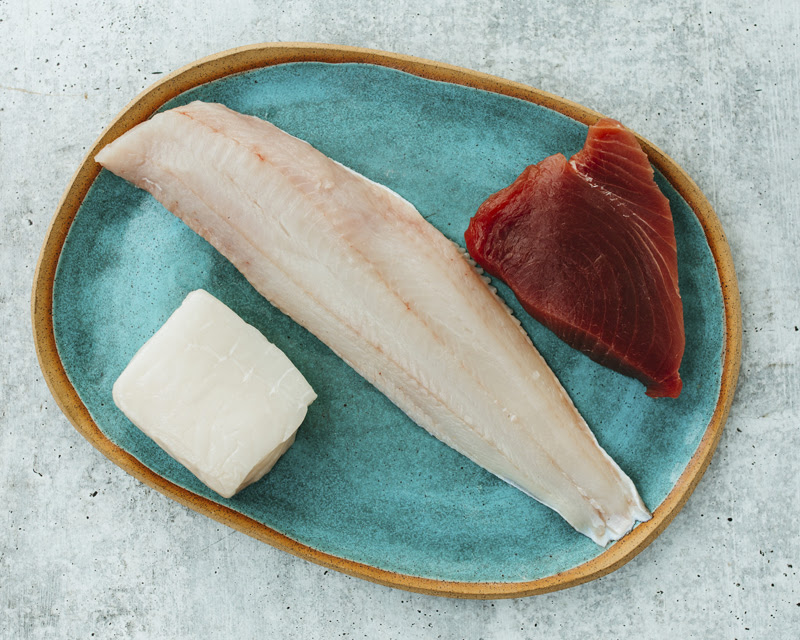 Okay okay, we know there were a lot of words in the purple section, so let's keep the next few sections rather business-like, shall we? First, a newsletter writer thank you to Natalie Gildersleeve and Matthew Domingo for their continued excellence in seafood photography. Secondly, this week's featured fresh fish list is a nine spot, a World Series starting lineup of freshness heavy on the Northwest, a touch of sushi-grade Hawaii, and the rocksteady farmed fish we love to stand by. Holler.
FRESH FISH AS OF FRIDAY OCTOBER 29TH
Black Cod/Sablefish – wild, Pacific Ocean (Oregon)
Branzino – sustainable farm-raised, Greece
Halibut – wild, Pacific Ocean (Alaska)
Ono* – wild, Pacific Ocean (Hawaii)
Ora King Salmon*- sustainable farm-raised, New Zealand
Rockfish – wild, Pacific Ocean (Oregon)
Steelhead – sustainable farm-raised, Washington
Swordfish – wild, Pacific Ocean (Hawaii)
Yellowfin Ahi Tuna* – wild, Pacific Ocean (Hawaii)
* – Sushi-grade fish
OYSTERS HEY, OYSTERS HO
Oysters YAY, that's fo sho. That's just this week's little oyster jingle. Stick around this newsletter long enough and you'll learn all our songs, which is kind of a feat since they're all made up. Look at you, that's impressive! This week's oyster list does a double dip on that coldwater Alaska brine, first, one of our favorites, Hump Island (giggle) which is named that not for some lewd connotation, jeez, but for the inventor of the phrase "Happy Hump Day." Wow, cool huh? #themoreyouknow
More importantly, the oyster board would like to extend a warm welcome to SALTY LADY SEAFOOD COMPANY! This Juneau-based, woman-owned family business who Lyf connected with in the Flying Fish Alaska trip over the summer just obtained a license to ship her oysters. And friends, we've got em. Introducing SWEET PETITES from Salty Lady in Alaska. Come try some? (PS Check out this cool video featuring Salty Lady on Youtube HERE.)
FRESH OYSTERS AS OF
FRIDAY OCTOBER 29TH
Baywater Sweets – Washington
Crescent Moon – Washington
Eld Inlet – Washington
Hama Hama – Washington
Hump Island (GIGGLE) – Alaska
Mr Bill – Massachusetts
Petit Manan – Maine
Sweet Petite – Alaska
Whaleback – Maine
THE MAINE ATTRACTION
"Wicked good lobstah." —Famous New England stereotype
Just checking in with a product we don't ALWAYS have, but it's not unusual FOR us to have it – like right now. We sometimes have 
Lobster Tails
 tag along on our east coast order, and listen, they are fantastic. They're flash frozen shortly after harvest to lock in the flavor of the cold Atlantic off the coast of Maine. The photo above? Yes, it is a file photo that is not necessarily lobster tail, but it is partly lobster tail. And it is a reason to shout out the other Portland — nay, the ORIGINAL Portland (let's be real, Portland, Oregon) — and its most delectable export. When you're in Portland, Maine, do stop by Becky's diner for the best dang lobster roll you will eat, get the duck fat fries, and DO pair it with a fresh poured Bissell Brothers Substance Ale. Okay? Okay.
FRESH* SHELLFISH AS OF FRIDAY OCTOBER 29TH
Savory Clams – sustainable farm-raised, Washington
Manila Clams – sustainable farm-raised, Washington
Mussels – sustainable farm-raised, Washington
Sea Scallops – wild, Atlantic Ocean (Massachusetts)
Lobster Tails – wild, Maine – FROZEN
* – except the one that's frozen
OUR FALL RESTAURANT MENU
For dining here or to-go. Menu update October 2021.
CLICK MENU TO ORDER ONLINE FOR PICKUP:
ALSO: Cocktails, sake, wine, and beer for dining onsite. Inquire within.
FLYING FISH SIGNOFF & DISCLAIMER
PLEASE NOTE: This email was accurate at the time of its weekly writing. Some products come and go quicker than others, so for best results on the freshness, follow us on the social medias: Facebook, Instagram, and Twitter. And tag us in your Instagram pics @flyingfishpdx – we love seeing your food pics!
Cheers,
Lyf Gildersleeve and the Flying Fish Team: Alana, Boo-boo, Chris, Danny, Elowynn, Erik, Erin, Gabby, Isabelle, Jack, Jae, Jesse, Jordan, Kenneth, Kevin, Luis, Mad Dog, Madeline, Mike, Neebs, Ross, Ryan P, Ryan S, Sam, Sarah, Sawyer, Trever, Wyatt, and Brad
INSTAGRAM JAM OF THE WEEK
Good ol' @georgiesgardens, always making us and his other foods look so pretty.
ABOUT FLYING FISH
Craig and Sandy Gildersleeve opened Flying Fish Company in Sandpoint, Idaho in 1979 – the year before their son Lyf was born.
Now president of Flying Fish Company, Lyf has spent his entire life around fish, including an aquaculture education at the Harbor Branch Oceanographic Institute at Florida Atlantic University.
Flying Fish has three locations: Sandpoint, Idaho; Durango, Colorado; and Portland, Oregon. The Portland location opened in 2009 as a food cart at the D Street pod on Division Street. In 2011, we opened the fish shack on Hawthorne Boulevard. In 2016, we moved into a stand at Providore Fine Foods on Sandy Boulevard. In February 2020, we opened our standalone location on East Burnside with a restaurant and a patio.
* * *
Thank you for supporting our family-owned business. 
—Lyf, Natalie, Juniper, and Miles Gildersleeve (and Hazel the Dog)
* * *
PHOTO BY NATALIE GILDERSLEEVE PHOTOGRAPHY: Kids on a ferry.
Copyright © 2021 Flying Fish Company, All rights reserved.
Our mailing address is:
Flying Fish Company
3004 E Burnside St
Portland, OR 97214-1950