FISH MARKET • RESTAURANT • OYSTER BAR
3004 East Burnside Street • 971-806-6747
OUR HOURS
MARKET: 10am–8pm every day except Tuesday
RESTAURANT: 11am–8pm every day except Tuesday (walk-in only, no reservations)
CHEF SHACK: 1–8pm Friday–Sunday
HAPPY HOUR: 3–5pm every day except Tuesdays & holidays
TUESDAY: CLOSED
HEADS UP: We'll be closed on Monday, April 11th for a staff retreat.
Please read our Covid-19 house rules HERE  •  We accept EBT/SNAP/Oregon Trail.
LOCAL O CHEF SHACK DOUBLE SHOT WEEKEND:
We've nothing to add to this caption – the menu says it all.
Tonight and tomorrow, the Chef Shack is bringing the NEWPORT NEWS. 
Local Ocean
, Newport's steadfast dockside grill and fish market, is coming north for a two-day takeover of our patio-beer garden-food cart weekend scene. That's Chef Enrique Sanchez-Rodriguez on the right, dishing up the goods, and he's bringing Issie, Tony, and a player to be named later for the occasion. Just look at that menu above.
LocalO is here tomorrow and Sunday, 1–8pm, with Chef Trever slinging his stuff today. Also, we had a little rearrangement on the music menu and our buds Lapado & Mann are back in action, 4ish to 7ish tomorrow.
UPCOMING CHEF SHACK CHEFS
UPCOMING CHEF SHACK MUSIC
See more HERE.
---
---
THIS EARTH DAY, DEFEND OUR OCEANS
Mark your calendars! Earth Day is Friday 4/22/22, and for the occasion, the good captain Lyf is teaming up with Taylor Shellfish, Reef Renewal Curaçao, and Saildrone to Defend Our Future and talk fishery policy and seafood economy. And we'll be joined by Congresswoman Suzanne Bonamici, whose 1st Congressional District reaches from Forest Park to Cannon Beach. It's 10–11:30am three weeks from today, online, so you can have us open in a background window while you're "working." It's free, and there's a raffle at the end. SIGN UP HERE.
---
---
EARTH DAY IN ADVANCE
NEXT SATURDAY, April 9th, 
join us at the coast for Surfrider Portland's Oswald West Action Day. Surfrider's organized a wonderful morning of service including beach and trail cleanup, beach restoration and more. A feelgood Saturday at the coast? Can't beat it. DETAILS AND SIGNUP HERE.
---
---
FLYING FISH FIELD TRIPS • 2022 CALENDAR
REMAINING SEATS AVAILABLE: 
Thursday May 5th: Oregon Coast nearshore rockfish fishing trip • DETAILS & SIGNUP • 4 SPOTS LEFT
Monday July 17th – Thursday July 21st: Hells Canyon rafting trip. With Portland Food Adventures & Canyon Outfitters • DETAILS & SIGNUP • 4 SPOTS LEFT


 

Monday October 24th – Friday October 28th: Mexico fishing trip. Puerto Vallarta day trips • DETAILS & SIGNUP • 5 SPOTS LEFT

Sunday November 13th – Friday November 18th: Mexico fishing trip: Special trip to Islas Marias for giant tuna • DETAILS & SIGNUP • 3 SPOTS LEFT
HEY LOOK, CHINOOK
You're gonna need a bigger tray • Photo by Natalie
Last week's big news heralded in wild Pacific Halibut, fresh and direct from Alaska. This week? The King is back. Ocean 
Chinook Salmon
 (or King Salmon if you're using marketplace terminology anywhere outside of the Pacific Northwest) season is now OPEN on the Oregon Coast. Come get some big bois, we've got em all filleted and ready for your grill. It's gonna be sunny and 60º tomorrow – ain't that salmon grillin' weather?
And hey, if you're Catholic or even Catholic curious, you'll be happy to know that, including today, there are still three Fish Fridays before Easter. Honestly every Friday is Fish Friday, but let's go hard these next few weeks, shall we? We got more than enough for you to mix it up. Like such as?
FRESH FISH AS OF FRIDAY APRIL 1ST
Ahi/Bigeye Tuna* – wild, Pacific Ocean (Hawaii) – fillets
Black Cod/Sablefish – wild, Pacific Ocean (Oregon) – fillets
Branzino – sustainable farm-raised, Greece – whole fish
Chinook Salmon – wild, Pacific Ocean (Oregon) – fillets
Halibut – wild, Pacific Ocean (Alaska) – fillets
Ono/Wahoo* – wild, Pacific Ocean (Hawaii) – fillets
Ora King Salmon* – sustainable farm-raised, New Zealand – fillets
Petrale Sole – wild, Pacific Ocean (Oregon) – fillets →
Rainbow Trout – sustainable farm-raised, Washington – whole fish
Rockfish – wild, Pacific Ocean (Oregon) – fillets
Steelhead – sustainable farm-raised, Washington – fillets
Swordfish – wild, Pacific Ocean (Hawaii) – fillets
Tombo/Albacore Tuna* – wild, Pacific Ocean (Hawaii) – fillets
* – Sushi-grade fish
SHUCKIN' ON THAT NEW NEW

Need a shuckin' knife? We gotchu. Photo by Dylan.
Shuckin' on that new new. Shuckin' on that nunu? 
(ˈnuːnuː) noun. Egyptian Religion. a god personifying the ocean, the primeval chaos from which the world was formed.
WHOA. 
Enjoy these fresh selections of god personifying the ocean, the primeval chaos from which the world was formed. Including the new new: Quilcenes and Stretch Islands, two two new new nunus outta Washington, what what.
FRESH OYSTERS AS OF FRIDAY APRIL 1ST
Baywater Sweet – Washington
Chelsea Gem – Washington
Fin de la Baie – New Brunswick
Hama Hama – Washington
Los Rucos – Washington
Netarts – Oregon
Northern Belle – Prince Edward Island
Quilcene – Washington
Sand Dune Select – Prince Edward Island
Stretch Island – Washington
Tidepoint – Washington
Nanu nanu.
THE CLAM SECTION IS PURPLE LIKE THE CLAMS
Savory Clams with the Purple Varnish. Purple Varnish Clams that taste so savory. Non-native SOBs takin' up space Manilas need. We're doing our part to clear em out – and they're a little cheaper than the Manilas to help you help us too. Our friend Kathleen made 
this writeup
 a few years ago that fleshes out the deal with Savory Clams – invasive but delicious. Scoop some today?
ALSO, this late addition to email and list: Bell Buoy Razor Clams!
FRESH SHELLFISH AS OF FRIDAY APRIL 1ST
Bell Buoy Razor Clams – wild, Oregon Coast
Manila Clams – sustainable farm-raised, Washington
Mussels – sustainable farm-raised, Washington
Savory Clams – sustainable farm-raised, Washington
Shucked oysters in a jar
WICKED GOOD FROZEN & PREPARED PRODUCTS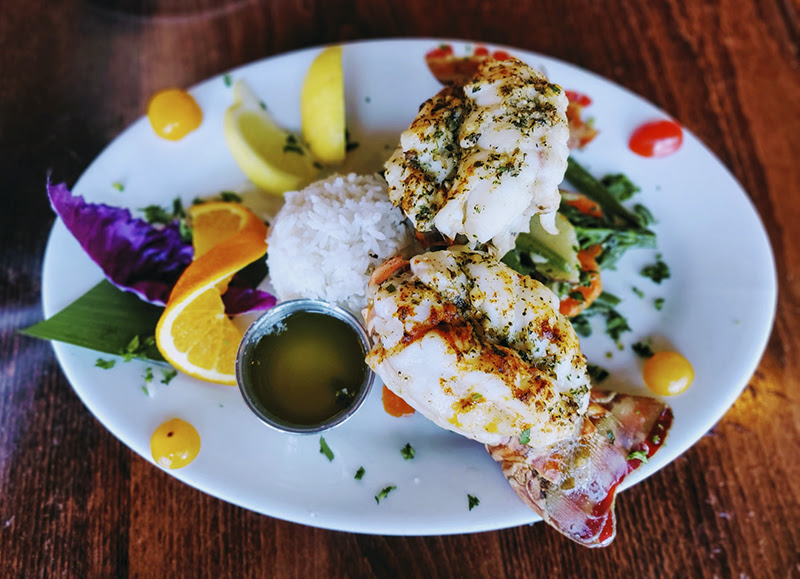 Maine Lobster / Lain Mobster
They sure speak funny in that 
other
 original Portland, where they pick big bugs from the sea floor, boil em, dip em in melted butter, and call em WICKED GOOD. What started as simple and practical has become decadent, and we know from decadence, having dabbled in it since Mötley Crüe's greatest hits album that came out exactly three weeks after 
Nevermind
 did. Ouch. Well this decade of decadence comes flash frozen from Maine: premium lobster tails with the flavor sealed and in need of only an overnight on a plate in your fridge. 
Whoa. Yeah. Baaaaaaaby.
And here, before the list of prepared and frozen products, is a generic reminder to always check the coolers for the latest and greatest dishes of fishes, including house smoked hunks from our house smokin' hunks.
PREPARED PRODUCTS TO GO AS OF FRIDAY APRIL 1ST
Cold Smoked Ora King Salmon
Dulse Seaweed
Grab n Go Pokeº
House Smoked Fishesº →
Smoked Salmon Dipº
Smoked Whitefish Dipº
Sushi Style Pickled Ginger
º – Flying Fish house-made products
SELECT FROZEN PRODUCTS AS OF FRIDAY APRIL 1ST
Alaskan Sablefish
Alaskan Spot Prawns
Copper River Sockeye Salmon
Ikura
Masago
Mexican Blue Shrimp Easy Peel and Peeled & Deveined
Octopus
Oregon Bay Shrimp
Premium Lobster Tails
Salt Cod
Tobiko
Weathervane Scallops
OUR RESTAURANT MENU
For dining here or to-go.
CLICK MENU TO ORDER ONLINE FOR PICKUP:
ALSO: Cocktails, sake, wine, and beer for dining onsite. Inquire within.
FLYING FISH DISCLOSURE
PLEASE NOTE: This email was accurate at the time of its weekly writing. Some products come and go quicker than others, so for best results on the freshness, follow us on the social medias: Facebook, Instagram, and Twitter. And tag us in your Instagram pics @flyingfishpdx – we love seeing your food pics!
---
Cheers,
Lyf and the Flying Fish Team: Alana, Alex, Alina, Boo-boo, Chris, Danny, Ellison, Elowynn, Erik, Gabby, Jack, Jae, Jordan, Kenneth, Kevin, Luis, Madeline, Mike, Neebs, Owen, Ross, Ryan P, Ryan S, Sam, Sawyer, Shannon, Trever, Wyatt, and Brad
Lyf Gildersleeve: Owner, Chief Fishmonger
Erik Englund: Culinary Director
Danny Atkins: Sous Chef
Jack Bressoud: General Manager
Ross Richardson: Beverage Director
Genevieve "Boo-Boo" Jen: Operations Manager
Sam Moser: Oyster Bar Manager
Sawyer Lovell: Fish Market Manager
Alana Ginster: Assistant Manager
Trever Gilbert: Chef Shack Executive Chef
FLYING FISH, FAMILY OWNED SINCE 1979
Craig and Sandy Gildersleeve opened Flying Fish Company in Sandpoint, Idaho in 1979. The next year, their son Lyf was born into the family business. Now president of Flying Fish, Lyf has spent his entire life around fish, including an aquaculture education at the Harbor Branch Oceanographic Institute at Florida Atlantic University.
Lyf opened Flying Fish in Portland in 2010 as a food cart at the D Street Noshery on Division Street. In 2011, we opened the fish shack at Kruger's Farm Market on Hawthorne Boulevard. In 2016, we moved into a stand at Providore Fine Foods on Sandy Boulevard. And in February 2020, we opened our standalone location on East Burnside with a restaurant and patio, and in January 2022 we added the Chef Shack.
Flying Fish has sister locations in Sandpoint, Idaho and Durango, Colorado.
* * *
Thank you for supporting our family-owned business. 
—Lyf, Natalie, Juniper, and Miles Gildersleeve (and Hazel the Dog)
* * *
PHOTO BY NATALIE GILDERSLEEVE PHOTOGRAPHY: Spring breakers.
Copyright © 2022 Flying Fish Company, All rights reserved.
Our mailing address is:
Flying Fish Company
3004 E Burnside St
Portland, OR 97214-1950