FISH MARKET • RESTAURANT • OYSTER BAR
3004 East Burnside Street • 971-806-6747
* MARKET OPEN 10AM–8PM EVERY DAY EXCEPT TUESDAY *
* RESTAURANT OPEN 11AM–8PM EVERY DAY EXCEPT TUESDAY *
(Both closed every Tuesday)
Please read our Covid-19 house rules HERE  •  We accept EBT/SNAP/Oregon Trail.
ENTERTAINING ON THE PATIO
Fire it up. The new and improved Flying Fish patio. 
Greetings and salutations from your friends at Flying Fish Company, where every day is Small Business Saturday®. Hope you're well. A quick roundup of notes to say…
HAPPY HOUR: Every day on the patio, 3–5pm. Drink specials and $2 oysters. Yep.
CHEFSHACK COMING: Our in-house patio-side food cart is under construction, target operation mid-December. It's gonna rule.
PATIO TENTS: Our main patio tent has been upgraded. A separate one specifically for the beer garden is en route. Things are looking up.
LIVE MUSIC: It happens on the very patio pictured and mentioned above, and this week it features the handsome gentlemen on the right. We're stoked to have Lapado & Mann in the house tomorrow, 5pm showtime.
---
SPECIAL ORDER FOR THE HOLIDAYS
When you've finished working your way through your Thanksgiving leftovers, get out ahead of your holiday spreads. Use this SPECIAL ORDER FORM for special orders of beef, lobster, caviar, fish, et cetera.
GET WHOLE AGAIN
Whole Black Cod, that is. Sablefish. On ice.
Just a quick fishmonger note from this fish market that is called Flying Fish: We regularly have whole fish available, which we try to note in the list below. The list which, as noted in each email, is accurate at the time of its creation in the year, usually on a Friday morning out ahead of the weekend. As always, for best results, stop on in. At the time of this writing, we have whole 
Black Cod/Sablefish
, as pictured above on ice, and whole Branzino. Imagine the possibilities. Wow.
FRESH FISH AS OF FRIDAY NOVEMBER 26TH
Ahi/Bigeye Tuna* – wild, Pacific Ocean (Hawaii)
Black Cod/Sablefish – wild, Pacific Ocean (Oregon) – whole fish
Branzino – sustainable farm-raised, Greece – whole fish
Halibut – wild, Pacific Ocean (Alaska)
Ono/Wahoo* – wild, Pacific Ocean (Hawaii)
Ora King Salmon* – sustainable farm-raised, New Zealand
Petrale Sole – wild, Pacific Ocean (Oregon)
Rockfish – wild, Pacific Ocean (Oregon)
Steelhead – sustainable farm-raised, Washington
True Cod – wild, Iceland
* – Sushi-grade fish
EASTERN FEASTER
I'm Poppa Large, big shot on the East Coast. Photo by Natalie.
And by Poppa Large, we mean Mr Bill. Mr Bill is Poppa Large, and he brings a message from the East Coast: It's the end of the season for Mr Bill oysters, so those of you who've developed a taste for this power packed Massachusetts flavor sensation better git on it, this is the last we'll have of these for a while.
FRESH OYSTERS AS OF FRIDAY NOVEMBER 26TH
Bass Point – Massachusetts.
Baywater Indigo – Washington
Mere Point – Maine
Mr Bill – Massachusetts – LAST OF SEASON
Petit Manan – Maine
Tidepoint – Washington
Whaleback – Maine
CHOWDAH SZN
Thicc chowder, thicc picc • Natalie photo • Matthew styling • Order from our menu or try this at home
It's cool, damp, dark season. Up your chowder intake. Warm it up, Kris.
 I'm about to. 
FRESH SHELLFISH AS OF FRIDAY NOVEMBER 26TH
Dungeness Crab – wild, Pacific Coast (Oregon)
Manila Clam – sustainable farm-raised, Washington
Mussels – sustainable farm-raised, Washington
Savory Clam – sustainable farm-raised, Washington
Scallops – wild, Atlantic Ocean (Massachusetts)
THE MEAT SECTION FEATURES A BURGUNDY PALETTE
Steak em up
It's cool, damp, dark season. Up your protein. Grill when it's misting out. Make that fragrant white smoke on purpose. Meat fragrant.  Steak fragrant. 
Ribeye 
fragrant
.
FRESH MEAT AS OF FRIDAY NOVEMBER 26TH
BACON: Niman Ranch – California
GROUND BEEF: Laney Family Farms – Canby, Oregon
RIBEYE: Painted Hills Natural Beef – John Day, Oregon
EGGS: Odyssey Hill Farm – Salem, Oregon
CASE SO FREEZY
A friendly reminder for visitors of the fish market to check the freezer. Pictured here, Ahi, the Bigeye Tuna we have sushi-grade fresh AND frozen (with which you also can make sushi, obvs). We've got it for now, we've got it for later. We've got it.
FREEZER SELECTIONS AS OF FRIDAY, NOVEMBER 26TH
Ahi/Bigeye Tuna
Bay Shrimp
Calamari
Copper River Sockeye Salmon
Halibut Cheeks
Ikura
Octopus
Mexican Blue Shrimp (U-15)
Salmon
Salt Cod
Tobiko
Weathervane Scallops (Alaska)
OUR RESTAURANT MENU
For dining here or to-go. Menu updated October 2021.
CLICK MENU TO ORDER ONLINE FOR PICKUP: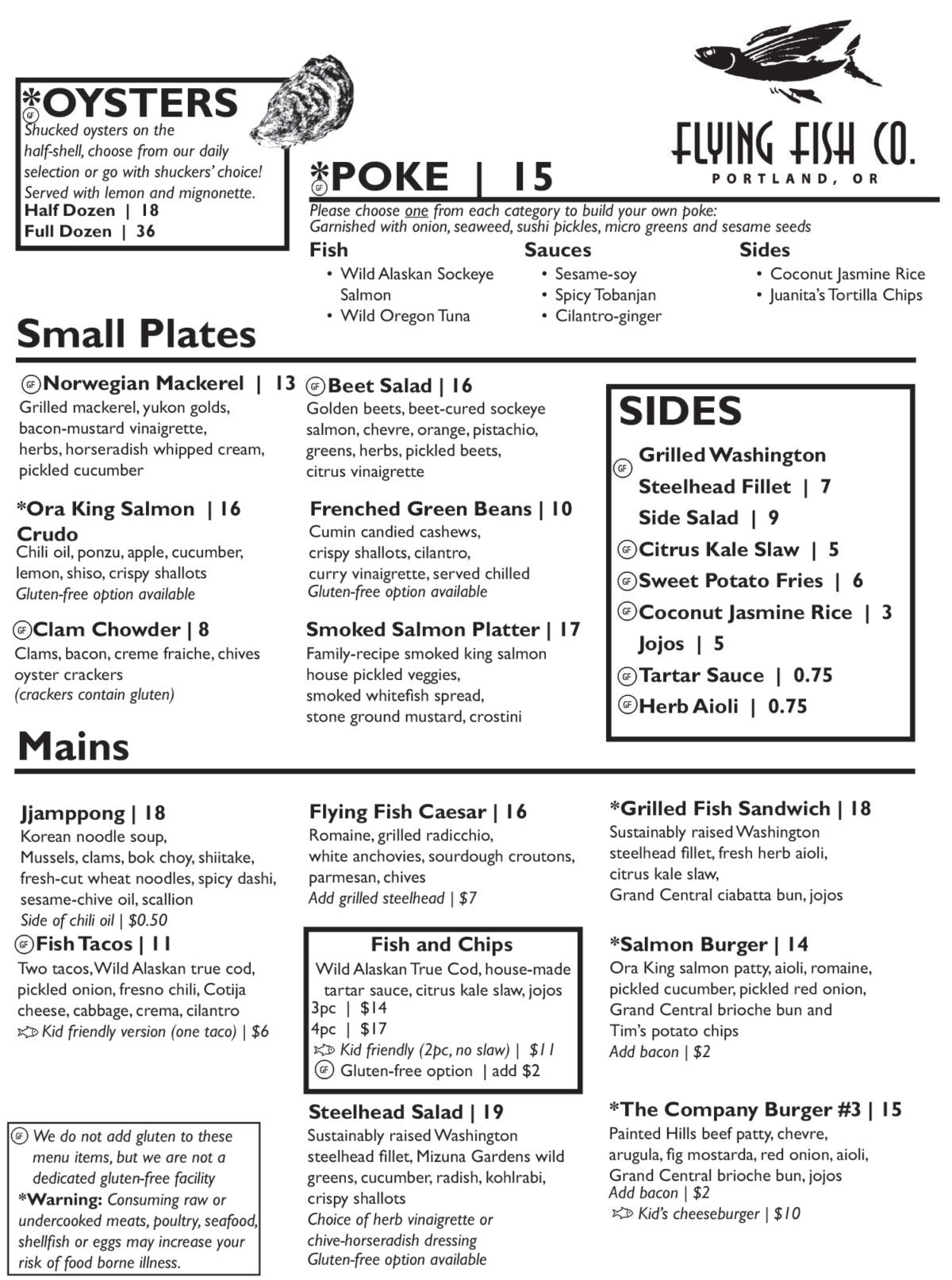 ALSO: Cocktails, sake, wine, and beer for dining onsite. Inquire within.
FLYING FISH SIGNOFF & DISCLAIMER
PLEASE NOTE: This email was accurate at the time of its weekly writing. Some products come and go quicker than others, so for best results on the freshness, follow us on the social medias: Facebook, Instagram, and Twitter. And tag us in your Instagram pics @flyingfishpdx – we love seeing your food pics!
Cheers,
Lyf Gildersleeve and the Flying Fish Team: Alana, Boo-boo, Chris, Danny, Elowynn, Erik, Erin, Gabby, Isabelle, Jack, Jae, Jesse, Jordan, Kenneth, Kevin, Luis, Mad Dog, Madeline, Mike, Neebs, Ross, Ryan P, Ryan S, Sam, Sarah, Sawyer, Trever, Wyatt, and Brad
INSTAGRAM JJAM OF THE WEEK
Big shoutout to everyone who came crabbing with us and Captain Bob last week on the Columbia – especially @allyzonnn for this pic that gets right to the good stuff.
ABOUT FLYING FISH
Craig and Sandy Gildersleeve opened Flying Fish Company in Sandpoint, Idaho in 1979 – the year before their son Lyf was born.
Now president of Flying Fish Company, Lyf has spent his entire life around fish, including an aquaculture education at the Harbor Branch Oceanographic Institute at Florida Atlantic University.
Flying Fish has three locations: Sandpoint, Idaho; Durango, Colorado; and Portland, Oregon. The Portland location opened in 2009 as a food cart at the D Street pod on Division Street. In 2011, we opened the fish shack on Hawthorne Boulevard. In 2016, we moved into a stand at Providore Fine Foods on Sandy Boulevard. In February 2020, we opened our standalone location on East Burnside with a restaurant and a patio.
* * *
Thank you for supporting our family-owned business. 
—Lyf, Natalie, Juniper, and Miles Gildersleeve (and Hazel the Dog)
* * *
PHOTO BY NATALIE GILDERSLEEVE PHOTOGRAPHY: From our family to yours: Happy Thanksgiving.
Copyright © 2021 Flying Fish Company, All rights reserved.
You are receiving this email because you opted in via our website.

Our mailing address is:

Flying Fish Company

3004 E Burnside St

Portland, OR 97214-1950