FISH MARKET • RESTAURANT • OYSTER BAR
3004 East Burnside Street • 971-806-6747
OUR HOURS
MARKET: 10am–8pm every day except Tuesday
RESTAURANT: 11am–8pm every day except Tuesday
CHEF SHACK: 4–9pm Thursday–Sunday
HAPPY HOUR: 3–5pm every day except Tuesday
TUESDAY: CLOSED
Please read our Covid-19 house rules HERE  •  We accept EBT/SNAP/Oregon Trail.
DINE WITH US, DINE WITH ANDRE
Tuesday's usually our snooze day, but next Tuesday, February 1st, our buddy Chef Andre Uribe is lighting up the place up with a special four-course meal and conversation about sustainability. It's a private science pub for attendees who hunger for delicious knowledge AND delicious food. Chef Andre and Chef Patrick of Sustainable Meals
Sustainable Meals Oregon
 are preparing a meal that looks something like…
Course one: Colombian style chicken stew (Sudado de Pollo), Aji verde sauce and Lonesome Whistle Abenaki corn polenta
Course two: Carman Ranch Sauerbraten with warm potato salad and Red Bird Acres bacon braised red cabbage and beets
Course three: Northern Italian style Pizzoccheri (Red Bird Acres braised pork shoulder, potatoes, cabbage and Camas Country buckwheat noodles)
Course four: Flying Fish Company "catch of the day," Lucky Crow Farm chimichurri sauce, Oregon wild rice pilaf
PLEASE NOTE: Meal subject to small changes based on availability. This is an all local menu.
---
---
THANK YOU FOR CHEF SHACKIN' 
Chef Shack Montage
A most hearty THANK YOU to everyone who's come out to support the Chef Shack. Chef Trever has been knockin' it out the park with Escolar Ceviche, Grilled Oysters, Warm Carrot Salad, and other bomb dishes.
The Chef Shack is open on our patio 4–9pm Thursday through Sunday. Hey, today's Friday – that's a Chef Shack Day!
And shout out to Chef Maylin Chavez, arriving March 5th, and Chef Doug Adams, coming soon after that. Chef Shack!
---
---
FLYING FISH FIELD TRIPS
Mon 4/11: Washington oyster farm tour SOLD OUT
Thur 5/5: Oregon Coast nearshore rockfish fishing trip
Fri 5/6: Oregon Coast deep reef lingcod fishing trip
Sun 6/5: Astoria sturgeon fishing trip SOLD OUT
Weds 9/14: Astoria coho salmon fishing trip
Thur 9/15: Astoria coho salmon fishing trip
Mon 7/17 – Thur 7/21: Hells Canyon rafting trip SIGNUP NOW LIVE
Check out the details and signups for each one on our FLYING FISH FIELD TRIP PAGE.
---
---
And now, here are this week's fresh fish, shellfish, oysters, and other assorted products. 
SWEET & CHEEKY FISH

Sweet like this cheeky lingcod screenshot of Ish With Fish
Ain't a whole lotta fish big and bulky enough to leave us meat cheeks, but by gum, we appreciate the ones who do. We often have halibut cheeks in the shop, and right now, we're checka checka checkin CHEEKS OF LINGCOD. Our favorite handsome fishes have thin, delicate cheeks with a defined texture and a flavor best called sweet-of-the-sea. Internet fishin' guy Ish With Fish has a great 10-minute vid taking us from sea to table, where he treats his son to a bite. Spoiler: see his face above. #checkitout

So anyways I says to him, LINGCOD CHEEKS are pretty nice and we've got a little stash of em. Notably little though, so don't waste no time if these handsome bois are your jam. Fishmonger Sawyer wanted me to also note the Walu (Escolar) and Tombo (Albacore Tuna), both delightful sushi grade fishes from Hawaii. Aloha.

FRESH FISH AS OF FRIDAY JANUARY 28TH
Ahi/Bigeye Tuna* – wild, Pacific Ocean (Hawaii)
Branzino – sustainable farm-raised, Greece – whole fish
Lingcod – wild, Pacific Ocean (Oregon)
Lingcod Cheeks – wild, Pacific Ocean (Oregon)
Monkfish – wild, Atlantic Ocean (Massachusetts)
Ora King Salmon* – sustainable farm-raised, New Zealand
Rainbow Trout – sustainable farm-raised, Washington – whole fish and fillets
Rockfish – wild, Pacific Ocean (Oregon)
Steelhead – sustainable farm-raised, Washington
Swordfish – wild, Pacific Ocean (Hawaii)
Tombo/Albacore Tuna* – wild, Pacific Ocean (Hawaii) →
True Cod – wild, Iceland
Walu/Esccolar* – wild, Pacific Ocean (Hawaii)
* – Sushi-grade fish
NEAT. DUNGENESS CRABS
This graphic is so stupid.
* 
FYI
 * Dungeness Crab season as we know it is winding down, so take heed. The official ODCC season will continue for several months, but the early season abundance is diminishing, as it does, till season closes and populations spawn and we repeat the circle. See how this works? That's what we mean by sustainability.
So anyways I says to him, I says, come get these Oregon Coast Dungeness Crabs while you can. Whole, cooked, meaty, beaty, big and bouncy.
FRESH SHELLFISH AS OF FRIDAY JANUARY 28TH
Dungeness Crabs – wild, Oregon Coast – whole, cooked – SEASON WINDING DOWN GET EM NOW
Medium Kokus Oysters for Grilling
Manila Clams – sustainable farm-raised, Washington
Mussels – sustainable farm-raised, Washington
Shucked Oysters in a Jar
SHINING GEMS – Oysters

We know why this man is smiling.
Okay, picture the very beginning of the "Happy Happy Joy Joy" episode of Ren & Stimpy. Stimpy's taking the record out of the sleeve, and he turns back to Ren with a big toothy grin. An iconic smile. Now look at Oyster Man Sam's photo of these 
Chelsea Gems
. LOL U SEE IT RIGHT
Chelsea Gem oysters are looking great right now. Yeah, looking like great big STIMPY SMILES. Big beautiful delicious oysters.  Choose from a dozen oysters. Happy happy joyster oyster. Amen.
FRESH OYSTERS AS OF FRIDAY JANUARY 28TH
Baywater Sweet – Washington
Betton – Alaska
Chelsea Gem – Washington
Chelsea  Ruby – Washington
Disco Hama – Washington (Sam: "Really really great oyster, first of the season. No more blue pools this season but these are a wonderful substitute.")
Fin de la Baie – New Brunswick
Kokus – Washington
Kokus Grillers – Washington
Netarts – Oregon
Shigoku – Washington
Tidepoint – Washington
Whaleback – Massachusetts
SMOKIN, PREPPIN, FREEZIN FISH

Lovin. Touchin. Squeezin.
Just checking in with these packaged of our house-smoked fishes – salmon, steely, more – that have been along for pretty much Flying Fish's whole ride in Portland. We do love em, with their brines of local raw honey and sea salt with a blend of trade secret spices, smoked slow and low, and packaged to eat right out of the vacuum seal. Get that Oregon-shaped cutting board you have, plate a hunk of smoked steelhead (don't be afraid to let the juices drip, but do it neatly so you can Instagram it), a big wedge of 
Cowbell taleggio
, a big pile of garlic crackers and some half-dried apricots… That's not charcuterie, 
that's dinner.™
PREPARED PRODUCTS TO GO AS OF FRIDAY, JANUARY 28TH
Cold Smoked Ora King Salmon
Smoked Salmon Dipº
Smoked Whitefish Dipº
House Smoked Fishesº
Pickled Herring
Grab n Go Pokeº
Sushi Style Pickled Ginger
º – Flying Fish house-made products
SELECT FROZEN PRODUCTS AS OF FRIDAY, JANUARY 28TH
Alaskan Sablefish/Black Cod
Copper River Sockeye Salmon
Ikura
Masago
Mexican Blue Shrimp – easy peel
Mexican Blue Shrimp – peeled &  deveined
Octopus
Oregon Bay Shrimp
Premium Lobster Tails
Salt Cod
Tobiko
OUR RESTAURANT MENU
For dining here or to-go.
CLICK MENU TO ORDER ONLINE FOR PICKUP: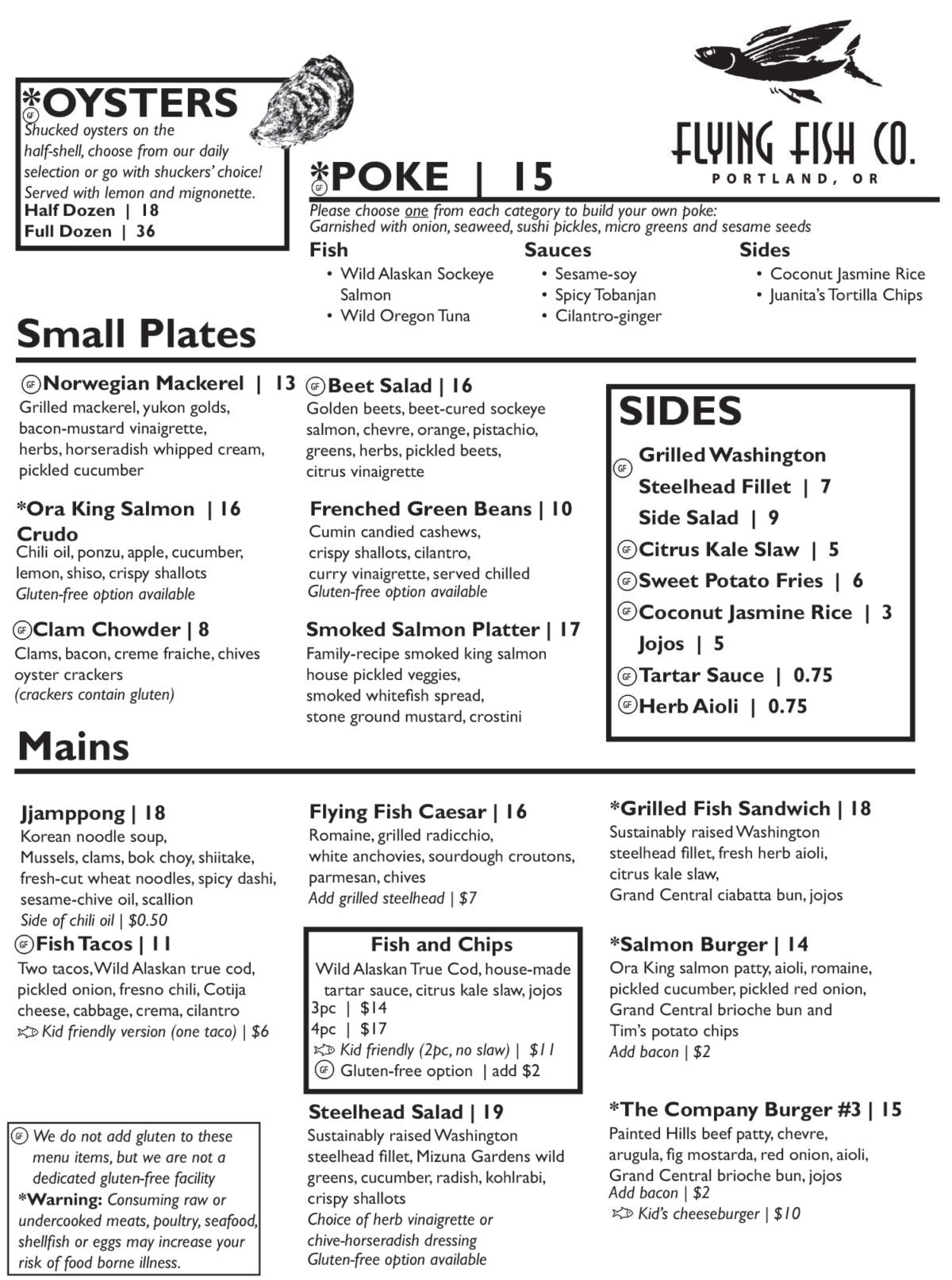 ALSO: Cocktails, sake, wine, and beer for dining onsite. Inquire within.
FLYING FISH SIGNOFF & DISCLAIMER
PLEASE NOTE: This email was accurate at the time of its weekly writing. Some products come and go quicker than others, so for best results on the freshness, follow us on the social medias: Facebook, Instagram, and Twitter. And tag us in your Instagram pics @flyingfishpdx – we love seeing your food pics!
Cheers,
Lyf Gildersleeve and the Flying Fish Team: Alana, Boo-boo, Chris, Danny, Elowynn, Erik, Erin, Gabby, Isabella, Jack, Jaelyn, Jesse, Jordan, Kenneth, Kevin, Luis, Mad Dog, Madeline, Mike, Neebs, Ross, Ryan P, Ryan S, Sam, Sarah, Sawyer, Stephen, Trever, Wyatt, and Brad
INSTAGRAM JAM OF THE WEEK
Special guest appearance: @moshithemalshi
ABOUT FLYING FISH
Craig and Sandy Gildersleeve opened Flying Fish Company in Sandpoint, Idaho in 1979 – the year before their son Lyf was born.
Now president of Flying Fish Company, Lyf has spent his entire life around fish, including an aquaculture education at the Harbor Branch Oceanographic Institute at Florida Atlantic University.
Flying Fish has three locations: Sandpoint, Idaho; Durango, Colorado; and Portland, Oregon. The Portland location opened in 2009 as a food cart at the D Street pod on Division Street. In 2011, we opened the fish shack on Hawthorne Boulevard. In 2016, we moved into a stand at Providore Fine Foods on Sandy Boulevard. In February 2020, we opened our standalone location on East Burnside with a restaurant and a patio.
* * *
Thank you for supporting our family-owned business. 
—Lyf, Natalie, Juniper, and Miles Gildersleeve (and Hazel the Dog)
* * *
PHOTO BY NATALIE GILDERSLEEVE PHOTOGRAPHY: A little dab'll do ya.
Copyright © 2022 Flying Fish Company, All rights reserved.