FISH MARKET • RESTAURANT • OYSTER BAR
3004 East Burnside Street • 971-806-6747
OUR HOURS
EVERY DAY EXCEPT TUESDAY: 10AM–8PM MARKET, 11AM–8PM RESTAURANT
TUESDAY: CLOSED
Please read our Covid-19 house rules HERE  •  We accept EBT/SNAP/Oregon Trail.
TWENTY TWENTY-TWO TIME

You're invited.
Well now let's just get right to it, shall we? It's a new year so allow us to reintroduce ourselves. We are Flying Fish Company: a fish market, a restaurant, an oyster bar, a 
lifestyle
. We sell good fresh fish, shellfish, oysters, meat and more – most of which is conveniently itemized below and each week in this email. We have a comfortable patio for dining from our menu, which has small plates, main dishes, oysters, and drinks. (
The Oregonian
 called us one of Portland's 
best new restaurants for 2020-21
, dontcha know.) And throughout the year, we have fun events offsite that help you get to know your food a little better. They're Flying Fish Field Trips, and they're on the calendar. Check out the details by clicking the link for the ones that catch your eye below, and if it sounds like your bag, sign right up and join us! (They sell out quick.)
FLYING FISH FIELD TRIPS 2022:
PLUS: The dates are set for our next Hells Canyon Rafting Trip: Monday July 17 through Thursday July 21. Details and registration for that will be live soon.
ALSO: If you're into planning this far ahead and have saved up for a dream vacation with fishing and scenery in summertime Alaska? Well then. Behold:
Alaska Dream Fishing Trip and Lodging in Pelican • Mon July 17 – Sat July 22 (2023): DETAILS & SIGNUP HERE
AND: We're currently working to solidify dates and registration stuff for these additional field trips:
Mushroom Hunting: Spring 2022
Beach Cleanup: Summer 2022
Albacore Tuna fishing trip: Summer 2022
Crabbing in Astoria: November 2022
[FLYING FISH FIELD TRIPS on our website]
Now then, as mentioned: FISH AND SUCH.
EVERYONE'S TOGETHER ON THE SOLE PLANET
Live from the ninth cube, it is US, Flying FISH, here to serve Portland food that's delicious, nutritious,  maybe even auspicious, but never suspicious. For we are judicious, and as much as we can be, expeditious, ain't nothin fictitious. We love fish, we love food, we love life, we love you. And we try to do right by supporting local fishing and farming families, sourcing our food responsibly, and sharing this information with you. Ask us – we love talkin' shop. We're in the business of selling confidence almost as much as selling actual fish. Actual fish?

Hey now, actual fish. Pictured above: May we recommend the Petrale Sole? A flounder of the Pacific, a delicate low lier whose flakes are firm and whose flavor is light, a little nutty, and just right for a pop of extra flavor – like capers, for example, in a piccata. White wine, butter, capers and parsley. Try some, you'll like it.

FRESH FISH AS OF FRIDAY JANUARY 7TH
Ahi/Bigeye Tuna* – wild, Pacific Ocean (Hawaii)

Black Cod/Sablefish – wild, Pacific Ocean (Oregon)

Branzino – sustainable farm-raised, Greece – whole fish

Escolar/Walu* – wild, Pacific Ocean (Hawaii)

Petrale Sole – wild, Pacific Ocean (Oregon)

Rainbow Trout – sustainable farm-raised, Idaho

Rockfish – wild, Pacific Ocean (Oregon)

Steelhead – sustainable farm-raised, Washington

Striped Bass – sustainable farm-raised, Pacific Ocean (Mexico) – whole fish 

→

Swordfish – wild, Pacific Ocean (Hawaii)

Tombo/Albacore Tuna* – wild, Pacific Ocean (Hawaii)

True Cod – wild, Iceland
* – Sushi-grade fish
CRABS CRABS CRABS
Up against the wall
Crabs, crabs, 
Dungeness Crabs
. Whole AND wholesome, an Oregon delight. However, one need not employ a brick wall to crack and clean one's crabs. Nay, there is a somewhat simple process to prep it for the table, and after that, a little mallet or meat tenderizer will do ya at the table. Check out the step by step 
HERE
. Per best practices and best product, the crabs you buy from us are already cooked, so you can eat em straight up using this process. Wanna warm it up first? That's cool, just don't overdo it. You don't want to overcook what's already cooked – just get it to your desired temp and dig in.
FRESH SHELLFISH AS OF FRIDAY JANUARY 7TH
Dungeness Crabs – wild, Oregon Coast – whole, cooked
Littleneck Clams – sustainable farm-raised, Massachusetts
Manila Clams – sustainable farm-raised, Washington
Mussels – sustainable farm-raised, Washington
Savory Clams – sustainable farm-raised, Washington
Scallops – wild, Atlantic Ocean (Massachusetts)
LES HUÎTRES POUR VOUS

Here, hold out your hand. Photo by Natalie.
A good ol' dozen. That's how we roll when it comes to fresh, cold oysters on a half shell. Have a dozen on a plate, have a dozen on a crate. Have a dozen while you wait, have a dozen ain't it great? A dozen varieties, right now this very second. Wow.
A GOOD OL' DOZEN OYSTER VARIETIES AS OF FRIDAY JANUARY 7TH
Baywater Sweet – Washington
Blue Pool – Washington
Chelsea Gem – Washington
East Cape – Prince Edward Island
Fin de la Baie – New Brunswick
Hama Hama – Washington
Kokus – Washington
Mere Point – Maine
Netarts – Oregon
Tidepoint – Washington
Virginica – Washington
Whaleback – Maine
HOUSE-SMOKED STUFF & FROZEN STUFF
Salmon burger our way, photo by Natalie. Salmon burger your way, photo by you?
Salmon burgers, yessirree. We made em, we got em, we want you to try em – fresh from our kitchen on our patio, or right out of your skillet with a pack of freezies to go. Whichever way you go, just go for it.
HOUSE-MADE PRODUCTS TO GO AS OF FRIDAY, JANUARY 7TH
Grab n Go Poke
Whitefish Dip
Salmon Dip
Ora King Cold Smoked Salmon
Salmon Burgers (frozen)
Smoked Scallops
Smoked Oysters
Shucked Oysters in a Jar
Smoked Salmon
SELECT PRODUCTS IN THE FREEZER AS OF FRIDAY, DECEMBER 17TH
Mexican Blue Shrimp
Sockeye Salmon
Halibut Cheeks
Premium Fish Roe
Premium Lobster Tails
Octopus →
Salt Cod
Wasabi Paste
OUR RESTAURANT MENU
For dining here or to-go. Menu updated October 2021.
CLICK MENU TO ORDER ONLINE FOR PICKUP: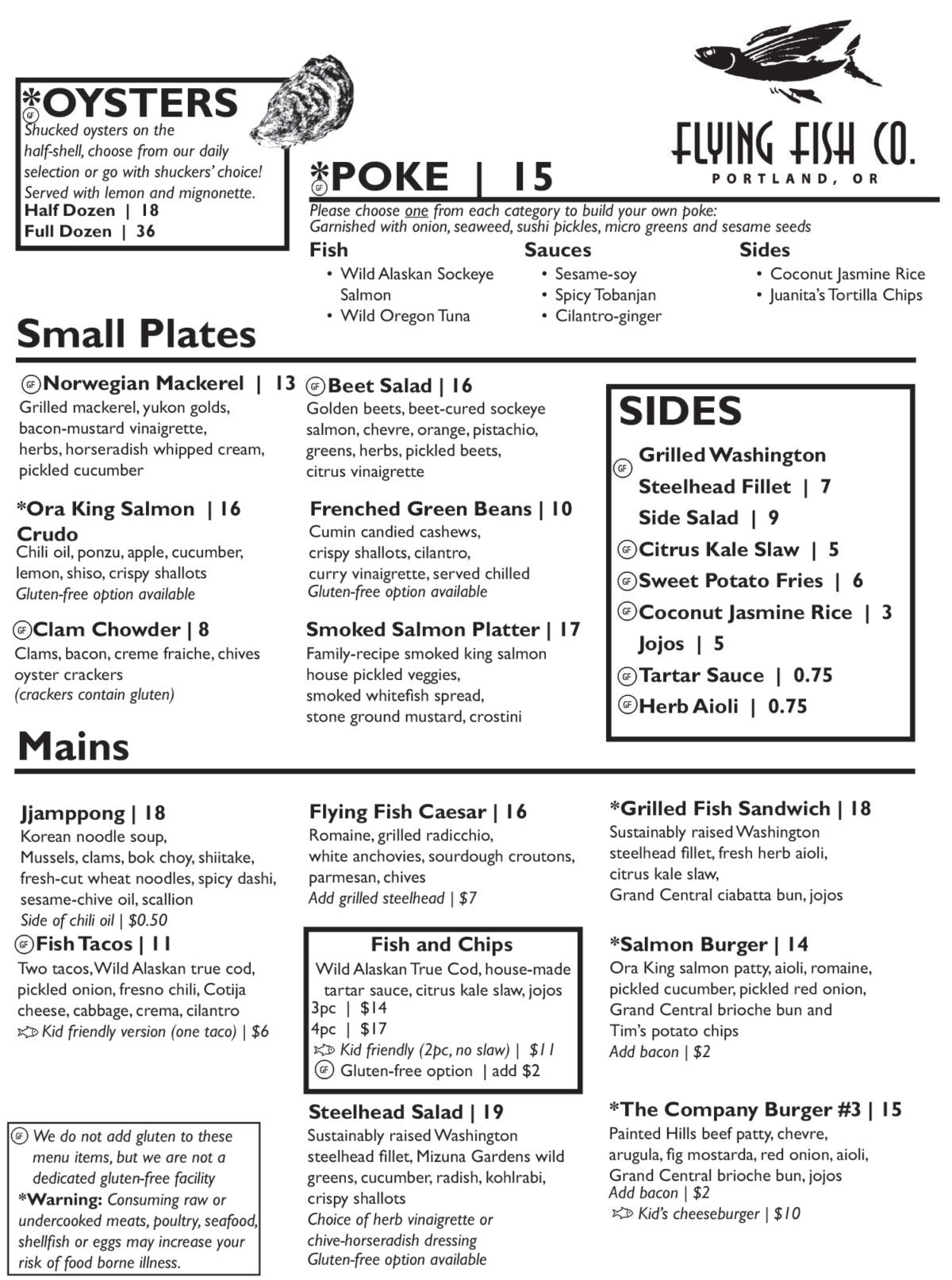 ALSO: Cocktails, sake, wine, and beer for dining onsite. Inquire within.
FLYING FISH SIGNOFF & DISCLAIMER
PLEASE NOTE: This email was accurate at the time of its weekly writing. Some products come and go quicker than others, so for best results on the freshness, follow us on the social medias: Facebook, Instagram, and Twitter. And tag us in your Instagram pics @flyingfishpdx – we love seeing your food pics!
Cheers,
Lyf Gildersleeve and the Flying Fish Team: Alana, Boo-boo, Chris, Danny, Elowynn, Erik, Erin, Gabby, Isabella, Jack, Jaelyn, Jesse, Jordan, Kenneth, Kevin, Luis, Mad Dog, Madeline, Mike, Neebs, Ross, Ryan P, Ryan S, Sam, Sarah, Sawyer, Stephen, Trever, Wyatt, and Brad
INSTAGRAM JAM OF THE WEEK
Geeee whiz, @fragafarm, you really did us like that. AND WE LOVE IT. Our salmon, Fraga Farm's garlic-herb chèvre, fresh chopped dill. Hot damn.
ABOUT FLYING FISH
Craig and Sandy Gildersleeve opened Flying Fish Company in Sandpoint, Idaho in 1979 – the year before their son Lyf was born.
Now president of Flying Fish Company, Lyf has spent his entire life around fish, including an aquaculture education at the Harbor Branch Oceanographic Institute at Florida Atlantic University.
Flying Fish has three locations: Sandpoint, Idaho; Durango, Colorado; and Portland, Oregon. The Portland location opened in 2009 as a food cart at the D Street pod on Division Street. In 2011, we opened the fish shack on Hawthorne Boulevard. In 2016, we moved into a stand at Providore Fine Foods on Sandy Boulevard. In February 2020, we opened our standalone location on East Burnside with a restaurant and a patio.
* * *
Thank you for supporting our family-owned business. 
—Lyf, Natalie, Juniper, and Miles Gildersleeve (and Hazel the Dog)
* * *
PHOTO BY NATALIE GILDERSLEEVE PHOTOGRAPHY: Salt flat Juni.
Copyright © 2022 Flying Fish Company, All rights reserved.
Our mailing address is:
Flying Fish Company
3004 E Burnside St
Portland, OR 97214-1950