FISH MARKET • RESTAURANT • OYSTER BAR
3004 East Burnside Street • 971-806-6747
FRESH CATCH MARKET:

10am–8pm Every day (except Tuesday, when we are closed)

DINE-IN RESTAURANT (walk-in only, no reservations):

11am–8pm every day (except Tuesday, when we are closed)

HAPPY HOUR:

3–5pm Weekdays (except Tuesday, when we are closed)

TUESDAY:

… is, you may have noticed, when we are CLOSED
We accept EBT/SNAP/Oregon Trail.
MEET ME AT THE BAR
It's a sign.
Good morning, good afternoon, good god almighty… Our OYSTER BAR IS BACK! If you've been here in the last little minute, well… thanks. And welcome back — welcome back to INDOOR DINING. When we opened our Burnside location in February 2020, the Flying Fish Oyster Bar was ready to roll, and roll it did for, like, four weeks. You-know-what changed everything, we adjusted, turned our seating area into a sales area and our parking lot into a dining patio. Well, fast forward two and a half years and we're a little closer to what we originally had in mind, but modified, upgraded, sophisticated. Come and see! We're finally back to glass glasses for cocktails and wine to go with the stainless steel cups for beers, we've dialed down the pantry items a little, and we're servin' up a shuckin' at a bar made for it. And a menu from the minds of Erik, Danny, Lyf, and a hard workin, hot cookin staff? Woof. Come get you some. Inside.
But back outside? Assuming better air quality (thank you, firefighters), we'll do it up all weekend long, and Erik Clampitt's pickin' on the hits tomorrow afternoon. See you soon, yeah?
UPCOMING MUSIC IN THE BEER GARDEN (~4–7pm)
Saturday, October 22: Erik Clampitt
Saturday, October 29: Mary Flower
Saturday, November 5: Steve Cheseborough
Saturday, November 12: Eliot Chamberlain
Saturday, November 19: Ray Mann & the Gang
Saturday, December 3: Isabel Dammann
All times approximately 4–7pm. Full schedule HERE.
---
PNW PIC BY BRAD UNRELATED
Painted Hills. Like the beef. (About four scenic hours from here.)
---
AND NOW, THE REASON YOU'RE HERE.
PRETTY FISH, PRETTY FRESH
Very fresh, in fact. Never frozen. As warned, the seasonal freshies are outward bound, so that means no Albacore and limited Halibut, BUT, we do got them HaliBUTT Cheeks. Giggle giggle. Plus we re-upped on our Sid Bream, I mean Sea Bream, the first in a while — sensational, sushi grade, Kiwi AF, airmailed to us along with Ora King Salmon, also sensational and sushi-grade. We could go on but the fresh fish list is right here.FRESH FISH AS OF FRIDAY OCTOBER 21ST
Ahi/Bigeye Tuna* – wild, Pacific Ocean (Hawaii) – fillets →→→
Black Cod/Sablefish – wild, Pacific Ocean (Oregon) – fillets
Branzino – sustainable farm-raised, Greece – whole fish
Halibut – wild, Pacific Ocean (Alaska) – fillets & cheeks
Lingcod – wild, Pacific Ocean (Oregon) – fillets
Ora King Salmon* – sustainable farm-raised, New Zealand – fillets
Petrale Sole – wild, Pacific Ocean (Oregon) – fillets
Rockfish – wild, Pacific Ocean (Oregon) – fillets
Sea Bream* – wild, Pacific Ocean (New Zealand) – fillets
Steelhead – sustainable farm-raised, Washington – fillets
Striped Bass – wild, Pacific Ocean (Baja California, Mexico) – fillets
Yellowfin Tuna* – wild, Pacific Ocean (Hawaii) – fillets
* – Sushi-grade fish
OYSTERS OYSTERS OYSTERS
Where do you even start?
Ohhh mama we are floating amongst the floating oysters here on CLOUD NINE. Nine varieties, a big NINER, of cold, wet, briny bivalves for shuckin and slurpin pleasures. Indigo and Sapphire, Bill and Pearl, Kokus and Kusshis. My my.
FRESH OYSTERS AS OF FRIDAY OCTOBER 21ST
Baywater Indigo – Washington
Baywater Sweet – Washington
Chelsea Gem – Washington
Chelsea Sapphire – Washington
Kokus – Washington
Kusshi – BC, Canada
Mr Bill – Massachusetts
Netarts – Oregon
Valley Pearl – PEI, Canada
MORE LIKE BAE SHRIMP AMIRITE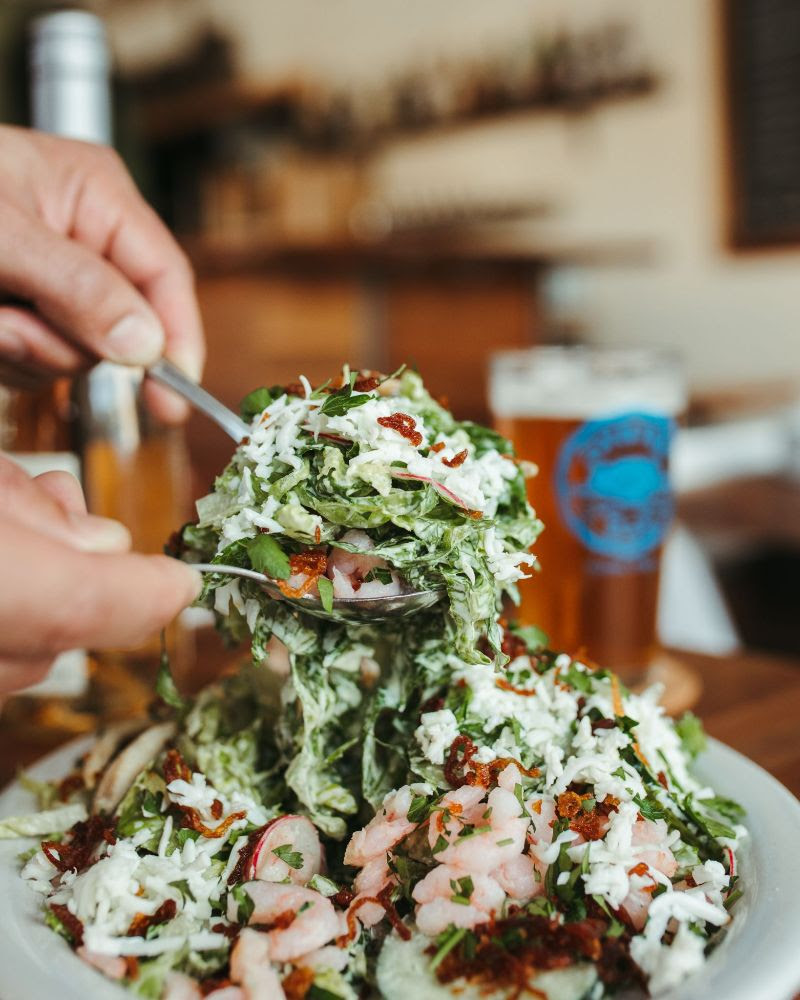 Bay Shrimp! Lil dudes, wild, nestled among the muddy bottoms from the Haida Gwaii to San Diego, but centered along the Oregon Coast. Lucky us. Get you some bay shrimp and make you a salad — you can do it like 
THIS
 with avocado and butter lettuce, or you can do it like THAT, over on the right, Chef Erik's spin with radish, cucumbers, hard boiled eggs, and crispy lil shallots.
FRESH SHELLFISH AS OF FRIDAY OCTOBER 21ST
Atlantic Scallops – wild, Atlantic Ocean (Massachusetts)
Manila Clams – sustainable farm-raised, Washington
Mussels – sustainable farm-raised, Washington
FROZEN SHELLFISH AS OF FRIDAY OCTOBER 21ST
Bay Shrimp – wild, Pacific Ocean (Oregon) →
Lobster Tail – wild, Maine
Shrimp – wild, Mexico (Del Pacifico)
Squid – wild, California – tubes & tentacles
INSTAGRAM JAM OF THE WEEK
This right here tho? Caesar & anchovies by @dope.eats.pdx
FLYING FISH SIGNOFF & DISCLOSURE
Alana gets straight to the point. 
→
PLEASE NOTE: This email was accurate at the time of its weekly writing. Some products come and go quicker than others, so for best results on the freshness, follow us on the social medias — Instagram / Facebook / Twitter — or just stop on in.
And tag us in your Instagram pics @flyingfishpdx – we love seeing your food pics!
---
Cheers,
Lyf and the Flying Fish Team: Alana, Alex, CJ, Danny, Ellison, Erik, Jack, Jae, Jesse, Julia, Kenneth, Kevin, Lydia, Maybe, Mike, Molly, Neebs, Owen, Ryan P., Ryan S., Sam, Sylvia, Wyatt, and Brad
Lyf Gildersleeve: Owner, Chief Fishmonger
Erik Englund: Culinary Director
Danny Atkins: Sous Chef
Jack Bressoud: General Manager
Sam Moser: Oyster Bar Manager
Alana Ginster: Assistant Manager
Wyatt Manyon: Assistant Manager
FLYING FISH, FAMILY OWNED SINCE 1979
Craig and Sandy Gildersleeve opened Flying Fish Company in Sandpoint, Idaho in 1979. The next year, their son Lyf was born into the family business. Now president of Flying Fish, Lyf has spent his entire life around fish, including an aquaculture education at the Harbor Branch Oceanographic Institute at Florida Atlantic University.
Lyf opened Flying Fish in Portland in 2010 as a food cart at the D Street Noshery on Division Street. In 2011, we opened the fish shack at Kruger's Farm Market on Hawthorne Boulevard. In 2016, we moved into a stand at Providore Fine Foods on Sandy Boulevard. And in February 2020, we opened our standalone location on East Burnside with a restaurant and patio, and in January 2022 we added the Chef Shack.
Flying Fish has sister locations in Sandpoint, Idaho and Durango, Colorado.
* * *
Thank you for supporting our family-owned business. 
—Lyf, Natalie, Juniper, and Miles Gildersleeve (and Hazel the Dog)
---
PHOTO BY NATALIE GILDERSLEEVE: Coke is it? Pffft. More like all natural root beer, okay? 
Copyright © 2022 Flying Fish Company, All rights reserved.
Our mailing address is:
Flying Fish Company
3004 E Burnside St
Portland, OR 97214-1950