FISH MARKET • RESTAURANT • OYSTER BAR
3004 East Burnside Street • 971-806-6747
* MARKET OPEN 10AM–8PM EVERY DAY EXCEPT TUESDAY *
* RESTAURANT OPEN 11AM–8PM EVERY DAY EXCEPT TUESDAY *
(Both closed every Tuesday)
Please read our Covid-19 house rules 
HERE
  •  We accept EBT/SNAP/Oregon Trail.
BRAVO, HOORAY
A cap'n, a chef, and another chef walk into an oyster bar…
Juneteenth. Pride. Summer solstice. Father's Day. June, generally, in Portland. There's a lot going on, so we're gonna keep the lists of what's fresh in the market short and simple – following this section where Brad the Flying Fish newsletter person will make words.
FIRST
: Do not adjust your dial (haha, what an old-fashioned expression), that IS Flying Fish on your Epson Home Cinema® projector. We're digging this season of Top Chef – the Portland series, the pandemic series.
Chef Dawn Burrell
 stopped by the shop for some crab meat, chatted with our Chef Erik, and Lyf walked pass. Dawn's still crushing and we're pulling for her. Check out 
this dinner
 she's preparing for Juneteenth in Houston with some of her fellow Top Chef contestants.
---
SECOND: Come fishin' with us? Flying Fish is hooking up with captain Bob Rees, with whom Lyf went to Washington DC a few years ago to testify for fisheries policy, for a dive into Columbia Coho. Coho Salmon will be returning from sea for their fall run up the Columbia River, and we'd like to get in on that action, thank you very much. Perhaps you would too? We have five (5) remaining seats, and it's only $200 for what's going to be a memorable trip. Picture it: you board the boat bright and early, coffee in your travel vessel still hot. The boat fires up. You feel the rumble. You're startled by the whistle. We're pulling out, the Astoria-Megler bridge towering over us. We hang a left toward the Bar. We cast our lines. We wait. And then… tug tug, that's YOU Charles! You grab your rod, you reel and reel. Put it on your hip if it helps, keep reeling. Lyf's there with the net. Bob's watching to make sure you're doing it right, no pressure. Almost there… annnnd… GOT EEM. You did it, Charles! 27 inches, 10 pounds. Not bad! Don't forget to get a photo before we bleed it and put it on ice. Crack open a cold Fort George Vortex.
Well. Sorry for all the spoilers. But if this is a story – Astoria – that speaks to you, why not come with. It's all happening Tuesday, September 21st, $200, keep what ya catch. Email Lyf – oregonfreshfish@gmail.com – if you're interested.
---
FINALLY: As promised, the fresh lists. Short and simple.
SIZZLE YOUR SALMON
When in doubt, add more butter. Photo by Natalie Gildersleeve.
We're keeping it short, simple, and sizzly, fo shizzly.
FRESH FISH AS OF FRIDAY JUNE 18TH
Chinook Salmon – wild, Columbia River – tribal caught
Sockeye Salmon – wild, Copper River, Alaska
Ora King Salmon* – sustainable farm-raised, New Zealand
Steelhead – sustainable farm-raised, Washington
Pacific Halibut – wild, Pacific Ocean (Alaska) – fillets & steaks
Escolar* – wild, Pacific Ocean (Hawaii) – pictured at right, plated by Chef Erik, pic by @chefsroll →
Ahi/Bigeye Tuna* – wild, Pacific Ocean (Hawaii)
Tombo/Albacore Tuna* – wild, Pacific Ocean (Hawaii)
Swordfish – wild, Pacific Ocean (Hawaii)
Rockfish – wild, Pacific Ocean (Oregon)
Lingcod – wild, Pacific Ocean (Oregon)
Sablefish/Black Cod – wild, Pacific Ocean (Oregon)
Sand Dabs – wild, Pacific Ocean (California)
Branzino – sustainable farm-raised, Greece
* – Sushi-grade fish
PORTRAIT OF SCALLOPS ON A WOOD PLATE ON A CLAY PLATE ON A WOOD COUNTER
We're keeping it short and shimple on the shellfish schlist. [Intro bassline from "Would" by Alice in Chains. WOO-OOOD.]
FRESH SHELLFISH AS OF FRIDAY JUNE 18TH
Dungeness Crab Meat – wild, Oregon – cooked and picked, ready to eat
Sea Scallops – wild, Atlantic Ocean (Massachusetts)
Manila Clams – sustainable farm-raised, Washington
Mussels – sustainable farm-raised, Washington
OYSTER ROYSTER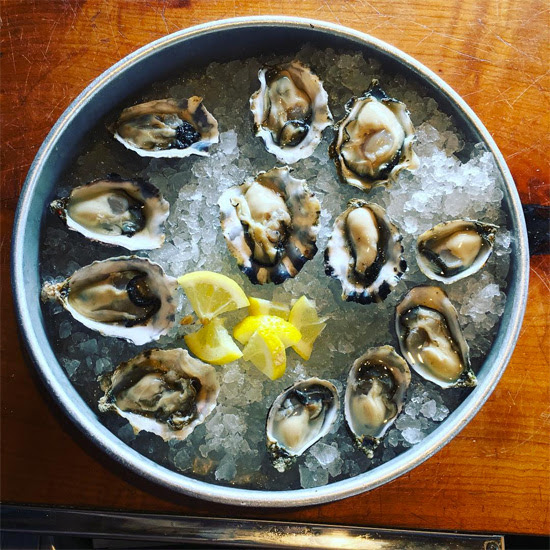 Don't you wish this was spinning?
We're keeping it simple on the Oyster Royster. It's a ROSTER of OYSTERS but so that it can RHYME we added a WHY. It is the OYSTER ROYSTER.
FRESH OYSTER ROYSTER AS OF FRIDAY JUNE 18TH
Blue Pool – Washington – BLUE POOL SEASON ENDING SOON, FYI
Chelsea Gem – Washington
Disco Hama – Washington
Eld Inlet – Washington
Hama Hama – Washington
Hoshi – Washington
Kokus – Washington
Kumamoto – Washington
Kusshi – British Columbia
Los Rucos – Washington
Mere Point – Maine
Pickering Passage – Washington
Ruby – Washington
Sea Cow – Washington
Shigoku – Washington
Whaleback – Maine
FFS: FLYING FISH SMOKED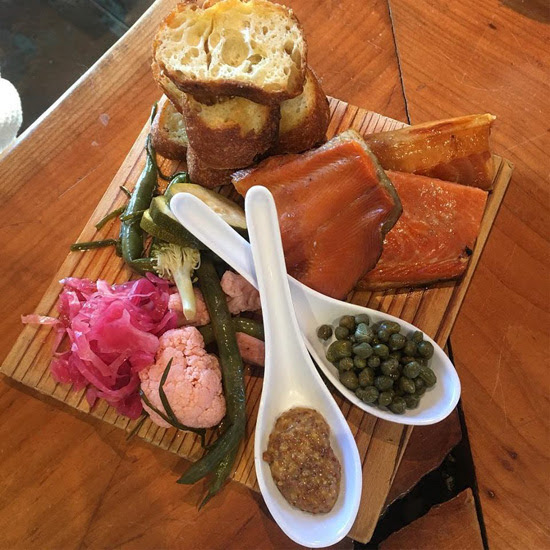 Very fancy, good job.
We're keeping it short and simple on the Flying Fish Smoked list, FFS.
SMOKED FISHES AS OF FRIDAY JUNE 18TH
Smoked Steelheadº
Smoked Scallopsº
Smoked Salmon Collarsº
Smoked Salmon Belliesº
º – Flying Fish house-smoked, Gildersleeve family recipe
BURGER TIME
Here. Stuff this in your meat hole. Photo by Natalie.
We're keeping it short and simple on the meat sheet.FRESH MEAT AS OF FRIDAY JUNE 18TH
BEEF – Laney Family Farms, Canby, OR
Ground beef (Laney)
Stew meat (Laney)
OUR RESTAURANT MENU
For dining here or to-go. Menu updated June 2021
CLICK MENU TO ORDER ONLINE FOR PICKUP:
ALSO: Cocktails, sake, wine, and beer for dining onsite. Inquire within.
FLYING FISH SIGNOFF & DISCLAIMER
PLEASE NOTE: This email was accurate at the time of its weekly writing. Some products come and go quicker than others, so for best results on the freshness, follow us on the social medias: Facebook, Instagram, and Twitter. And tag us in your Instagram pics @flyingfishpdx – we love seeing your food pics!
Cheers,
Lyf Gildersleeve and the Flying Fish Team: Alana, Boo-boo, Chris, Danny, Elowynn, Erik, Isabelle, Jack, Jae, Jesse, Jordan, Kevin, Luis, Mad Dog, Mike, Neebs, Ross, Ryan P, Ryan S, Sam, Sarah, Sawyer, Tara, Trever, Wyatt, and Brad
INSTAGRAM JAM OF THE WEEK
Who dat, Lardo man @rickgenc rockin that stoopid fresh swordfish? Heck yeah it is, buddy!
ABOUT FLYING FISH
Craig and Sandy Gildersleeve opened Flying Fish Company in Sandpoint, Idaho in 1979 – the year before their son Lyf was born.
Now president of Flying Fish Company, Lyf has spent his entire life around fish, including an aquaculture education at the Harbor Branch Oceanographic Institute at Florida Atlantic University.
Flying Fish has three locations: Sandpoint, Idaho; Durango, Colorado; and Portland, Oregon. The Portland location opened in 2009 as a food cart at the D Street pod on Division Street. In 2011, we opened the fish shack on Hawthorne Boulevard. In 2016, we moved into a stand at Providore Fine Foods on Sandy Boulevard. In February 2020, we opened our standalone location on East Burnside with a restaurant and a patio.
* * *
Thank you for supporting our family-owned business. 
—Lyf, Natalie, Juniper, and Miles Gildersleeve (and Hazel the Dog)
* * *
PHOTO BY NATALIE GILDERSLEEVE PHOTOGRAPHY: No matter where you go, there you are.
Copyright © 2021 Flying Fish Company, All rights reserved.
Our mailing address is:
Flying Fish Company
3004 E Burnside St
Portland, OR 97214-1950