---
To Our Market Community,
A professor in the Ornamental Horticulture Dept. of Cal Poly Pomona used to tell his students that a weed is only a plant that you don't want. Take mint for example. It is a highly useful and delicious herb that many of us consider essential in the garden. However, when mint finds its happy place it will spread uncontrollably by underground runners moving it into the weed category for most gardeners.
A couple of Sundays ago, Market Master, Ginger Rapport, was working in an area of her garden that her family calls "the grotto".  It has a beautiful waterfall and pond that were being taken over by native ferns which were coming up in unwanted places and interfering with the view of the water. Ginger spent the better part of the day digging them and their invasive roots out from under and between the rocks around the waterfall. It was hard work but at the end of an exhausting day, the grotto was cleared of the native plants. When her husband asked her what she was going to plant in their place he nearly fainted at her answer. Ferns! He sincerely thought she had lost her mind until she clarified that she would be consulting with the market's resident expert on ferns, Tee Yin at Pearson Nursery, to find beautiful, more well-behaved replacements.
Pearson Nursery is a small family-run nursery specializing in ferns and Japanese maples. They also have an amazing selection of hostas, as well as some conifers, shade plants, and a few flowering perennials. 
Ferns conjure images of lush landscapes but we don't often consider the individual plants which come in an enormous assortment of sizes and leaf shapes. They range in color from bright chartreuse to dark forest green. Texturally they vary from delicate and lacey to bold and sword-like. Not knowing how to select the proper ferns for her grotto, Ginger was relieved to get Tee's recommendations.
Being able to learn from our expert growers is one of the things we love most about plant shopping at the market. No matter if you are a novice or expert gardener, it is always helpful to speak with a knowledgeable grower to ensure you are selecting the best plants for your garden.
 Warm Regards,
The Beaverton Farmers Market
---
We will see you this Saturday at the Market from 8:30 AM-1:30 PM.
---
Strawberry Season Is Here!
In last week's newsletter, we talked about the slow-growing season and lamented the delayed arrival of our favorite fruits. This week we are happy to declare that strawberry season has officially begun. Most of our growers will have an adequate supply of fruit this Saturday with Unger Farms going so far as to reveal that they will have Hood strawberries in their booth across from the park. (Please keep in mind that vendors cannot sell before the opening bell so if you come early you will have to wait in line until 8:30.)
The start of the cherry season is still a week away but we are hopeful that we will start seeing them on June 18th.
---
This week the BFM welcomes the first woman-owned Tibetan food company to the market – Himalayan Dumplings by KyiKyi.
Momo is a Tibetan word for all things dumplings. They are a household dish and one of their most popular street foods. For displaced Tibetans like KyiKyi, momo is more than food. This hallmark Tibetan dish is also about the cultural representation and preservation of her at-risk Tibetan heritage & culture.
Kyikyi is bringing her traditional dumplings to market in a frozen ready-to-cook form. This week's flavors are:
Veggie & Shiitake (vegan friendly)
Classic Juicy Beef
Chicken & Cilantro
As well as Tibetan Handpies:
Curried Potato
Chicken & Cilantro


---
Music this week is Rhythm Dogs.
Market Sprouts Kids Club Host: Basics Market!
We are excited to welcome our newest partner sponsor this week to host Market Sprouts Kids Club, Basics Market! Make fun edible faces out of veggies! Basics Culinary and Nutrition Mentors will be on hand with all the ingredients for designing this nourishing snackable treat.
Basics Market will be partnering with the Beaverton Farmers Market throughout the summer to host Market Sprouts Kids Club through nutritious and educational activities, as well as chef cooking demos. Basics Market is opening their newest location just up the road on Farmington!
About Basics
Part of the Wild Rose Food Company, Basics™ Market is a collection of area markets that feature curated fresh foods and pantry staples. Designed to help more people enjoy healthful meals at home, it finds the freshest, most flavorful ingredients, pairs them with simple recipes, and shares kitchen skills and nutrition knowledge. Basics supports regional farmers, growers and makers by sourcing products from farms that prioritize soil health, animal welfare, regenerative practices and seasonal rhythms. Its popular in-house brands include Lulubelle's™ Creamery, Gwendolyn's™ Organic Eggs, Willamette Valley Cheese™, Silver Sage Farms™, Sunny Jim™ and more. Basics recipes are developed by the store's in-house culinary team and evaluated for optimal health by our nutrition team. For more information visit www.basicsmarket.com and www.wildrosefoods.com.
---
In Our City: Volunteer Fair
The City of Beaverton is proud to invite you to participate in the Beaverton Volunteer Fair! This event is dedicated to raising awareness for our local non-profits and community groups with the hope of increasing donations and volunteers to help drive their cause! Space will be provided to give away promotional materials, collateral, and swag items to help inform the public about their volunteer opportunities.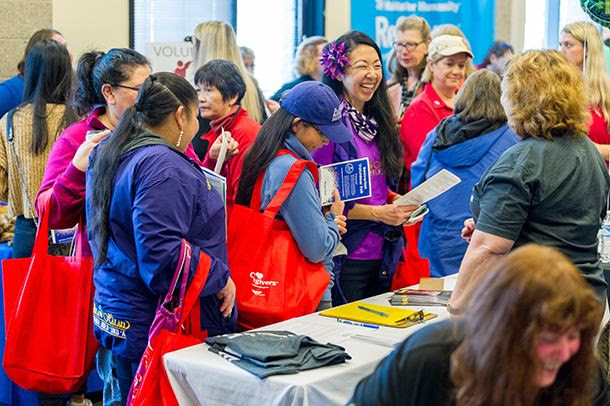 The Beaverton Volunteer Fair is scheduled for:
June 11, 2022, from 10 am – 1 pm.
Beaverton City Library – Cathy Stanton Room & Meeting Rooms AB
12375 SW Fifth Street
Beaverton, OR 97005
Mission & Goals
The Beaverton Volunteer Fair was created by the 2016 Leadership Beaverton class and has been adopted by the City of Beaverton's Events Program to be an annual event. The mission of this event is to engage a diverse network of community members and business leaders who are inspired and empowered through education and awareness to take action to improve their communities.
Copyright © 2022 Beaverton Farmers Market, All rights reserved.