Coquine Market

***Now Opening at 8am- 2:30pm Daily***
Starting Monday the 30th
Just in time for your first cup of Coffee 
"Oyster Hour" in the Market
Oysters shucked to order, cold beer, great wine, appetizers, salads, and pasta
********
Every Thursday, Friday, and Saturday
4:30pm-8pm
No reservations
Seating and standing room are offered on a first to come, first-served basis
Proof of Covid-19 vaccination is required
of all guests joining us for this indoor service
Here's what we'll be serving tonight: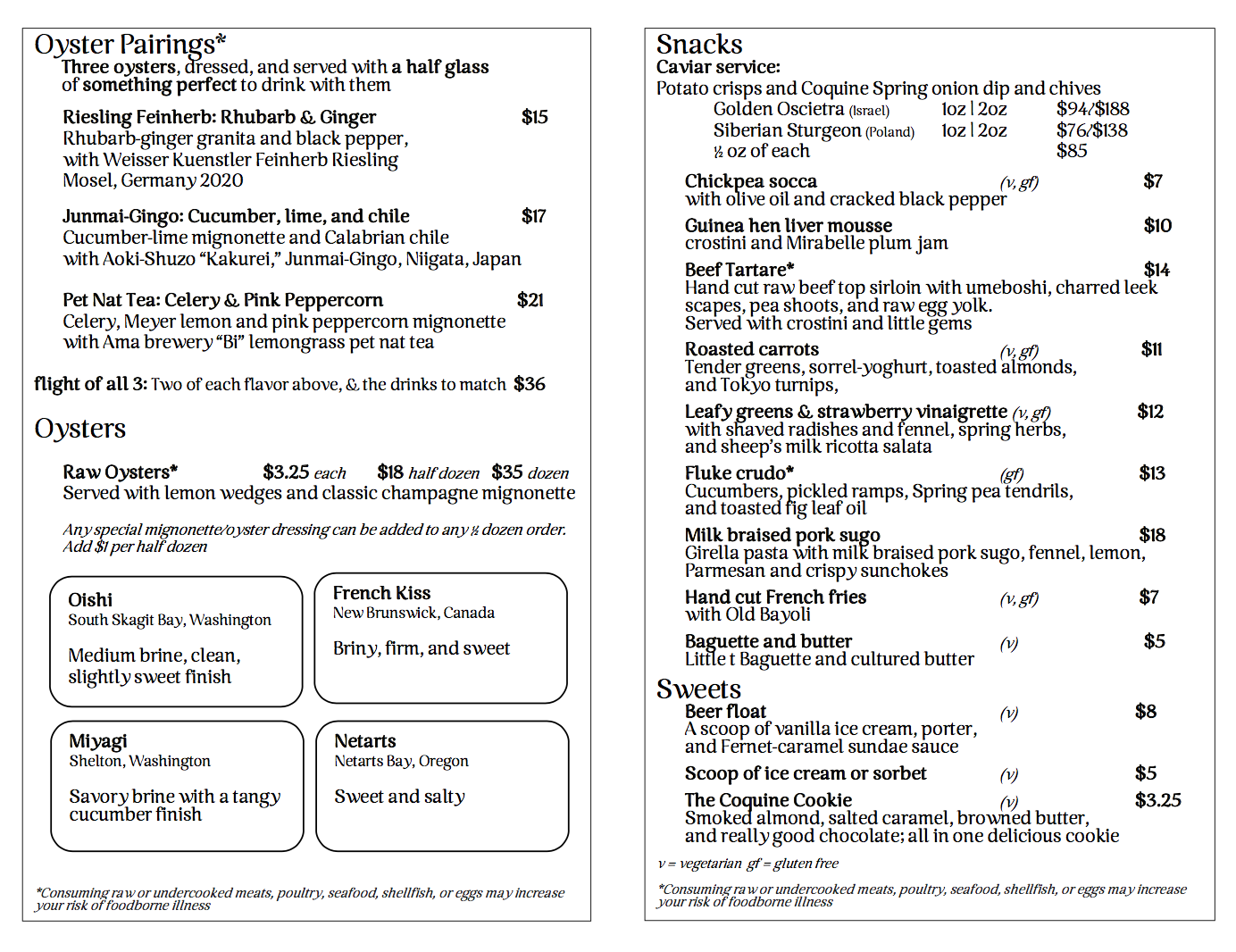 We're shooting for a June opening for the Patio, when we'll take Oyster Hour outside!
Farm Direct Pickup
Wednesdays and Saturdays
10am- 2pm
Preorder your veggies.
Shop for everything else when you arrive
Orders for Wednesday and Saturday, June 1st and 4th are now open
June 1st marks the first pickup of the new Summer Quarter for Farm Direct Pickup Memberships
---
---
Dinner at CoquineFull service, in-person dining for parties up to four diners
Wednesday through Saturday
Select your menu option
*four-course chef's choice menu*
*seven-course tasting menu*
A tip about booking dinner reservations: 
Each Tuesday, at 3pm, we release bookings for the following week. While many of the bookings fill up quite quickly, we do often see some last minute turnover, and encourage you to check back on our Tock page frequently for any added availability in the last 24-48 hours leading up to a service night.
*Mask wearing is optional, however, we still require all guests to show proof of Covid-19 vaccination prior to entering the dining room.
A 20% Service Fee will be added to your bill, to be divided among all front of house and back of house employees working in support of your experience.
We look forward to serving you