FISH MARKET • RESTAURANT • OYSTER BAR
3004 East Burnside Street • 971-806-6747
* MARKET OPEN 10AM–8PM EVERY DAY EXCEPT TUESDAY *
* RESTAURANT OPEN 11AM–8PM EVERY DAY EXCEPT TUESDAY *
(Both closed every Tuesday)
Please read our Covid-19 house rules HERE  •  We accept EBT/SNAP/Oregon Trail.
CRAB SEASON IS IN!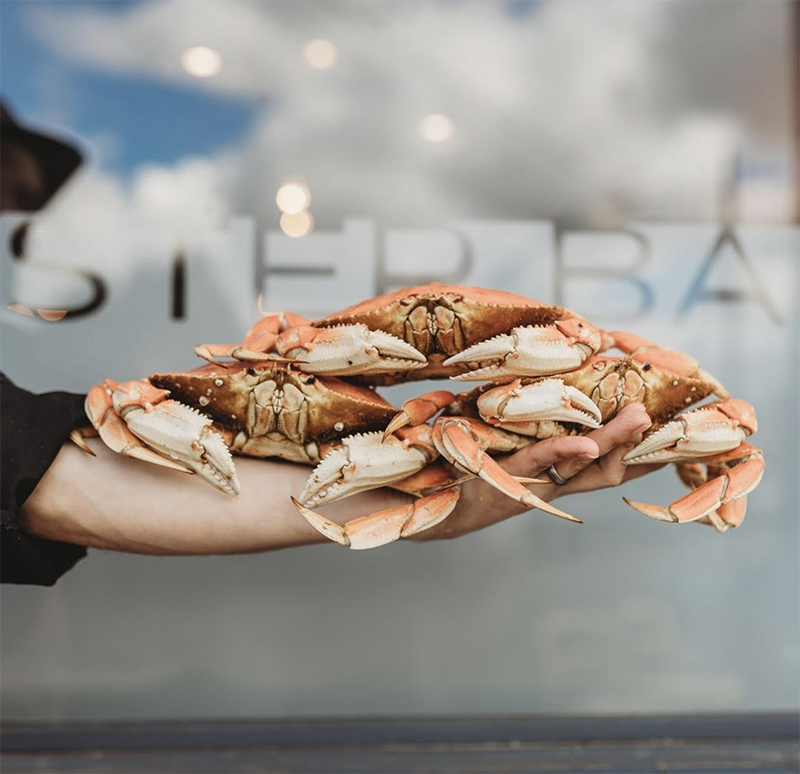 Have some. Photo by Natalie.
In like Flynn, in like Flint, in there like swimwear, get in where you fit in, the in crowd like the Ramsey Lewis Trio, HEY HEY HO HO, Dungeness Crab season is IN! And new for 2021, it's on time. As noted by 
The Oregonian
 this week, dungeness crab season opened on time (December 1st) for the first time in seven years. Lucky us! Our first batch of whole cooked crabs HAS ARRIVED! They've come north from down the coast in Charleston Oregon, where our "cap'n" Lyf is getting his real deal Coast Guard 
Captain
 certification. Hup hup! More on crabs in the next section.
---
Flying Fish is back at Portland Night Market this weekend! We'll be shucking oysters 4–11pm tonight and tomorrow, and 11am–4pm Sunday if we have any left.  Inside next to the bar. Oysters on the half shell, bubbles in a glass. Can you dig it? Under the Morrison Bridge flyover, 2nd & Morrison (100 SE Alder St if you need a GPS jammy).
---
FLYING FISH x MULTNOMAH WHISKEY LIBRARY SPECIAL EVENT 12/13:
TWO TIX ONLY!
I
t's true, we have partnered with the brilliant minds at Multnomah Whiskey Library to bring this very special Flying Fish Pairing Dinner on Monday, December 13th at 6pm. And we have exactly TWO seats available. Flying Fish Chef Erik is taking over the MWL kitchen, Chef Trever is pairing oysters with each of the five courses, and Ross, our Bar Man and a MWL alumnus himself, will mind the drinks. It's going to be a special evening, and again, we have only two tickets available. They're $300 each, and they're first come first serve. Email Lyf right away if you want em – oregonfreshfish@gmail.com – and he'll send you an invoice to get everything squared away.
---
SPECIAL ORDER FOR THE HOLIDAYS!
All righty, it's December so it is TIME to get those holiday orders in. We suspect it's gonna get a little nuts in this piece in the coming days, so get out ahead of it! Meats and fishes and crabs and oysters and caviar and all the fixins. Use this SPECIAL ORDER FORM if you would, please.
---
GO TIMBERS!
Some final homeroom announcements:
CHEFSHACK ALMOST READY! Our new food cart for the patio will feature rotating chefs from around Portland (seriously, the chefs rotate like Franz Bread sign, it's crazy). Before Christmas. Stay tuned.
MUSIC ON THE PATIO: Will return just as soon as the patio is finalized with the aforementioned Chefshack.
HAPPY HOUR: Every day on the patio, 3–5pm. Drink specials and $2 oysters.
GO TIMBERS!!!  Beat Real Salt Lake! #RCTID
CRABBIN AGIN
Live photo in the shop, TODAY, RIGHT NOW.
In case you missed the first section, here is the second section. And in this second section, we'll echo the first: 
IT'S DUNGENESS CRAB SEASON!!! 
Whole cooked crabs, ready to crack and eat like the primitive beasts we are. However! To celebrate the season, may we recommend trying an oven roast? Pretty simple: Clean your crabs by bringing them to a boil for five minutes and immediately dunking them in cold water. This will stop the cooking process and make it easier on your hands to clean them. Once they're good and clean, lay them on a bed of sliced lemons on a buttered cookie sheet, drizzle them with melted garlic butter, and cook at 350º for 15 minutes. Pour the lemony butter from the sheet into a bowl – you're gonna need it for dipping your warm crab meat and a side of fries. And that's it, that's how you do it!
FRESH SHELLFISH AS OF FRIDAY DECEMBER 3RD
Dungeness Crab – wild, Pacific Coast (Oregon) – whole cooked crabs! →
Manila Clams – sustainable farm-raised, Washington
Mussels – sustainable farm-raised, Washington
Savory Clams – sustainable farm-raised, Washington
Scallops – wild, Atlantic Ocean (Massachusetts)
WISHES FOR DISHES OF FISHES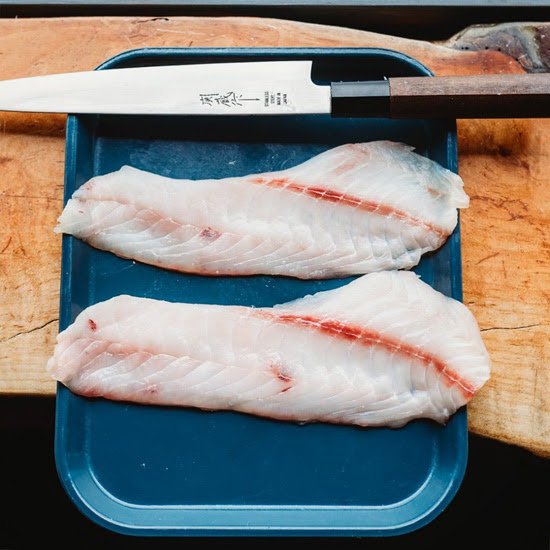 Nutritious, delicious, fishes. Rockfishes, that is. Photo by Natalie, styling by Matthew.
In the words of circa-1992 Def Leppard, "let's get rocked." On the one hand, it's kind of amazing that a stadium rock hair band would record a song as middle-of-the-road and corny as "Let's Get Rocked" so soon after Nirvana turned the music industry on its head, but on the other, why mess with a winning formula? It's 30 years later and they are still doing stadium tours – they're playing in Seattle next summer FFS! Who are we to judge? Love bites, and so do wild Oregon 
Rockfish
. Mild in flavor, heavy on flake, A+ in responsible local seafood sourcing and tasting. No f-f-f-foolin'. Check out this discussion between Lyf and Positively Groundfish for more on Rockfish and the Flying Fish story, see 
HERE
. PLEASE NOTE: It is NOT recommended that anyone pour some sugar on Rockfish. (Or me.)
FRESH FISH AS OF FRIDAY DECEMBER 3RD
Ahi/Bigeye Tuna* – wild, Pacific Ocean (Hawaii)
Black Cod/Sablefish – wild, Pacific Ocean (Oregon)
Branzino – sustainable farm-raised, Greece – whole fish
Ono/Wahoo* – wild, Pacific Ocean (Hawaii)
Ora King Salmon* – sustainable farm-raised, New Zealand
Petrale Sole – wild, Pacific Ocean (Oregon)
Rainbow Trout – sustainable farm-raised, Idaho
Rex Sole – wild, Pacific Ocean (Oregon)
Rockfish – wild, Pacific Ocean (Oregon) →
Steelhead – sustainable farm-raised, Washington
True Cod – wild, Iceland
* – Sushi-grade fish
IF YOU AND YOUR FRIENDS GO OUT FOR OYSTERS, YOU ARE MIGNONETTE MINIONS
Just thought you'd want to know that. Photo by Natalie.
It's tangy, it's tart, and you only need just a splash of it – a drip, a spritz, a drizzle if you're really feeling it. It's mignonette, and it's optional! It ain't about to overshadow the oysters that are the reason you've got it. Oysters. Have three, have six, have a dozen. Have them here or have them there. Just have them, Sam I Am, and have some mignonette on the side, just in case.
FRESH OYSTERS AS OF FRIDAY DECEMBER 3RD
Baywater Indigo – Washington
Blue Pool – Washington
Capital – Washington
Kokus – Washington
Mere Point – Maine
Olympia – Washington (Washington's only native oyster)
Shigoku – Washington
Summerstone – Washington
Tidepoint – Washington
Valley Pearl – Prince Edward Island
Wellfleet – Massachusetts
West Island – Massachusetts
BURGER TIME
OPEN UP AND SAY AHHHH. Photo by Natalie, styling by Matthew.
It's burger time, Peter Pepper, and we've got the beef you need. Grass fed, grain finished, dry aged beef from Laney Family Farms, our stalwarts of burger. BONUS: top your burger with an Odyssey Hill egg. Man, that's livin.
FRESH MEAT AS OF FRIDAY DECEMBER 3RD
GROUND BEEF: Laney Family Farms – Canby, Oregon
EGGS: Odyssey Hill Farm – Salem, Oregon
CHECK THE FREEZER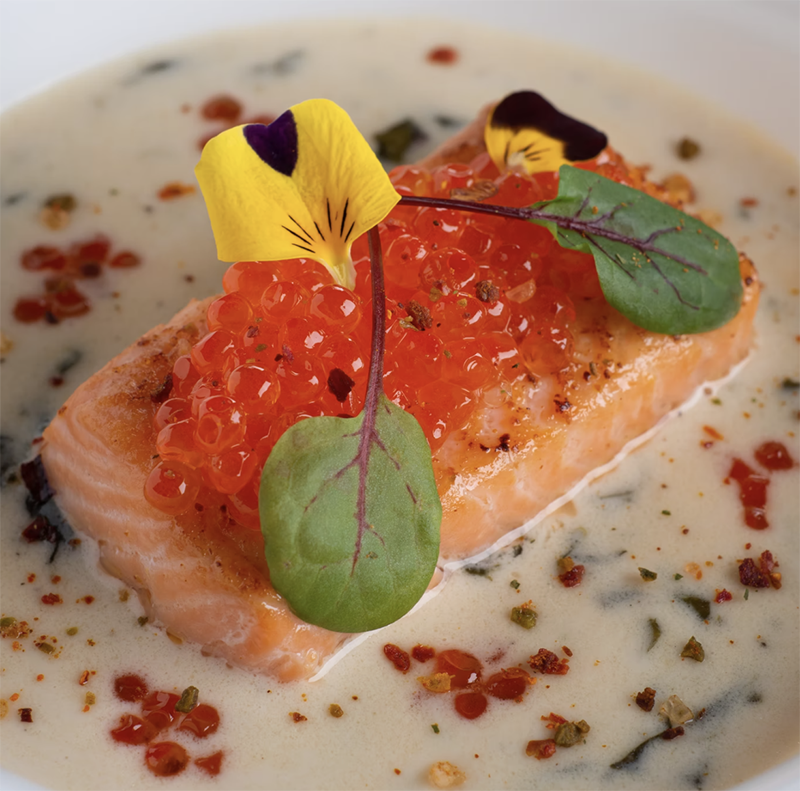 Remember to take your salmon pills.
Ikura roe. Salmon eggs. Little bursts of ocean flavor – solid on their own off a tiny spoon, perfect as a garnish for the parent salmon fillet, pictured above with flowers. It's available in the freezer, inquire within.
SELECT PRODUCTS IN THE FREEZER AS OF FRIDAY, DECEMBER 3RD
Calamari
Ikura roe
Lobster tails
Octopus legs
Mexican blue shrimp u-15
Salt cod
Tobiko roe
OUR RESTAURANT MENU
For dining here or to-go. Menu updated October 2021.
CLICK MENU TO ORDER ONLINE FOR PICKUP: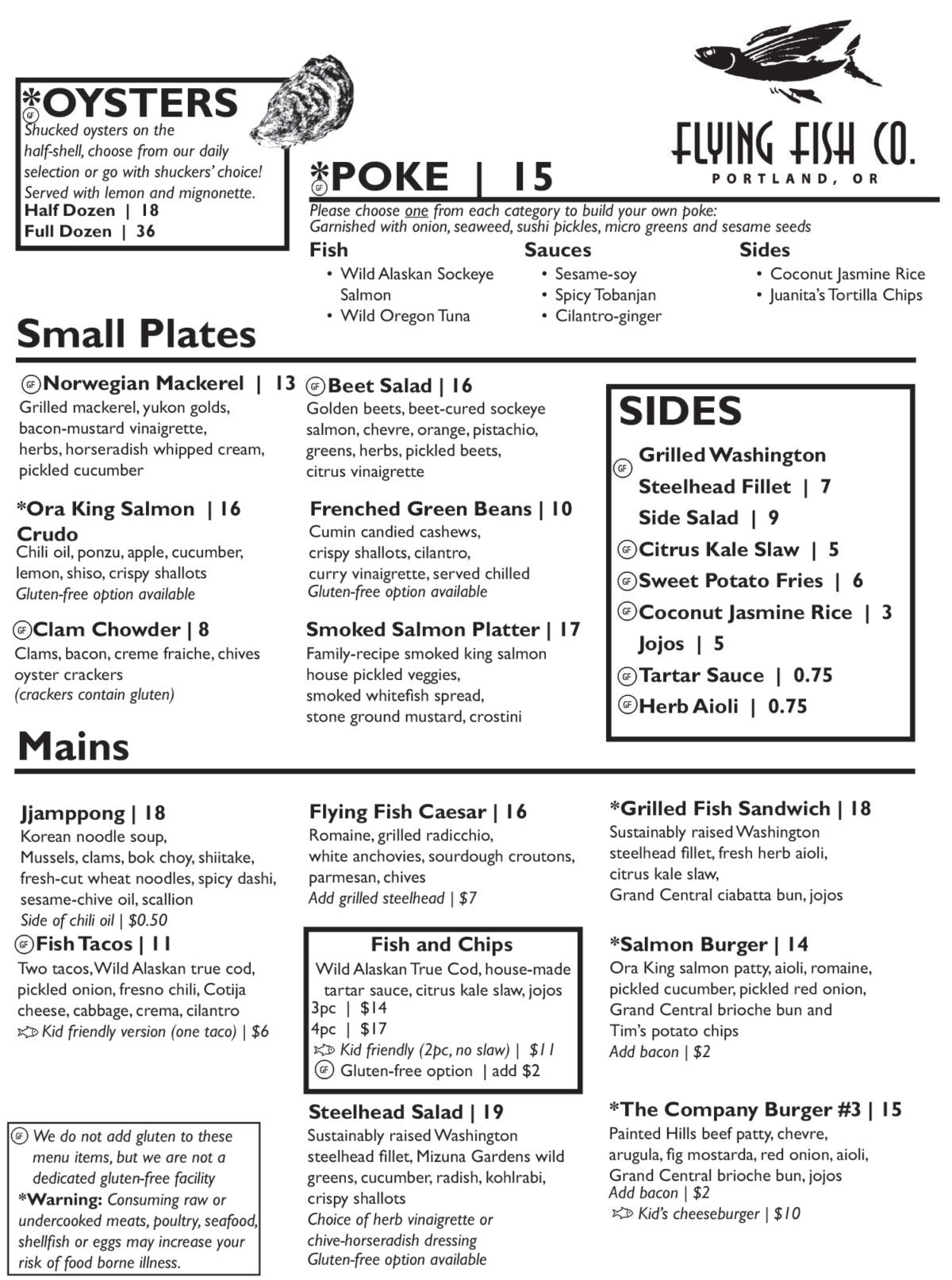 ALSO: Cocktails, sake, wine, and beer for dining onsite. Inquire within.
FLYING FISH SIGNOFF & DISCLAIMER
PLEASE NOTE: This email was accurate at the time of its weekly writing. Some products come and go quicker than others, so for best results on the freshness, follow us on the social medias: Facebook, Instagram, and Twitter. And tag us in your Instagram pics @flyingfishpdx – we love seeing your food pics!
Cheers,
Lyf Gildersleeve and the Flying Fish Team: Alana, Boo-boo, Chris, Danny, Elowynn, Erik, Erin, Gabby, Isabella, Jack, Jaelyn, Jesse, Jordan, Kenneth, Kevin, Luis, Mad Dog, Madeline, Mike, Neebs, Ross, Ryan P, Ryan S, Sam, Sarah, Sawyer, Stephen, Trever, Wyatt, and Brad
INSTAGRAM JAM OF THE WEEK
Keeping those crab hits a coming! Big shout to @adventures_of_charlie_and_nick for this little montage of photos and videos from our crabbin' trip with Captain Bob.
ABOUT FLYING FISH
Craig and Sandy Gildersleeve opened Flying Fish Company in Sandpoint, Idaho in 1979 – the year before their son Lyf was born.
Now president of Flying Fish Company, Lyf has spent his entire life around fish, including an aquaculture education at the Harbor Branch Oceanographic Institute at Florida Atlantic University.
Flying Fish has three locations: Sandpoint, Idaho; Durango, Colorado; and Portland, Oregon. The Portland location opened in 2009 as a food cart at the D Street pod on Division Street. In 2011, we opened the fish shack on Hawthorne Boulevard. In 2016, we moved into a stand at Providore Fine Foods on Sandy Boulevard. In February 2020, we opened our standalone location on East Burnside with a restaurant and a patio.
* * *
Thank you for supporting our family-owned business. 
—Lyf, Natalie, Juniper, and Miles Gildersleeve (and Hazel the Dog)
* * *
PHOTO BY NATALIE GILDERSLEEVE PHOTOGRAPHY: Juniper out on the farm with the 
Copyright © 2021 Flying Fish Company, All rights reserved.
Our mailing address is:
Flying Fish Company
3004 E Burnside St
Portland, OR 97214-1950