---
To Our Market Community,
The last year and half for the Market has been an exercise of flexibility, spontaneity, resourcefulness, and above all else, compassion and patience. As we are in a new phase of the pandemic we will be reimplementing our mask mandate in order to protect our community.
Under the Governor's direction, (starting Friday, 8/27) the OHA rule will require masks for all individuals — regardless of vaccination status — in outdoor settings in which individuals from different households are unable to consistently maintain physical distance. 
During a busy Market it is nearly impossible to maintain distance between other market goers, staff, and vendors. We are asking for your support and cooperation in maintaining a healthy market. Regardless of vaccination status please wear a mask in the market. Our staff and vendors alike will be doing the same. Thank you for your patience and understanding.
Warm Regards,
The Beaverton Farmers Market
---
We will see you all this Saturday at the Market from 9:00AM-1:30PM.
---
When Is the Appropriate Time of Day to Eat Dessert?
If you ask this question of Market Master Ginger Rapport, a retired pastry chef, she will respond with enthusiasm that any time is a good time for dessert. Taming Turtle cookies with your morning coffee? Why not? A late night slice of Decadent Creation's Salted Pecan Pie with a shot of bourbon? So good!  Dietician Wendy Lopez agrees, saying in an article for the Food Network

Photo by: iMylu/Getty Images
"Giving yourself unconditional permission to eat helps to normalize dessert and eventually helps you tune into which desserts you enjoy the most, how much is enough to satisfy you, and what time is the best time to enjoy that dessert. That process looks different for everyone, which is why I would never recommend time restrictions around food."
Lopez does go on to discuss some nutritional guidelines for eating dessert such as "they should never replace meals" or, "don't feel obligated to eat dessert after a big meal just because it is offered". While she isn't giving us carte blanche to eat all the sweets we want, whenever we want, it is her belief that "dessert should be something to savor and celebrate without guilt or compensatory behaviors". 
We can work with this!
Enjoying a well crafted dessert or sweet of your choice is a pleasure and there are many ways to treat yourself at the BFM.
We asked some of our dessert vendors what their personal favorite dessert is right now along with what they love to buy when they're at the market.
Decadent Creations has a booth filled with the most eye catching desserts, colorful sugar cookies, stacks of macaroons in every flavor, cupcakes, cookies. It's nearly impossible to nail down a favorite, but Decadent Creations staff, Vanessa, goes with a tried and true classic, the Salted Chocolate Chunk Cookie. It's no wonder the cookie has single origin Columbian chocolate and flaky sea salt to bring out the flavor of the chocolate. For a cookie, this is true decadence! Vanessa has too many favorites to count, but she can't get enough of  Olympia Provisions salami, and for lunch, Hapa Pizza's Banh Mi pizza or Canby Asparagus.
Linfetté, makers of Normandy style gluten free pastries, is back in the market this week and Pastry Chef Elena Linfesty is bringing her Blueberry Lavender Coffee Cake after popular demand from customers earlier this summer. Herbaceous and sweet, this treat is also vegan and gluten free! Linfesty's favorite Market treat is Kazy's OH!NIGIRI Spicy Salmon.
Sachya from NOLA Doughnuts thinks you can't go wrong with either the Almond Toffee Classic doughnut or the Touch of Honey La'ssant Doughnut and we couldn't agree more. Her favorite go to at the market is the perfect pairing with NOLA Doughnuts, coffee of course! Market days mean early mornings so you can find her grabbing a freshly pulled espresso from Bruce at Pony Espresso.
Sinful Confections, makers of gluten free, dairy free, and vegan desserts and pastries, are everyone's go-to for whoopie pies, but employee, Meg really loves the Dough Bites. They can be eaten frozen, chilled, or room temp and make the perfect bite sized treat. When she's able to get away from the booth for sustenance Meg picks up a wafleje from Stroopwafel and coffee from Pony Espresso.
Taming Turtle's oh so gooey cookies are hard to resist and we love all the cookies and seasonal concoctions they come up with. Zech of Taming Turtle's favorite is a tried and true classic, Chocolate Chip, while Astrid raves about their s'mores. if you can't decide get a box and sample them all! Both Astrid and Zech can't get enough berries as their favorite seasonal treat, but they keep coming back for Lady Lane Farm/ Gary's Meadow Fresh Milk as their favorite item in the market — it's also the perfect pairing with their cookies!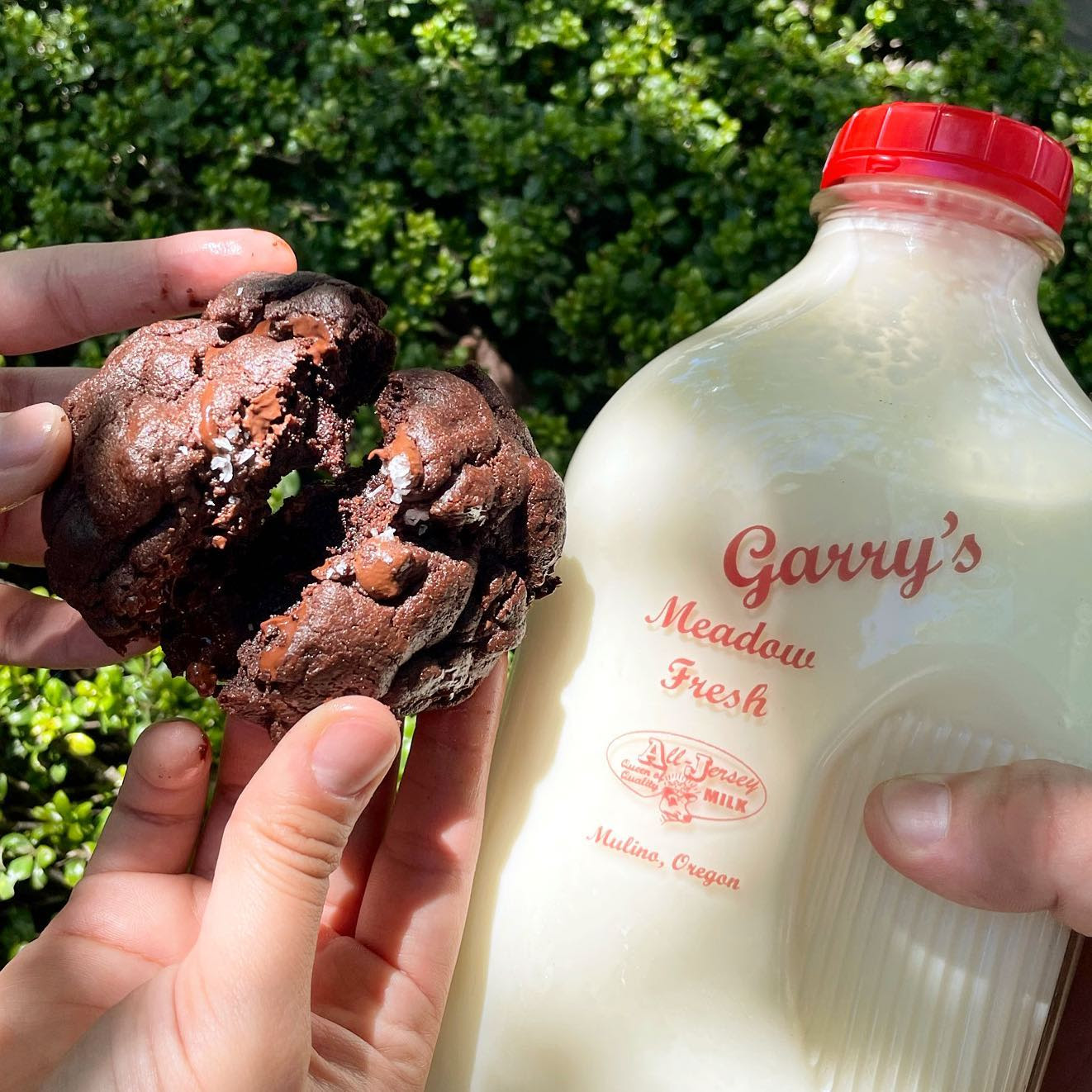 Katy Hebert of Tipping the Scales Vegan Bakery shared that while the almond croissant is by far her most popular treat, she likes to go for something more savory, like pretzels for a treat. If you haven't tried a Tipping the Scales pretzel you surely are missing out! Crispy outside while also soft and doughy, pick some up to pair with Sidekick Provisions Smoky Chipotle Almond Dip. It's hard for Hebert to get away during a busy market, but she usually heads across the aisle to pick up other vegan foods from friends, Mundus Foods.
Did you know that stressed spelled backwards is desserts?
---
In case you missed them last week, Sosa Farms started! That's right, famous for their salsa kits, but you'll also find the most colorful selection of peppers in the market!
Copyright © 2021 Beaverton Farmers Market, All rights reserved.
You are receiving this email because you opted into the Beaverton Farmers Market email list.

Our mailing address is:

Beaverton Farmers Market

PO Box 4

Beaverton, OR 97075