Photo courtesy of 
ASU
To Our Market Community,
Dia De Los Muertos, or Day of the Dead, is a traditional Mexican holiday that falls on Nov. 2. It is a fun and festive celebration where families create colorful shrines to honor their departed family members.  Alters are decorated with bright yellow marigold flowers, photos of the departed, and the favorite foods and drinks of the one being honored.
Marigolds are called "Flor de Muerto" (Spanish for Flower of Dead) and symbolize the beauty and fragility of life. During Dia De Los Muertos, they are believed to be the pathways that guide the spirits to their ofrendas (offerings). Their vibrant colors and scents attract the departed souls as they return to feast on their favorite foods. (source)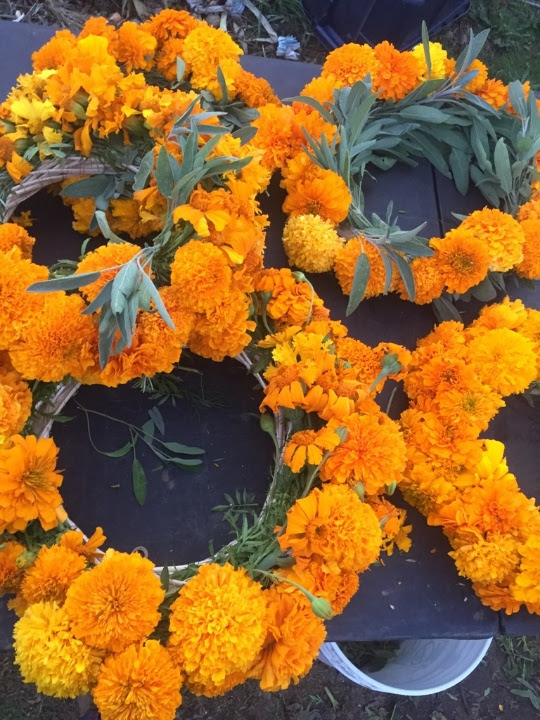 In the garden, marigolds attract beneficial insects such as bees, butterflies, and ladybugs while deterring pests such as nematodes. Use as a companion plant to tomatoes, potatoes, or roses but never with beans or any member of the cabbage family. Marigolds are used in cooking and crafts and are believed to have medicinal properties. Mostly, we love them because they are beautiful, bright, and sunny.
Anna at DeLeon's Farm uses her artistic talents to make delightful decorations with their farm-raised marigolds. Everyone in the market community loves her colorful and cheerful wreaths and flower garlands. Anna has been working overtime to meet the demand for marigold decorations for their customers this Saturday. So whether you celebrate Dia De Los Muertos or are looking for festive fall decorations, you will love Anna's show-stopping marigolds creations.
(The flowers will dry over time, but they will keep much of their color, making them lovely for weeks after being picked.)
 Warm Regards,
The Beaverton Farmers Market
---
We will see you this Saturday at the Market from 8:30 AM-1:30 PM.
---
New and Returning Products
 Pink Wagon Foods, makers of our favorite pickled onions, will be in the market this week with their classic pink pickled onions and a tasting opportunity for customers. Stop by their booth and be one of the first to taste their new flavors – Garden Herb packs flavors of dill, oregano, mustard seed, and garlic, and Spicy brings the heat from the addition of habanero peppers. So which one will be your new favorite?
New flavors officially launch in November.
Fall is in the air, which means everyone's favorite holiday beverage has returned to the market, Lady Lane Farm Eggnog! This creamy treat is a market favorite so be sure to get yours before the season ends.
---
Fall Updates
Now is a time of transition for the market. As the weather changes, so do the availability of seasonal crops. Berries are finally gone from the market, and apple season is in full swing. We no longer book live music because our musicians aren't fond of the cold, wet weather. While the market is open until the Saturday before Thanksgiving, we recommend stocking up now just in case your favorite vendor isn't with us until the end.
Joining us this week is Kimo's Dips. They blend 21 different herbs and spices to make all-natural dips, sauces, and spread mixes. They are delicious in a sauce over pasta, added to hummus, or mixed with mayonnaise or sour cream for your favorite veggie or charcuterie tray. They are lovely stocking stuffers for your favorite foodie family member and make great hostess gifts.
Also joining us this week after a long absence is Portland Juice Co., makers of raw, organic cold-pressed juices and nut milk. Their juices come in categories that focus on specific health benefits.
~ Citrus Frenzy – juices that are high in vitamin C
~Roots- fruits, and roots, are powerful energizers and high in fiber
~Greens Galore – from sweet to savory, these greens are packed with essential vitamins and high in calcium
~Nature's Anti-inflammatories – Plant-based power!
Get It Before It's Gone!
This coming Saturday is the last market of the season for the following vendors.
Le Petit Jardin
Not Umami's Cooking
Pumpkin Ridge Gardens (will return on Nov. 19)
Martinez Farm
Nola Donuts
Northwest Cactus and Succulents
Rarity Gardens
Done for the season: Thompson Farm and Unger Farms
---
We are excited to have some spooky take-home crafts for Market Sprouts Kids Club this Saturday! Kits are limited so come early to get yours! Little ghouls and goblins donning a costume can earn a prize. Also, be sure to trick or treat throughout the market, many of our vendors bring candy for this festive market.
---
Spread Holiday Cheer in the Beaverton Community!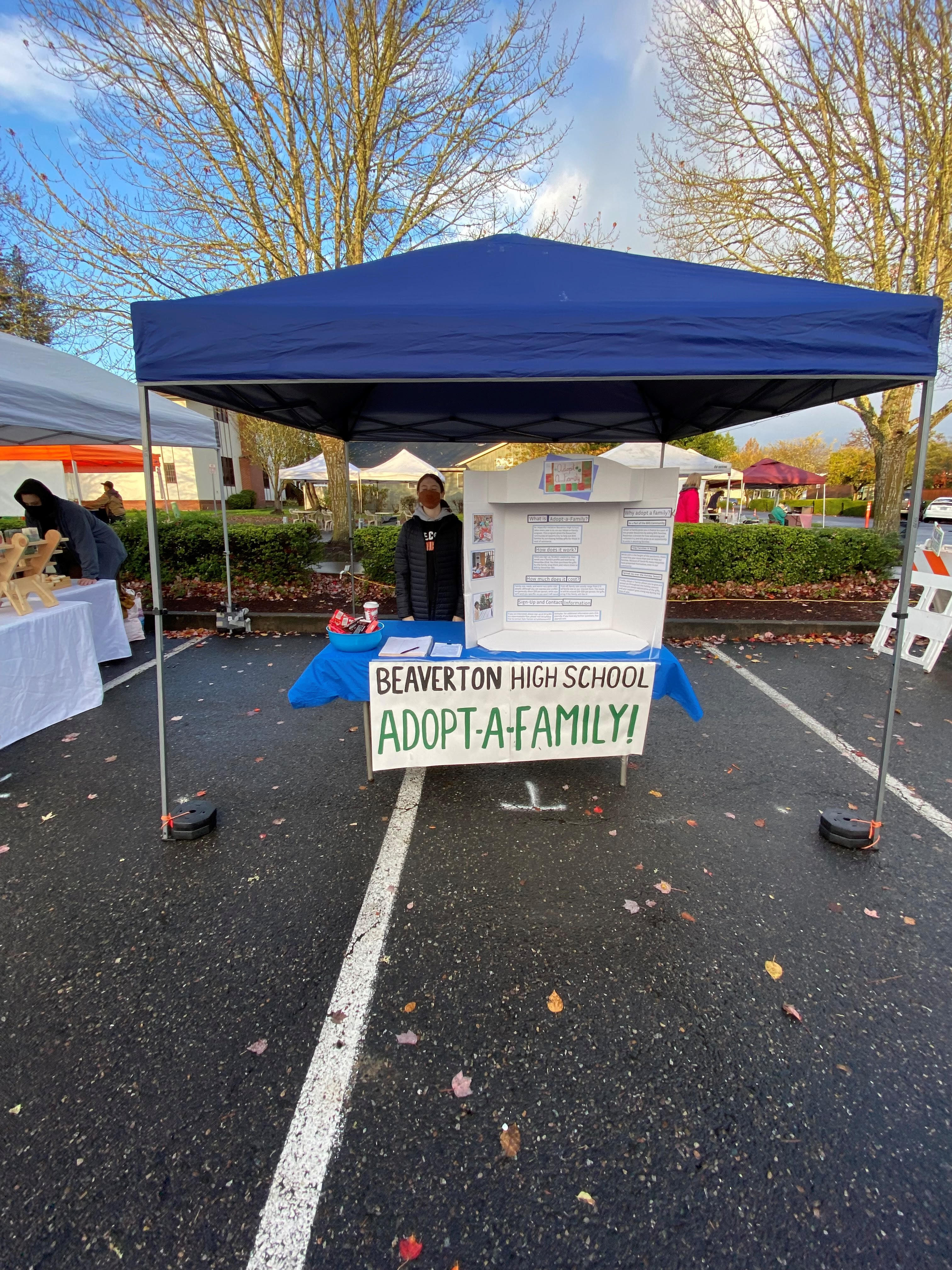 Adopt-a-Family is an annual event put on by BHS that provides the opportunity for people to shop for another family in need during the holiday season. Adopters sign-up for the event by Nov. 1st, receive a family's wish list and shop for gifts accordingly.
Contact us at bhs.adopt.a.family@gmail.com if you'd like to be in contact!  Sign-up here.
Copyright © 2022 Beaverton Farmers Market, All rights reserved.
Our mailing address is:
Beaverton Farmers Market
PO Box 4
Beaverton, OR 97075