Your Weekly Coquine Update —  May 13, 2021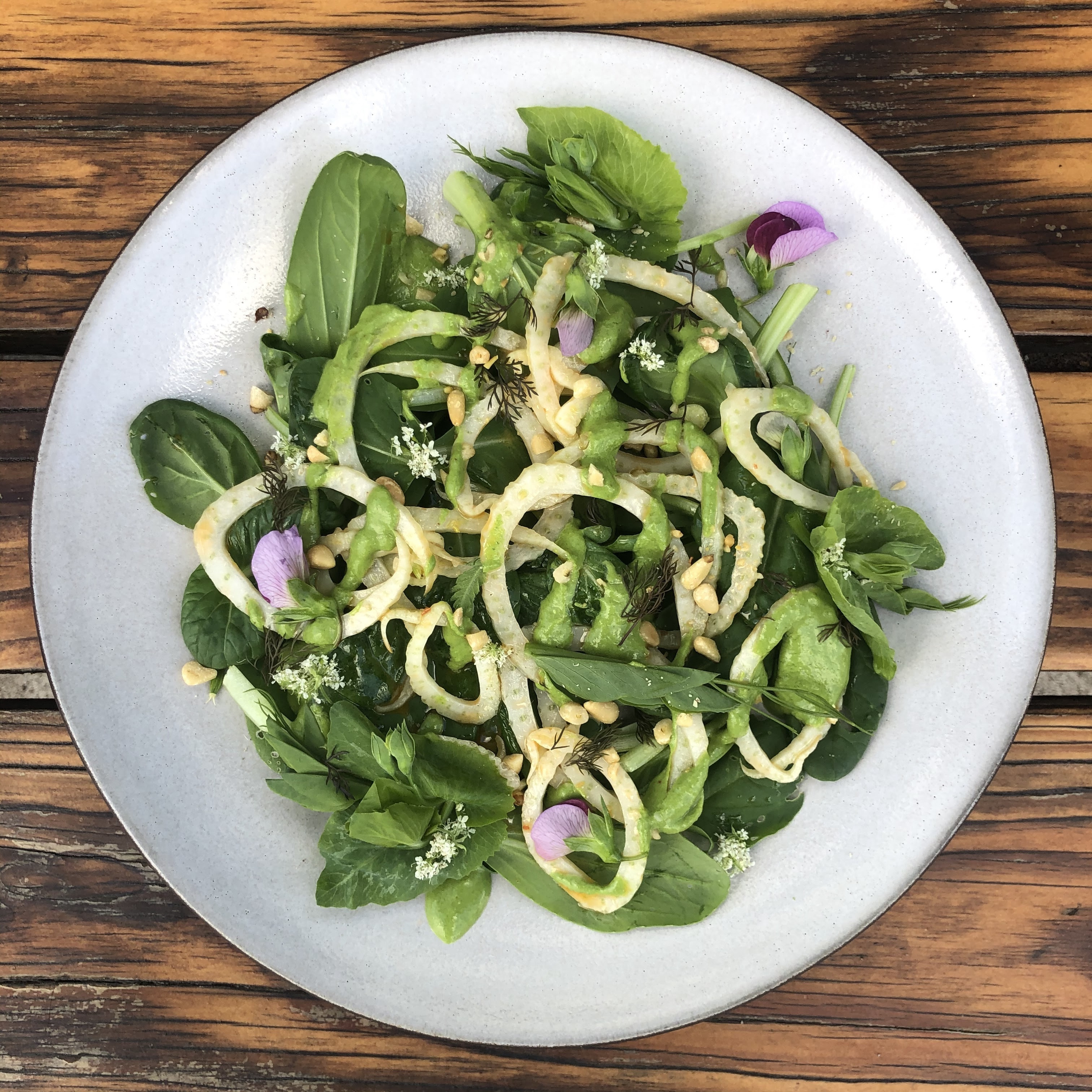 Tatsoi and shaved fennel
with spicy green goddess and toasted pine nuts
Farm Direct Pickup
Orders are now open for Wednesday, Saturday, and Sunday, May 19, 22 & 23
Gamay All May – Lots of special Gamay selections to choose from 
Spring Dinner Schedule 
We're pleased to continue offering 
"Curbside Coquine" for take-away dinner, Thursday through Sunday.
  Orders can be placed online via 
Tock
 as late as 3:30pm the same day.
Additionally, we're happy to take your order over the phone for same day pickup. Call us at 503-384-2483 between 4pm and 6pm. Most orders can be ready within 30 minutes.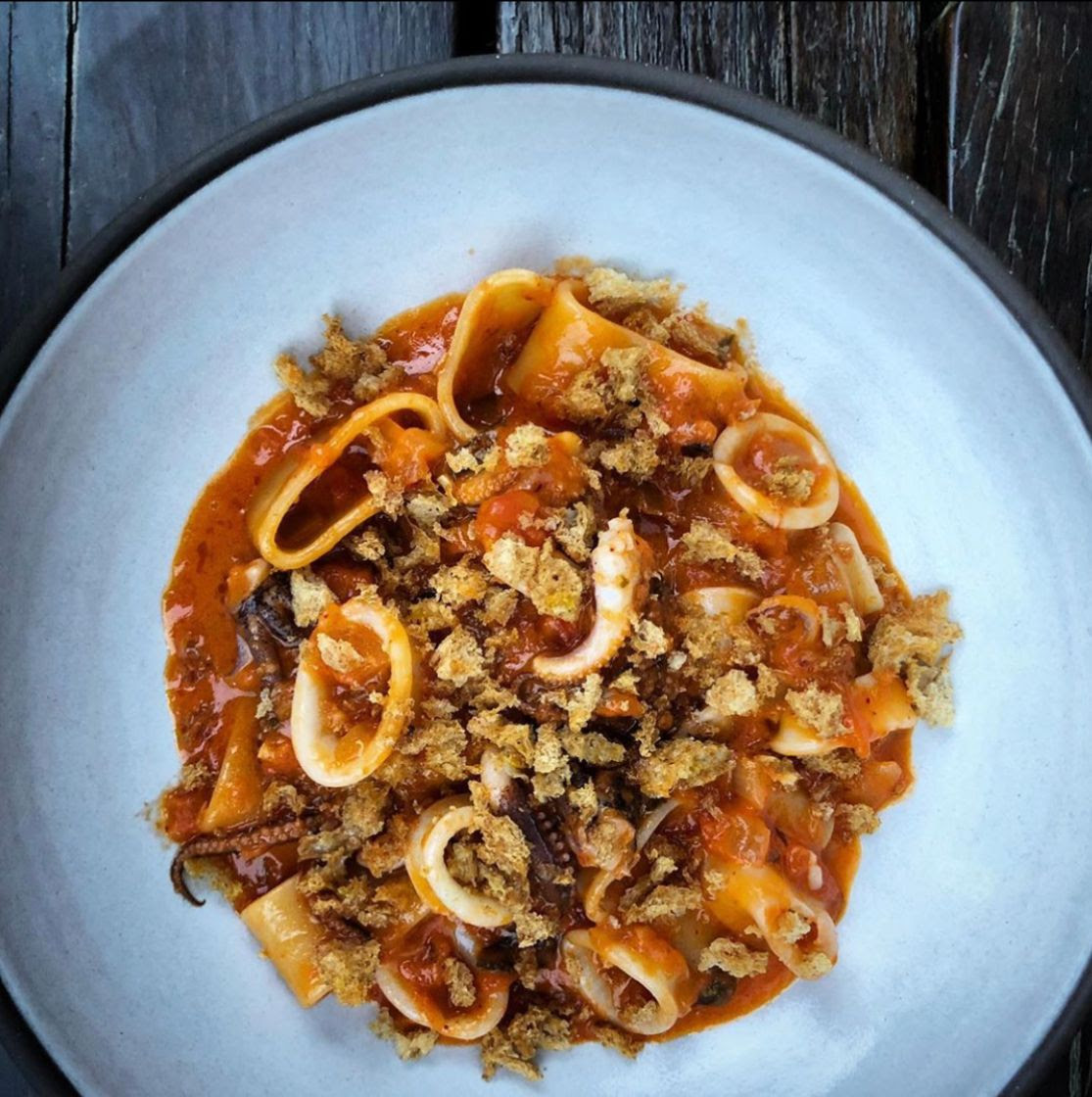 Take-Away Dinner Menu for the week of May 13 to May 16: Thursday-Sunday
Green garlic and mint crusted rack of lamb with spicy cumin-scented carrot sauce
Asparagus and morel mushrooms with Carolina Gold rice and tarragon butter
Calamarata Pasta with Monterey Bay squid, spicy tomato sauce, guanciale, and rustic bread crumbs
Braised chicken, with fresh porcini mushrooms, créme fraïche, capers, lemon, parsley
Coquine Cheese Burger: Quarter pound beef burger on a housemade potato bun, with pickles, yellow mustard, cheddar cheese and crunchy lettuce
Dutch Bullet bean minestre with Parmesan broth, cauliflower, spinach, lovage, and walnut oil
Sugar snap peas with almond and white bean dip, toasted almonds, and lemon
Tatsoi with shaved fennel, spicy Green Goddess, and toasted pine nuts
Bulgur wheat with kale, leek scapes, roasted calçots, dates and smoked almonds
Hand-cut French fries with house-made ranch
Dark chocolate sorbet, lime sherbet & vanilla ice cream with nocino swirl
Mascarpone mousse with strawberries and almond crumbly-crunch
Huckleberry financiers
Cold beer and cocktails
Wines: Choose your own adventure, or let us pick for you
---
I Just Want Cookies! Thursday – Sunday, 4:30PM to 7PM open arrival

You are welcomed to pre-order cookies and sweets for Curbside pickup, with open arrival, Thursday through Sunday, between 4:30pm and 7pm. Book through Tock at the link above.
Gamay All May – We'll be drinking lots of Gamay this Month
Check out our feature for this month; A selection of Gamay noir, some from near, and some from afar.
Red, rosé and sparkling!
Some rare and hard to find, some perfect for stocking your weeknight supply
Domaine Grégoire Hoppenot, "Morier," Fleurie, France 2019
$35/bottle
Style: Dry red wine
Grape Varieties: Gamay
Appellation: Morier Vineyard – Fleurie
Bottle Size: 750mL
"Les Moriers." is a very old vineyard located on a slope overlooking the village of Fleurie. The site produces wines of intensity, multi-layered aromatics and restrained power. This bottling is full of dark fruit, berries and plums, with wildflowers and spice. Hoppenot produces Fleurie with phenomenal cellar potential. Delicious, bold styled Gamay.

Domaine Thillardon, "Chassignol," Chenas, France 2018
$53/bottle
Style: Dry red wine
Grape Varieties: Gamay
Appellation: Chassignol Vineyard – Chénas
Bottle Size: 750mL
Notes from the importer: Brothers Paul-Henri and Charles Thillardon, who have positioned themselves as the future of Beaujolais' smallest, sleepiest cru, Chénas. In 2008, Paul-Henri Thillardon began making wine from 3ha of vineyards, with the conviction that Chénas has always been unjustifiably overshadowed by Moulin-à-Vent. He has slowly added new parcels to form the 12ha he works today. From the start, he has farmed organically, working some of the vineyards with a horse and using biodynamic treatments. In 2009, he met Fleurie winemakers and lynchpins of the Fleurie natural winemaking scene, Jean-Louis Dutraive and Yvon Métras, who took the young Paul-Henri under their wing. With the dedication and attention to detail of the Thillardons, the future of natural Chénas is in good hands.
Elegant, lifted, energetic gamay!
Come see what else is new!
Our pop-in wine-shop is open every
Wednesday, Saturday and Sunday from 10am-2pm
and
Thursday – Sunday from 5pm to 7pm 
We look forward to serving you