FISH MARKET • RESTAURANT • OYSTER BAR
3004 East Burnside Street • 971-806-6747
FRESH CATCH MARKET: 10am–8pm every day (except Tuesday, when we are closed)
DINE-IN RESTAURANT (walk-in only, no reservations): 11am–8pm every day (except Tuesday, when we are closed)
CHEF SHACK: 1–8pm Friday–Saturday–Sunday
HAPPY HOUR: 3–5pm Weekdays (except Tuesday, when we are closed)
TUESDAY: CLOSED
We accept EBT/SNAP/Oregon Trail.
It's time for you to be a PROPER COPPER SHOPPER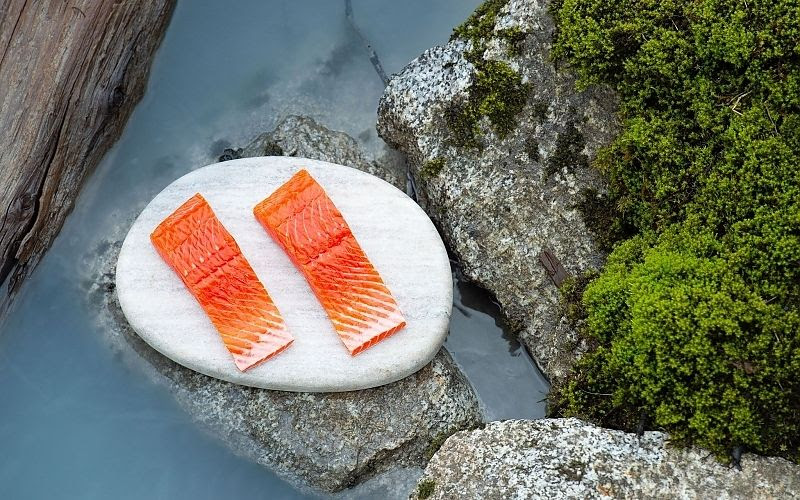 …and please eat your salmon the way nature intended: on a plate on a rock on the water.
Photo courtesy of Copper River Salmon.
COPPER SOCKEYE IS THE NEWS YOU CAN USE. 
Copper River, Alaska
, home to the world's greatest 
Sockeye Salmon
, and the season is NOW. We get this precious bounty directly from Sarah and Clint at 
Copper River Fish Market
 and from our fam at 
60º North Seafood
. Seriously: It's sent to us directly from Cordova on Alaska Air and we pick it up direct at PDX Cargo. Just like that, the best sockeye salmon on the dang planet is in our hands, destined for yours. Now you know. Read more below. Oh oh oh.
---
---
TOMORROW AT CHEF SHACK: T.N.T!
They're dynamite.
The menu's Comic Sans but the dishes are Adobe Garamond Pro. Our buds at Tails & Trotters were our neighbors for years at Providore, and tomorrow, Saturday May 21st, they are TAKING OVER the Chef Shack to sling that sensational Oregon hazelnut-finished pork like only they know how. Can't wait tbh. Matthew Roning's on the patio with the tunes just for the occasion.
Oh! And heads up: we'll have a special Friday performance in a couple weeks when NYC's Sandra Small makes her first visit to the west coast and takes the stage with multi-instrumentalist Paul Brainard.
UPCOMING CHEF SHACK CHEFS (1–8pm)
Saturday, May 21: Tails & Trotters
Saturday, June 4: Jenn Louis
Saturday, July 2: Two Spoons PDX
UPCOMING CHEF SHACK MUSIC (~4–7pm)
Saturday, May 21: Matthew Roning
Saturday, May 28: Henry Fields
Friday, June 3 (5:30–7:30): Sandra Small & Paul Brainard
Saturday, June 4: Reichman-Zekala Duo
See more HERE.
---
---
A SPOT HAS OPENED TO GO STURGEON FISHING SAT 6/4!
Lucky YOU: A seat on the Captain Bob's fishin' boat in Astoria has opened to go fishing for STURGEON. It's in two weeks, on a Saturday, and is a pretty rare opportunity. The wild sturgeon fishery is very strictly managed, which we support, so we celebrate and act when opportunity arises. Well bub, opportunity has arisen. Don't miss it. Saturday June 4th. CLICK HERE TO JOIN US.
ALSO: We need to let you know that the rafting trip in Hells Canyon has SOLD OUT! That said, if you're very interested, we can put you on the wait list and check in as the time nears. To do that, call or write Chris at Portland Food Adventures: 503 314 4221 / chris@portlandfoodadventures.com
STURGEON FISHING TRIP, SAT 6/4: DETAILS & SIGNUP • ONLY 1 SPOT LEFT!
RAFTING IN HELLS CANYON, JULY 17–21: SOLD OUT
Those and all Flying Fish Field Trips are on the Flying Fish Field Trip page.
---
---
HEY MULTNOMAH VILLAGE, WE'RE COMIN FOR YOU SAT 6/11
Shoutout to all our old heads who remember the Flying Fish fish truck that we used to set up with Kris (man she cooked up pork like no one's business) across from 
John's Marketplace
. Well babe, we're coming back — one afternoon only! We'll be shucking Netarts and Kokus Oysters, paired with beers from 
Baerlic Brewing
 and bubbles from 
Corollary Wines
. Lyf's exact quote was, "I believe this will be a good time." Well holy moly, keep the faith! Come and see us. 
Saturday, June 11th, 12–3pm
.
---
---
NEW NOTES ON THE MENU
FYI. We have made notes about nuts a little more noticeable in red on our menu. You'll see it in the menu section below and in person when you see our in person menu, but we just want you to know the dishes that contain deez nuts which may be hazardous to your allergies. FYI.
ALSO: Speaking of nuts, we have a new Caesar Salad on the menu! It's got a nut-anchovy dressing, so give your tastebuds some calisthenics before ordering.
ALSO ALSO: That wine launch party we had last week with Cooper Mountain Vineyards and Hama Hama Oysters? Well hot damn, if you missed out on that, don't miss out on THIS: We have a little extra of it, so it will have it for sale by the bottle in the market and by the glass in the restaurant until it's gone. GIT IT!
---
---
FISH FISH SHELLFISH FISH OYSTERS FISH SMOKED FISH FISH FISH
Hey dude hey dude hey doodly doodly dooooo. Look at this fish:
ONCE AGAIN, COPPER RIVER SOCKEYE SALMON
Copper River Sockeye Salmon
. A short(ish) season in the Alaska world to bring the whole world the best sockeye you ever did feast your eyes 
and your tongue
 upon. The Copper River is 300 miles long and it is COLD, curving around Wrangell-St Elias National Park on its way to the Prince William Sound. This force of nature requires stamina for the fish heading upstream to spawn — stamina fueled by reserves of the rich omega-3 fat that makes it so delicate and delicious. It's an outstanding fish and we humbly submit that you should try some.
Copper River Sockeye is but one of a dozen bullet points indicating fresh, never frozen fish, that happen after this three-asterisk dinkus. Dink dink dink.
* * *
FRESH FISH AS OF FRIDAY MAY 20TH
Ahi/Bigeye Tuna* – wild, Pacific Ocean (Hawaii) – fillets
Black Cod/Sablefish – wild, Pacific Ocean (Oregon) – fillets
Branzino – sustainable farm-raised, Greece – whole fish
Chinook Salmon – wild, Pacific Ocean (Oregon) – whole fish & fillets
Halibut – wild, Pacific Ocean (Alaska) – fillets
Lingcod – wild, Pacific Ocean (Oregon) – fillets
Ora King Salmon* – sustainable farm-raised, New Zealand
Rockfish – wild, Pacific Ocean (Oregon) – fillets →
Sockeye Salmon – wild, Copper River, Alaska – fillets
Steelhead – sustainable farm-raised, Washington
Swordfish – wild, Pacific Ocean (Hawaii)
Tombo/Albacore Tuna* – wild, Pacific Ocean (Hawaii)
* – Sushi-grade fish
O CANADA, AND THE O IS FOR OYSTERS
You gonna use both of those forks, hoser? Photo by Natalie.
Your newsletter writer may or may not have spent 15 minutes trying to find a good royalty-free photo of famous Canadians eating oysters, but apparently neither Justin Trudeau nor Drake nor Joni Mitchell like oysters. May we instead recommend the close-enough consolation of Celine Dion modeling her own line of clothing for 
Oyster magazine
HERE
. The point of this pointless exercise is to let you know that the two Canadian varieties on this week's oyster menu — Fin de la Baie and Valley Pearl — are in short supply, so act fast to get em. We'll shuck em for you 6 to 12 at a time for you to enjoy here, or you can get a sack to go and shuck em 
near… far… wherever you are.
There are also notes in ALL CAPS for some of the oysters on the list, which you can see right here:
FRESH OYSTERS AS OF FRIDAY MAY 20TH
Baywater Sweet – Washington – LAST ONES FOR A LITTLE WHILE
Blue Pool – Washington – TINY AND TERRIFIC
Chelsea Gem – Washington
Fin de la Baie – New Brunswick – LIMITED SUPPLY
Hama Hama – Washington
Los Rucos – Washington
Sea Cow – Washington – LIKE YOUR MOM
Skagit Oishi – Washington
Valley Pearl – Prince Edward Island – LIMITED SUPPLY
Virginica – Washington – HOPEFULLY
Willapa Willies – Washington – ARE THESE EVEN REAL, SAM?
CLAM, CLAM, HERE COMES THE MAN
Yes, that was a riff off of Heavy D's verse in Michael Jackson's "Jam." Shamone.
Photo by Natalie, styling by Matthew
CLAMS and MUS-SELS. Clap, clap, clapclapclap.
CLAMS and MUS-SELS. Clap, clap, clapclapclap.
Ad infinitum.
FRESH SHELLFISH AS OF FRIDAY MAY 20TH
Manila Clams – sustainable farm-raised, Washington
Mussels – sustainable farm-raised, Washington
Oysters in a Jar – Jolly Roger, Washington
Shamone.
HOUSE SMOKED FISH
HOUSE MADE DISH
FROZEN ISH
…and sometimes all at the same time. Photo by Dylan.
We have the fish, we have the shellfish, we have the oysters, we have a patio with a Chef Shack and live music on Saturdays. But DID YOU KNOW: our fish market has a freezer with top notch products PLUS we smoke our own fish PLUS we make things like dips and pokes that you can grab and go enjoy at your leisure. Chances are if you've made it this far in this email, you did know that. Heads up? This list below is PROBABLE, not necessarily DEFINITE. Ain't that life. Inquire within.

I'm sorry, what?

FROZEN PRODUCTS TO GO AS OF FRIDAY MAY 20TH (PROBABLY)
Ikura
Masago
Mexican Blue Shrimp Easy Peel + Peeled & Deveined
Octopus
Oregon Bay Shrimp
Premium Lobster Tails
Salt Cod
Tobiko
Prob other stuff, check freezer
PREPARED PRODUCTS AS OF FRIDAY MAY 20TH (MOST LIKELY)
Boquerones
Cold Smoked Ora King Salmon
Dulse Seaweed
Grab & Go Pokeº
House Smoked Fishesº
Pickled Herring
Smoked Salmon Dipº
Smoked Whitefish Dipº
Sushi Style Pickled Ginger
º – Flying Fish house-made products
AND VARIOUS PANTRY ITEMS (PERHAPS)
Rice
Vinegars & such
Shucking Knives
Ketchup
Hot Sauce
Tinned Fish
Spices – OH MY THAT'S A SPICY SPICE RACK →
Flying Fish Swag
BACON, PRECIOUS BACON
The food is 10/10 but the photo is 8/10. Slab cropping is fine and stylish, but the handle of the frying pan is too close to the edge of the frame, and the placemat is ruffled, a little sloppy. But most importantly: The bacon is from Tails & Trotters! The guys doing tomorrow's Chef Shack Takeover! Can you dig it! CAN YOU DIG THE BACON!
FRESH MEAT AS OF FRIDAY MAY 20TH — ESTIMATED
Chicken Eggs – Odyssey Hill Farm – Salem, OR
Pork – Tails & Trotters – Portland, OR

Uncured Applewood Bacon!!!!!!!!!

Beef – Painted Hills Natural Beef – John Day, OR
INQUIRE WITHIN FOR BEST RESULTS.
OUR RESTAURANT MENU
For dining here or to-go.
CLICK MENU TO ORDER ONLINE FOR PICKUP:
ALSO: Cocktails, sake, wine, and beer for dining onsite. Inquire within.
INSTAGRAM JAM OF THE WEEK
This image is only a still from @trailofcrumbs' reel of @salamooch's pork cutler slider last weekend at @chefshackpdx. Tap it to view the reel (HIGHLY RECOMMENDED)
FLYING FISH SIGNOFF & DISCLOSURE
Once again it's the man with the oyster plan, they call him Sam and I think
YOU BETTER RECOGNIZE
PLEASE NOTE: This email was accurate at the time of its weekly writing. Some products come and go quicker than others, so for best results on the freshness, follow us on the social medias: Facebook, Instagram, and Twitter. And tag us in your Instagram pics @flyingfishpdx – we love seeing your food pics!
---
Cheers,
Lyf and the Flying Fish Team: Alana, Alex, Alina, Boo-boo, Chris, Danny, Ellison, Elowynn, Erik, Gabby, Jack, Jae, Jordan, Kenneth, Kevin, Luis, Madeline, Mike, Neebs, Owen, Ross, Ryan P, Ryan S, Sam, Sawyer, Shannon, Trever, Wyatt, and Brad
Lyf Gildersleeve: Owner, Chief Fishmonger
Erik Englund: Culinary Director
Danny Atkins: Sous Chef
Jack Bressoud: General Manager
Ross Richardson: Beverage Director
Genevieve "Boo-Boo" Jen: Operations Manager
Sam Moser: Oyster Bar Manager
Sawyer Lovell: Fish Market Manager
Alana Ginster: Assistant Manager
Trever Gilbert: Chef Shack Executive Chef
FLYING FISH, FAMILY OWNED SINCE 1979
Craig and Sandy Gildersleeve opened Flying Fish Company in Sandpoint, Idaho in 1979. The next year, their son Lyf was born into the family business. Now president of Flying Fish, Lyf has spent his entire life around fish, including an aquaculture education at the Harbor Branch Oceanographic Institute at Florida Atlantic University.
Lyf opened Flying Fish in Portland in 2010 as a food cart at the D Street Noshery on Division Street. In 2011, we opened the fish shack at Kruger's Farm Market on Hawthorne Boulevard. In 2016, we moved into a stand at Providore Fine Foods on Sandy Boulevard. And in February 2020, we opened our standalone location on East Burnside with a restaurant and patio, and in January 2022 we added the Chef Shack.
Flying Fish has sister locations in Sandpoint, Idaho and Durango, Colorado.
* * *
Thank you for supporting our family-owned business. 
—Lyf, Natalie, Juniper, and Miles Gildersleeve (and Hazel the Dog)
* * *
PHOTO BY NATALIE GILDERSLEEVE PHOTOGRAPHY: Leo & Miles, dabbin the spring dab
Copyright © 2022 Flying Fish Company, All rights reserved.
Our mailing address is:
Flying Fish Company
3004 E Burnside St
Portland, OR 97214-1950