---
To Our Market Community,
This Saturday's market will be all about getting ready for a fun-filled  4th of July on Sunday. Now that covid restrictions have been lifted around the state we are sure to see the return of big backyard cookouts celebrating our Nation's Independence Day and the return to gatherings after the pandemic.
In honor of the holiday, The Today Show has been running a 4th of July Bracket, asking viewers to vote for their favorite cookout food.  Because the 4th of July is the Thanksgiving of Summer, people are very passionate and opinionated about the dishes that will appear on the picnic table that day.
As the winners of each bracket were announced on air, it launched heated debates among the show's hosts over many topics including the difference between a cookout and a barbecue. Al Roker schooled everyone when he explained: Barbecue is when you cook in direct heat, low and slow. A cookout is when you cook directly over an open flame. Burgers, hot dogs, wings, things like that.
Savannah Guthrie was aghast when ribs won out over hot dogs calling ribs "saucy bones". She was horrified when chicken wings defeated pulled pork yelling "Have your saucy bones everyone"  while declaring that she would stand with "Hot Dog Nation". Hoda Kotb voted for coleslaw which got beat out by grilled corn. Potato salad won out over baked beans which our Market Master, Ginger Rapport, said was ridiculous because both are essential on a proper 4th of July menu.
Clearly, the easiest way to bring down the heat of the debate is to serve some of everything so we best start planning our menus now. Check out the results of the Today Show 4th of July Bracket and some delicious cookout recipes.
Warm Regards,
The Beaverton Farmers Market
---
We will see you this Saturday at the Market, from 9:00AM – 1:30 PM
---
Keeping Cool With a Tall Glass of….
While this weekend's forecast is cooler than last weekend's record setting triple digit temperatures, it is still going to be hot outside so we thought you might enjoy some refreshing ideas for cooling down with juices,  sodas, wines and spirits from the many talented vendors in the market.
If you're looking for something tasty to sip on while shopping the market this Saturday Liquid Sunshine has a delightful selection of seasonal lemonades and limeades to choose from. Flavors range from cherry, mango, peach, or strawberry lemonade to jalapeño or piña colada limeade. Buddha Chocolate has shaken up some iced drinking chocolate for you as a sweet treat. And Momo Cocoa has Iced Lavender Mocha (with Bastion cold brew) as a refreshing pick-me-up.
For healthy refreshments look no further than Portland Juice Company. Portland Juice Company is USDA certified organic and Oregon Tilth certified so you know only the cleanest fruits and veggies are going into your body. You can choose from individual juices, cleanses, nut myllks, or smoothies. For a gulp of summer, pick up their aptly named "Summer" juice, a blend of watermelon, cucumber, and lime.
If you're wanting a soda alternative then Bozorth Beverages will satisfy your cravings with their delightful selection of lemonade, limeade, and orangeade, as well as concentrated ginger beer syrup for your mixing pleasure. We have really loved their new honey orangeade for a sweet treat!
Lively Libations
Our Local Liquid vendors have a plethora of proof libations for you to celebrate July 4th. If you're having trouble deciding, many of our vendors are now offering samples for you to pick something to wet your whistle.
Catman Cellars, a boutique Oregon Winery, have some fantastic fruit forward red wines that make the perfect pairing with grilled meat for your July 4th celebration. However, if you're looking for something a little cooler, try their Sauvignon Blanc and Pinot Blanc served with Quinn's Crab Cakes — it will have you dreaming you're at the beach!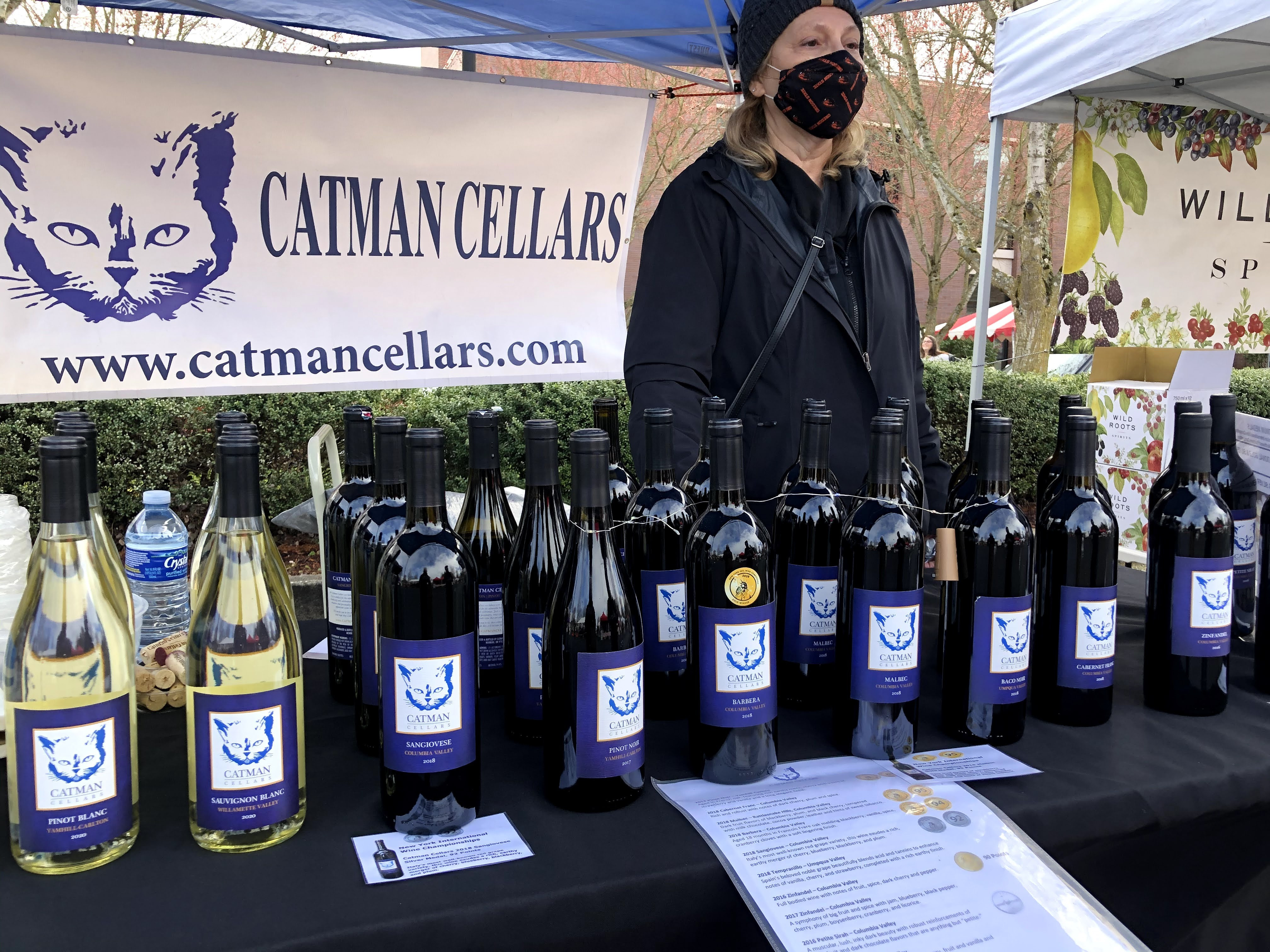 Drop Shop Distillery's new Lemon Drop canned cocktail is ready to crack and pour. Though we love their suggestion to add a float of their Cranberry Flavored Vodka to take this ready to drink cocktail to the next level!
Rose and Fern Cellars, a boutique winery from McMinnville, have some vibrant white wines and rosé, including Pinot Gris, Viognier, and Rosé to keep you cool this holiday and all summer long!
Straightaway Cocktails canned spritzers are a great pick for a cooling aperitif. Choose your favorite or mix and match with a four pack.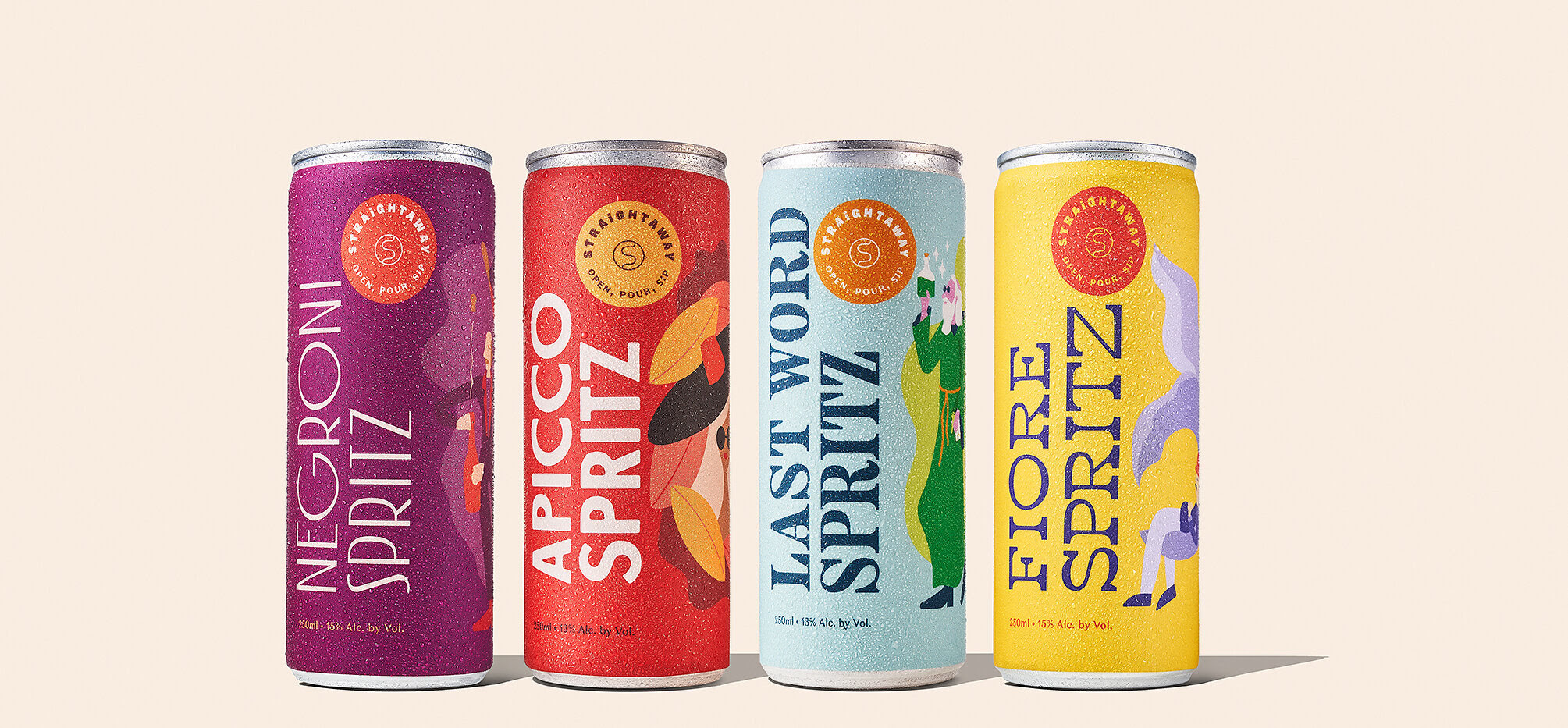 Wild Roots Spirits botanical print inspired labels are always eye-catching in the market, but they're bottles aren't just visually appealing, but the contents are delightful as well! For a refreshing summer drink turn no further than their Peach Vodka or Cucumber Grapefruit Gin. Just add soda water and lemon juice for a sip of summer.
---
Bill Collins Recipe
New Deal Distillery has an entire bar and book for spirits and cocktail recipes, however our Marketing Director, Kate Laubernds, has been sipping the simplest of cocktail recipes from them because it truly is the best way to beat the heat! Featured in this recipe is their Pear Brandy that is a spirit that is wonderful anytime of year — not just in the fall!
Bill Collins
An aromatic spin on the classic Tom Collins made with our Pear Brandy featuring estate-grown Bartlett aka William pears.
1½ oz New Deal Pear Brandy
¾ oz lemon juice
¾ oz simple syrup
Soda water
Lemon peel for garnish
In a Collins glass combine pear brandy, lemon juice, and simple syrup. Add ice, top with soda, and garnish with a lemon peel.
(Recipe and image courtesy of New Deal Distillery)
---
We're welcoming a new vendor this week with another taste of island life — Maui Melts! Maui Melts specializes in Hawaiian sea salt caramels and caramel products. We're practically salivating over these bacon topped caramels!
The Market Sprouts kids club has put together a fun and festive craft for your little market sprout to take home. Pick up a packet from the Information Booth this Saturday to make your very own patriotic "stained glass" window hanging.
Copyright © 2021 Beaverton Farmers Market, All rights reserved.
Our mailing address is:
Beaverton Farmers Market
PO Box 4
Beaverton, OR 97075