FISH MARKET • RESTAURANT • OYSTER BAR
3004 East Burnside Street • 971-806-6747
OUR HOURS
EVERY DAY EXCEPT TUESDAY: 10am–8pm MARKET, 11am–8pm RESTAURANT
TUESDAY: CLOSED
HAPPY HOUR: 3–5pm EVERY DAY (except Tuesday, when we are closed)
CHEF SHACK: 1–9pm GRAND OPENING 1/22; 4–9pm THUR–SUN after
Please read our Covid-19 house rules HERE  •  We accept EBT/SNAP/Oregon Trail.
CHEF SHACK HAS ARRIVED
Boom shaka laka ding dong, here's the Chef Shack!
Tomorrow at 1pm, we present the 
Chef Shack
. It's our New Thing – an in-house food cart that will feature a rotating cast of Portland chefs struttin' their stuff, and we begin with our own Trever Gilbert. Check him out tastin' his stuff with Kohr Harlan on 
KOIN TV
. Many thanks to Kohr for coming by yesterday, and also to 
Willamette Week
 and 
Eater PDX
 for the Chef Shack love!
Pictured above are Trever's grilled oysters topped with tangy citrus relish, drizzled with chili, and garnished with cilantro, with a grilled curry glazed carrot salad served warm over a bed of coconut crema, topped with house pickles, and garnished with a Thai herb and shallot salad. Follow the culinary odyssey at 
@chefshackpdx
 and come see us on the covered, heated patio.
Come especially for Lapado & Mann, who return for a special grand opening performance. That starts at 4:30pm tomorrow.
And, stay tuned for our friends and chefs Maylin Chavez and Doug Adams, who'll design the menus in the coming weeks, with more to come. Chef Shack, LFG!!!
---
---
SPECIAL NIGHT OUT WITH CHEFS ANDRE & PATRICK TUES FEB 1
We're stoked to announce that our main dude Chef Andre Uribe will be back in the Flying Fish kitchen with his Sustainable Meals Oregon comrade Chef Patrick Marg. This special Night Out will feature a four-course meal and a nourishing discussion about life in 2022 and how we can make a better future for ourselves and our families. Flying Fish Cap'n Lyf Gildersleeve will host with trivia and other surprises. Plus it's on a Tuesday night, when we're usually closed, so attendees will have the place to ourselves. (Drinks will be available for purchase as well.)
Put it on yer calendar and hang tight for a link to register. For best results, follow our social medias (IG / FB).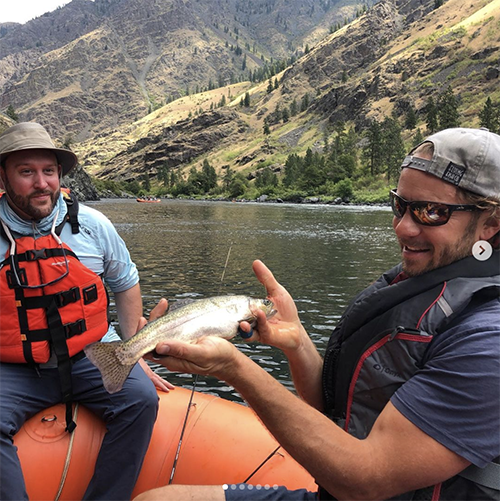 ---
---
FLYING FISH FIELD TRIPS
Just another early-in-the-year reminder about 
Flying Fish Field Trips
! So far confirmed dates include:
Mon 4/11: Washington oyster farm tour
Thur 5/5: Oregon Coast nearshore rockfish fishing trip
Fri 5/6: Oregon Coast deep reef lingcod fishing trip
Sun 6/5: Astoria sturgeon fishing trip
Weds 9/14: Astoria coho salmon fishing trip
Thur 9/15: Astoria coho salmon fishing trip
Mon 7/17 – Thur 7/21: Hells Canyon rafting trip (signup coming soon)
Check out all details and signups on our FLYING FISH FIELD TRIP PAGE.
---
---
AND NOW HERE GO THE FRESH FISH AND SUCH AVAILABLE IN THE SHOP. HERE THEY GO!
AHI? AHA.
La di da di, we like the Ahi; it don't cause trouble, it makes good sushi buddy. Red, delicious, Bigeye Tuna. AHI. Slice it raw, cook it in a pan. Dice it up poke, man oh man. Please enjoy this and other sushi-grade fishes, noted with an asterisk in this here list. In the immortal words of Fab Five Freddy through a vocoder 40 years ago, THIS STUFF IS REALLY FRESH.

FRESH FISH AS OF FRIDAY JANUARY 21ST
Ahi/Bigeye Tuna* – wild, Pacific Ocean (Hawaii)
Arctic Char – sustainable farm-raised, Iceland
Branzino – sustainable farm-raised, Greece – whole fish
Escolar/Walu* – wild, Pacific Ocean (Hawaii)
Monkfish – wild, Atlantic Ocean (Massachusetts)
Ora King Salmon* – sustainable farm-raised, New Zealand
Rainbow Trout – sustainable farm-raised, Idaho – whole fish & fillets →
Rockfish – wild, Pacific Ocean (Oregon)
Steelhead – sustainable farm-raised, Washington
Striped Bass – sustainable farm-raised, Mexico – whole fish
Swordfish – wild, Pacific Ocean (Hawaii)
Tombo/Albacore Tuna* – wild, Pacific Ocean (Hawaii)
True Cod – wild, Iceland
* – Sushi-grade fish
GOT A BUNCHA CRABS
Got eeem
Crabs, man, crabs. Cooked and whole. Crabs, man, crabs. Feed your soul. 
FRESH SHELLFISH AS OF FRIDAY JANUARY 21ST
Dungeness Crabs – wild, Pacific Coast – whole, cooked
Manila Clams – sustainable farm-raised, Washington
Mussels – sustainable farm-raised, Washington
Savory Clams – sustainable farm-raised, Washington
Shucked Oysters in a Jar
SHUCKIN' AGIN

More like shuckin always. Photo by Natalie.
Oysters, oysters. Man we love em. You can have a dozen on the half shell here on our patio, you can have em dressed up by Chef Trever from the Chef Shack, or you can take em home and have a shuckin' party. Need a shuckin' knife and shuckin' guidance? No shuckin' problem. Just ask us, we can help. Shuck, slurp, enjoy. Here's a 10-spot of what's good for shuckin', slurpin', and enjoyin' in the shop at this moment in time.
FRESH OYSTERS AS OF FRIDAY JANUARY 21ST
Baywater Indigo – Washington
Blue Pool – Washington
Chelsea Gem – Washington
Hama Hama – Washington
Hammersley – Washington
Koku – Washington
Netarts – Oregon
Shigoku – Washington
Tidepoint – Washington
Valley Pearl – Prince Edward Island
HEY HEY FROM THE BAY BAY
Bay Bay Shrimp, that is is. Photo by Natalie, styling by Matthew.
Check the freezer, for the freezer is kind. Ain't no schwag in the freezer, that's a promise. Grab some frozen Bay Shrimp, the lil dudes, let em thaw in the fridge overnight, then serve them over an easy salad of butter lettuce with some chopped onions, a good ride avocado, and a quick whip dressing of lemon, oil & vinegar. EASY.
SELECT FROZEN PRODUCTS AS OF FRIDAY, JANUARY 21ST
Tobiko
Salt Cod
Premium Lobster Tails
Oregon Bay Shrimp
Octopus
Mexican Blue Shrimp (easy peel)
Masago
Ikura
Fish Stockº
Copper River Sockeye Salmon (Photo courtesy of Copper River Prince William Sound Marketing Association)
Alaska Sablefish/Black Cod
PREPARED PRODUCTS TO GO AS OF FRIDAY, JANUARY 21ST
Cold Smoked Ora King Salmon
Smoked Fishesº
Smoked Salmon Dipº
Smoked Whitefish Dipº
º – Flying Fish house-made products
OUR RESTAURANT MENU
For dining here or to-go.
CLICK MENU TO ORDER ONLINE FOR PICKUP: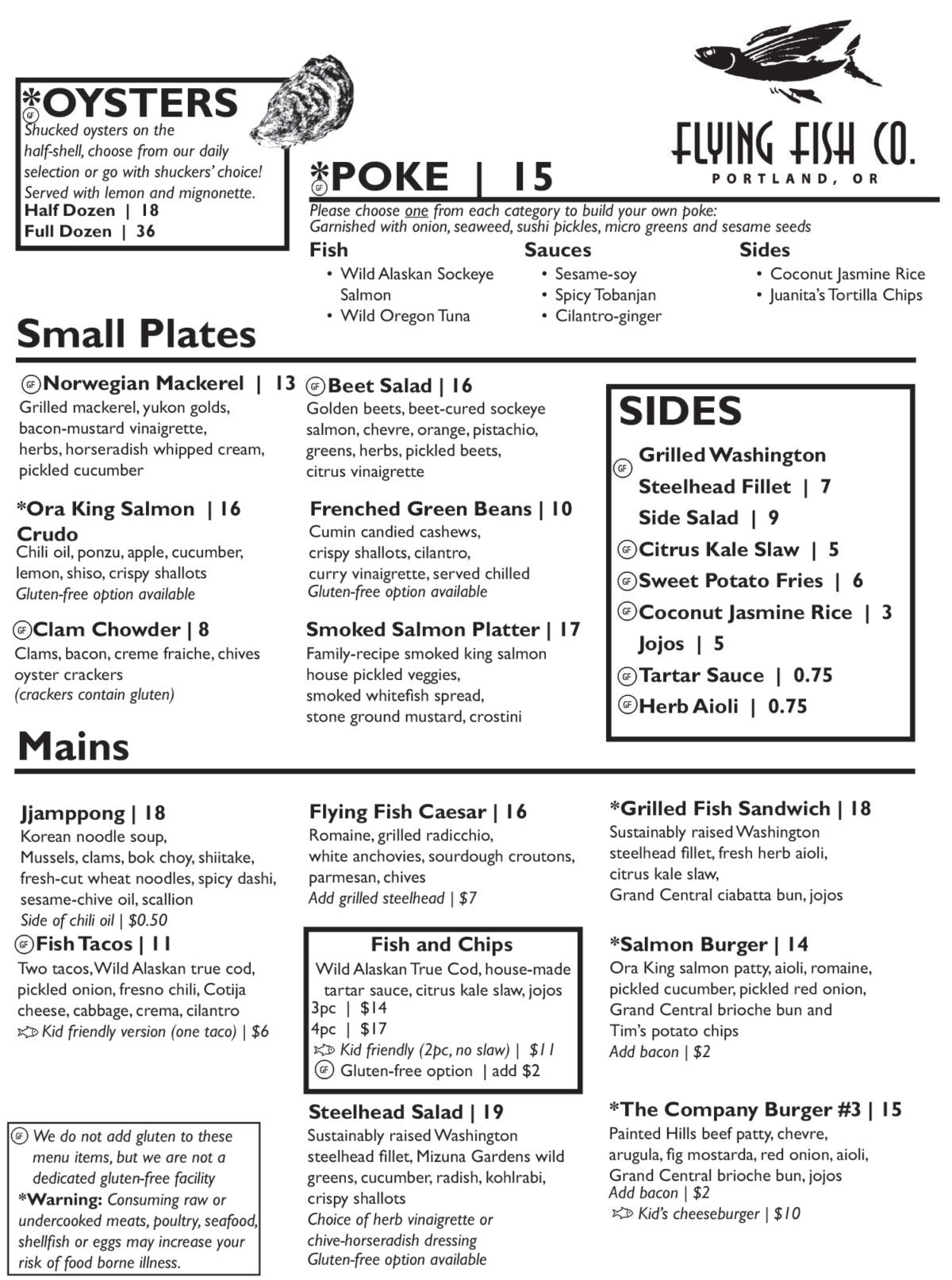 ALSO: Cocktails, sake, wine, and beer for dining onsite. Inquire within.
FLYING FISH SIGNOFF & DISCLAIMER
PLEASE NOTE: This email was accurate at the time of its weekly writing. Some products come and go quicker than others, so for best results on the freshness, follow us on the social medias: Facebook, Instagram, and Twitter. And tag us in your Instagram pics @flyingfishpdx – we love seeing your food pics!
Cheers,
Lyf Gildersleeve and the Flying Fish Team: Alana, Boo-boo, Chris, Danny, Elowynn, Erik, Erin, Gabby, Isabella, Jack, Jaelyn, Jesse, Jordan, Kenneth, Kevin, Luis, Mad Dog, Madeline, Mike, Neebs, Ross, Ryan P, Ryan S, Sam, Sarah, Sawyer, Stephen, Trever, Wyatt, and Brad
INSTAGRAM JAM OF THE WEEK
Ohhh BABY. Flying Fish salmon dancing in a glaze of @nongskhaomangai, miso and maple syrup, served over rice? YO.
ABOUT FLYING FISH
Craig and Sandy Gildersleeve opened Flying Fish Company in Sandpoint, Idaho in 1979 – the year before their son Lyf was born.
Now president of Flying Fish Company, Lyf has spent his entire life around fish, including an aquaculture education at the Harbor Branch Oceanographic Institute at Florida Atlantic University.
Flying Fish has three locations: Sandpoint, Idaho; Durango, Colorado; and Portland, Oregon. The Portland location opened in 2009 as a food cart at the D Street pod on Division Street. In 2011, we opened the fish shack on Hawthorne Boulevard. In 2016, we moved into a stand at Providore Fine Foods on Sandy Boulevard. In February 2020, we opened our standalone location on East Burnside with a restaurant and a patio.
* * *
Thank you for supporting our family-owned business. 
—Lyf, Natalie, Juniper, and Miles Gildersleeve (and Hazel the Dog)
* * *
PHOTO BY NATALIE GILDERSLEEVE PHOTOGRAPHY: Sweet cousins.
Copyright © 2022 Flying Fish Company, All rights reserved.