FISH MARKET • RESTAURANT • OYSTER BAR
3004 East Burnside Street • 971-806-6747
OUR HOURS
MARKET: 10am–8pm every day except Tuesday
RESTAURANT: 11am–8pm every day except Tuesday (walk-in only, no reservations)
CHEF SHACK: 1–8pm Friday–Sunday
HAPPY HOUR: 3–5pm every day except Tuesdays & holidays
TUESDAY: CLOSED
Please read our Covid-19 house rules HERE  •  We accept EBT/SNAP/Oregon Trail.
MAÑANA: MERROIR Y TERROIR
TOMORROW, Flying Fish is happy to welcome back to the big stage 
Chef Maylin Chavez
. Or rather, welcome her for the first time to the Chef Shack, where she'll sling her flavors on the patio.
Maylin is a familiar face in our world from her Olympia Oyster Bar days, as co-creator of the Shuck Portland festival (she's pictured at right with Lyf at the first Shuck in 2018), and with her latest endeavor, Nácar Oysters — merroir y terroir popping up across Portland. Follow her @nacaroysters to find out where that's happening, come see her tomorrow, and peep the menu she's prepped for us right below.
Ken West will lay down the daytime tunes and Laura Ivancie is on the evening set. Gonna be a righteous Saturday full of flavor on the patio, so do please come and check us out.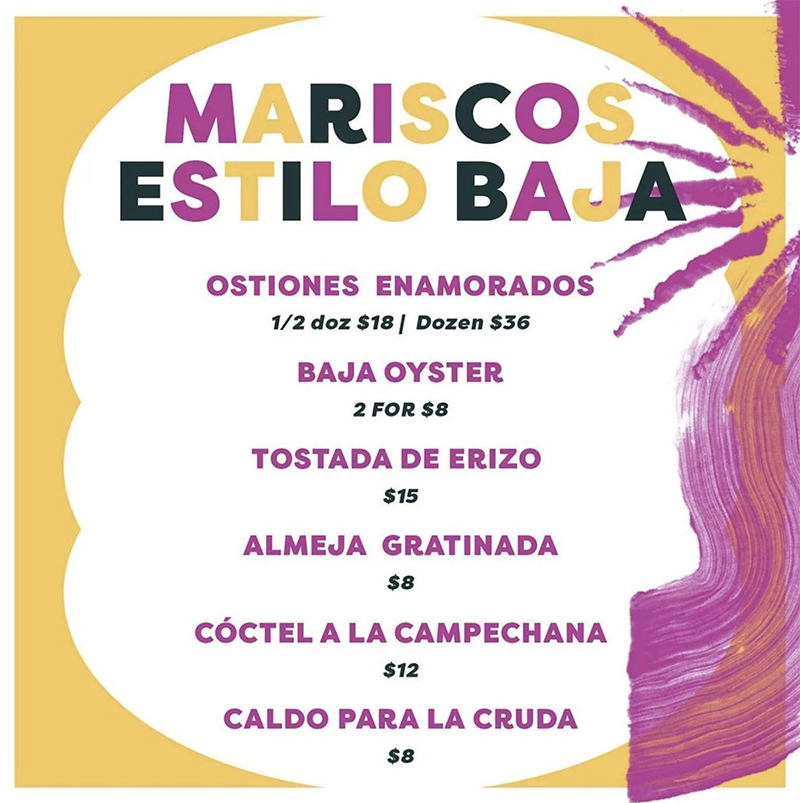 UPCOMING CHEF SHACK CHEFS
Saturday March 5: Chef Maylin Chavez (Nácar Merroir & Terroir, Olympia Oyster Bar)
UPCOMING CHEF SHACK MUSIC (Saturdays, ~4:30–7pm)
See more HERE.
---
---
THINGS ARE BREWING WITH FLYING FISH & STEEPLEJACK
…and we can't wait for you to have a taste! NEXT FRIDAY, March 11th, we'll host a beer release for our collaboration: a Dortmund-style lager brewed with Baywater Shellfish oysters and Blue Evolution seaweed. We'll have cans to go and it'll be served ice cold on draught. Have it how you like it, and we think you will like it. Then on Monday the 14th, join us up on Broadway, where we'll all be talkin' beer and shuckin' oysters at Steeplejack's beautiful space.
---
---
SCIENCE NIGHT 2
The second installation of Science Night with Chef Andre and Chef Patrick from Sustainable Meals Oregon is but 11 days away, on a Tuesday night when we're otherwise closed. Small crowd, good food, good drink, and real talk about sustainability and how climate change is affecting our fisheries. It's Tuesday, March 15th. Get your tickets HERE (or click the poster on the right).
---
---
FLYING FISH FIELD TRIPS & SPECIAL EVENTS
Well DANG, our entire* calendar year of events has already booked up, with only two dates remaining that have any availability, and they're both good ones:
Thur 5/5: Oregon Coast nearshore rockfish fishing trip • DETAILS & SIGNUP
Mon 7/17 – Thur 7/21: Hells Canyon rafting trip  with Portland Food Adventures • DETAILS & SIGNUP
* We expect to add a few more events in the coming weeks: mushroom hunting, beach cleanup, albacore fishing trip… Stay tuned.
---
---
FISH INCOMING!
RHYMIN' & STEELIN'
Fresh Steelhead. It's been a Flying Fish Portland staple since our food truck days. We love it straight from our smoker, served over greens (may we recommend our chive horseradish dressing), or pictured above, crispy skin on between two buns.

Our steely is the good kind of farm-raised, produced on the banks of the Columbia River near Nespelem, Washington. This remote area in the Okanogan Highlands sits just below the Canada border. Because of the geniuses who built the Chief Joseph Dam without a fish ladder, wild steelhead and salmon migration stops downstream (for now, hopefully).
But also because of that, there is no risk of adversely affecting wild populations with a farm raised escapement. The farm utilizes low stocking densities and video feed monitoring so it doesn't pollute the river. The facility was started by the Upper Skagit Indian Tribe, and is still operated by the tribal community with the backing of Pacific Seafood. The fish is raised without hormones, antibiotics, herbicides, or pesticides. The diet is composed of all natural feed ingredients including phaffia, a natural yeast, in the feed. That produces a reddish flesh to go along with the silky texture and a taste that, by nature, lies exactly between smaller trout and bigger salmon.  Monterey Bay Aquarium Seafood Watch recommends this steelhead as a "Best Choice".
Flying Fish chief fishmonger Lyf Gildersleeve and his dad Craig, who founded the company in 1979, visited the farm in 2014 to tour and verify the quality and sustainability of the operation. We love this steelhead and think you will tooo.
FRESH FISH AS OF FRIDAY MARCH 4TH
Ahi/Bigeye Tuna* – wild, Pacific Ocean (Hawaii)
Branzino – sustainable farm-raised, Greece – whole fish
Ora King Salmon* – sustainable farm-raised, New Zealand
Rainbow Trout – sustainable farm-raised, Washington – whole fish
Rockfish – wild, Pacific Ocean (Oregon)
Smelt – wild, Columbia River – whole fish
Steelhead – sustainable farm-raised, Washington
Swordfish – wild, Pacific Ocean (Hawaii)
Tombo/Albacore Tuna* – wild, Pacific Ocean (Hawaii)
* – Sushi-grade fish
OYSTERS ROCK

Rockefeller students of the game, we passed the class.
A rich buttery sauce, some chopped parsley type herbs, some panko, and a handful of delicious fresh oysters on the half shell, broiled. That's livin, but that's only one of 10,000 ways to have oysters, and #1 on that list is raw, baby, straight down the gullet with a slurp. Yep.
FRESH OYSTERS AS OF FRIDAY MARCH 4TH
Aphrodite – Washington
Baywater Indigos – Washington
Baywater Sweet – Washington
Hama Hama – Washington
Kusshi – British Columbia
Netarts – Oregon
Shigoku – Washington
Tidepoint – Washington – LIMITED QUANTITIES
MUSSEL MANIA
Mussel mussel mussel. Photo by Mussalie, styling by Mussthew. 

Mussels for baking, mussels for steaming;
bread for dipping, tastes for dreaming

Amen. A mussel.

FRESH SHELLFISH AS OF FRIDAY MARCH 4TH
Dungeness Crabs – wild, Oregon Coast – whole, cooked
Manila Clams – sustainable farm-raised, Washington
Mussels – sustainable farm-raised, Washington
Shucked oysters in a jar
TRAMPY SCAMPI IS A SHRIMP PIMP AND IT'S A MAJOR SCANDAL
This ain't no campy scampi, champ.
"Scampi are tiny, lobster-like crustaceans with pale pink shells (also called langoustines). Italian cooks in the United States swapped shrimp for scampi, but kept both names. Thus the dish was born, along with inevitable variations."
Wow, very cool, New York Times Cooking. (It would also be Very Cool if your recipes were not behind an additional paywall for existing paywall subscribers, thank you for considering, NYT.) Frozen Del Pacifico Shrimp is dang nigh as good as it gets — thaw out a box tonight and try the NYT paywall recipe.
SELECT FROZEN PRODUCTS AS OF FRIDAY, MARCH 4TH
Alaskan Sablefish
Copper River Sockeye Salmon
Ikura
Masago
Mexican Blue Shrimp Easy Peel and Peeled & Deveined
Octopus
Oregon Bay Shrimp →
Premium Lobster Tails
Salt Cod
Tobiko
Weathervane Scallops
PREPARED PRODUCTS TO GO AS OF FRIDAY, MARCH 4TH
Cold Smoked Ora King Salmon
Grab n Go Pokeº
House Smoked Fishes
Pickled Mushroomsº
Smoked Salmon Dipº
Smoked Whitefish Dipº
º – Flying Fish house-made products
OUR RESTAURANT MENU
For dining here or to-go.
CLICK MENU TO ORDER ONLINE FOR PICKUP: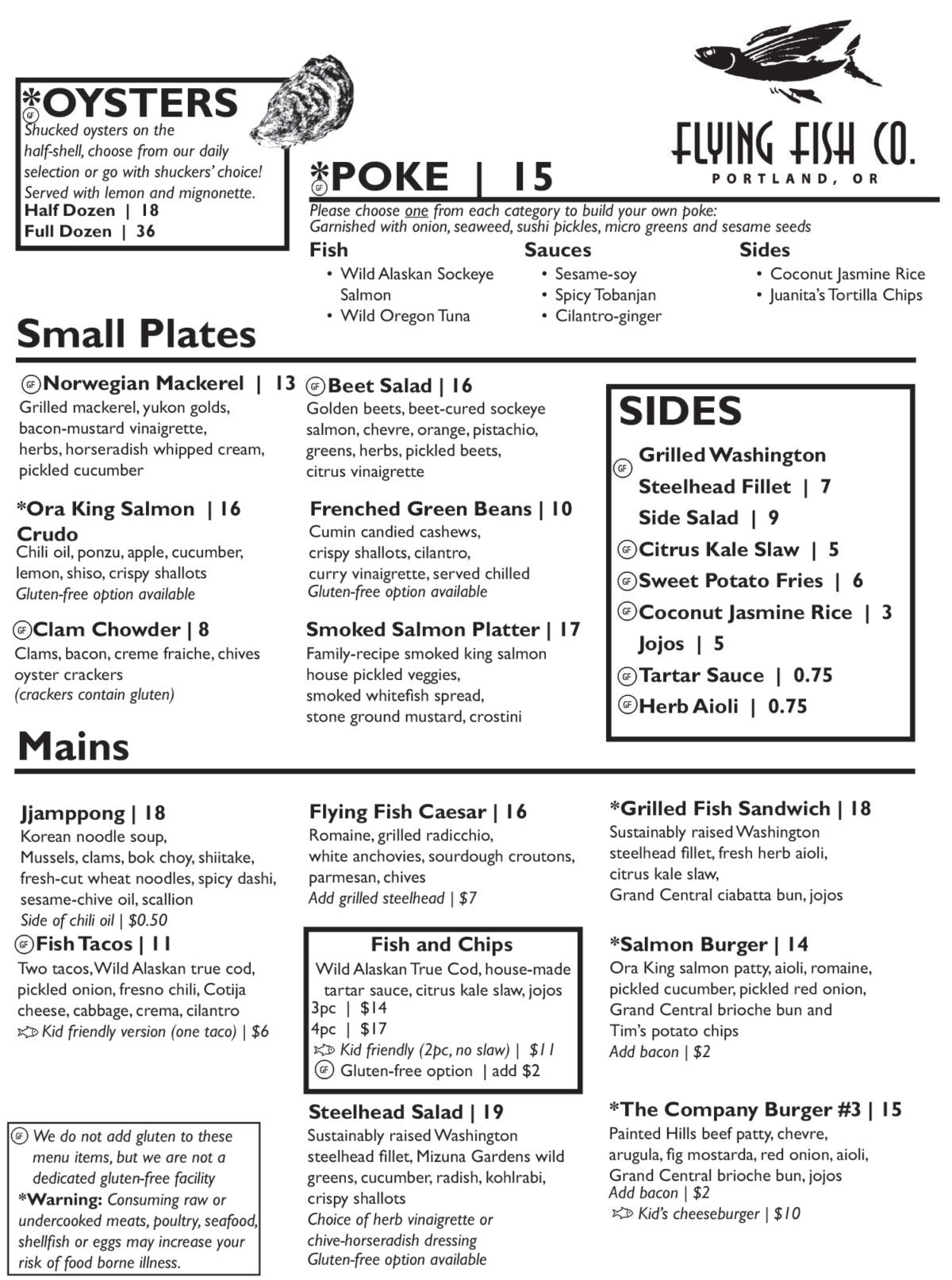 ALSO: Cocktails, sake, wine, and beer for dining onsite. Inquire within.
FLYING FISH DISCLOSURE
PLEASE NOTE: This email was accurate at the time of its weekly writing. Some products come and go quicker than others, so for best results on the freshness, follow us on the social medias: Facebook, Instagram, and Twitter. And tag us in your Instagram pics @flyingfishpdx – we love seeing your food pics!
---
Cheers,
Lyf and the Flying Fish Team: Alana, Alex, Alina, Boo-boo, Chris, Danny, Ellison, Elowynn, Erik, Gabby, Jack, Jae, Jordan, Kenneth, Kevin, Luis, Madeline, Mike, Neebs, Owen, Ross, Ryan P, Ryan S, Sam, Sawyer, Shannon, Trever, Wyatt, and Brad
Lyf Gildersleeve: Owner, Chief Fishmonger
Erik Englund: Culinary Director
Danny Atkins: Sous Chef
Jack Bressoud: General Manager
Ross Richardson: Beverage Director
Genevieve "Boo-Boo" Jen: Operations Manager
Sam Moser: Oyster Bar Manager
Sawyer Lovell: Fish Market Manager
Alana Ginster: Assistant Manager
Trever Gilbert: Chef Shack Executive Chef
FLYING FISH, FAMILY OWNED SINCE 1979
Craig and Sandy Gildersleeve opened Flying Fish Company in Sandpoint, Idaho in 1979. The next year, their son Lyf was born into the family business. Now president of Flying Fish, Lyf has spent his entire life around fish, including an aquaculture education at the Harbor Branch Oceanographic Institute at Florida Atlantic University.
Lyf opened Flying Fish in Portland in 2010 as a food cart at the D Street Noshery on Division Street. In 2011, we opened the fish shack at Kruger's Farm Market on Hawthorne Boulevard. In 2016, we moved into a stand at Providore Fine Foods on Sandy Boulevard. And in February 2020, we opened our standalone location on East Burnside with a restaurant and patio, and in January 2022 we added the Chef Shack.
Flying Fish has sister locations in Sandpoint, Idaho and Durango, Colorado.
* * *
Thank you for supporting our family-owned business. 
—Lyf, Natalie, Juniper, and Miles Gildersleeve (and Hazel the Dog)
* * *
PHOTO BY NATALIE GILDERSLEEVE PHOTOGRAPHY: The doggone boy is nine. 
Copyright © 2022 Flying Fish Company, All rights reserved.
You are receiving this email because you opted in via our website.

Our mailing address is:

Flying Fish Company

3004 E Burnside St

Portland, OR 97214-1950