TEACH ME HOW TO DOUGIE
Now if that ain't a Get Fresh Crew. Earl, Lin & Gregory are just the company 
Chef Doug Adams
 keeps. And TOMORROW, he brings his Texas roots to the Chef Shack! Dougie's menu's looking like…
Catfish sando (nuggets in hot spice) lettuce, crystal mayo, red onion
Basil and green chile coleslaw
Shrimp cocktail: spicy avocado and Juanita's chips
Grilled oyster: garlic, guajillo herb butter
ONE DAY ONLY: Tomorrow, Saturday 19th February, 1–8pm. Here we go. C'mon. And! Very especially for this Dougie occasion, Bees in a Bottle will lay down a live soundtrack between 4:30ish and 7ish on yonder patio. Chef Trever's holding down the Chef Shack today and Sunday (also 1–8pm both days).
UPCOMING CHEF SHACK CHEFS
Saturday February 19: Chef Doug Adams (Bullard, Top Chef)
Saturday March 5: Chef Maylin Chavez (Nácar Merroir & Terroir, Olympia Oyster Bar)
UPCOMING CHEF SHACK MUSIC (Saturdays, ~4:30–7pm)
See more HERE.
---
FLYING FISH, TWO IN 2/22
Opening Day: 10 February 2020 — two ancient years ago.
Gee whiz, that pic above looks like it's from 1996. It's been such a rollercoaster in the two years since opening day, and baby what a ride it's been. Thank you ALL for riding with us – and we hope you'll help us celebrate! Next Saturday, February 26th, Lapado & Mann are back to serenade the occasion, we'll have two buck shucks and two dollar beers, AND the first 100 customers get a hunka hunka Flying Fish smoked salmon. Join us for TWO.
---
---
SCIENCE NIGHT 2 TOO
We're also gearing up for the second installation of Science Night with Chef Andre and Chef Patrick from Sustainable Meals Oregon. We'll eat, drink, and have real conversation about sustainability and how climate change is affecting our fisheries. Want a nice, honest review of what to expect? Check out Pechluck's review of the first night and plan to see us on Tuesday, March 15th. Get yo tickets HERE.
---
---
FLYING FISH FIELD TRIPS & SPECIAL EVENTS
We do like talking about our Field Trips, but we've done so enough that only a couple are left in 2022 that are NOT already sold out:
---
---
CAVIAR FIRE SALE!
Just what this section header says. We bought too dang much for Valentine's Day and now we wanna git it GONE. Come and git it, 20% off all caviar. That's livin.
---
---
FARE THEE WELL, MAD DAWG
Lyf and Flying Fish want to give a very special shout out to our prep cook "Mad Dawg" Madeline Lasko. She's been with us since the beginning of Burnside and is now moving into her final chapter of school for her nutrition program. We will miss you, Mad Dawg.
MUCH LOVE  xoxoxo
---
---
HENCEFORTH WE SHALL DISCUSS THE FRESH SEAFOOD PRODUCTS.
BRANZINO? BRANZI-YES

How it started 
↑
How it's going ↓

Branzino, branzino. Strap on your chinos, we're goin' to Reno to play some keno and eat BRANZINO. (Please note:  We are not going to Reno, and we're only wearing chinos if they're the stretchy kind.) Branzino:  It's the quintessential whole fish dish that can be prepared a thousand ways, but may we recommend: battered and fried, topped with a Tibetan sauce otherwise reserved for momos? Lord have mercy – a little heat,  a lotta creamy, a whole plate of bonkers with a flavorful, flaky fish at its center. Mix and match as you will, but THIS is a good recipe for the fish,  and THIS is a nice take on the sauce – and the bonus on that one is the momo recipe. Make enough for both and have at it.
FRESH FISH AS OF FRIDAY FEBRUARY 
18TH
Ahi/Bigeye Tuna* – wild, Pacific Ocean (Hawaii)
Branzino – sustainable farm-raised, Greece – whole fish
Escolar/Walu* – wild, Pacific Ocean (Hawaii)
Monkfish – wild, Atlantic Ocean (Massachusetts)
Ora King Salmon* – sustainable farm-raised, New Zealand
Rockfish – wild, Pacific Ocean (Oregon)
Steelhead – sustainable farm-raised, Washington
Swordfish – wild, Pacific Ocean (Hawaii)
Tombo/Albacore Tuna* – wild, Pacific Ocean (Hawaii) →
True Cod – wild, Iceland
* – Sushi-grade fish
ECHOES OF DUNGENESS
Mean muggin. Photo by Natalie.
ECHO: Season's winding down, supply's winding down. It's 
Dungeness Crabs
, and supply's goin' down like Mary J. Don't miss em, crab folks, they ain't gon' be here long. ECHO Echo echo
FRESH SHELLFISH AS OF FRIDAY FEBRUARY 18TH
Dungeness Crabs – wild, Oregon Coast – whole, cooked
Manila Clams – sustainable farm-raised, Washington
Medium Kokus (grilling sized Carbajal oysters) – Washington
Mussels – sustainable farm-raised, Washington
Shucked Oysters in a Jar
A DOZEN DOOZIES

Obvious file photo from obvious phone, obviously.
Oh we'd make a dirty dozen joke if we could… but the only dirty we want around our oysters is a martini. No, friend, this is the CLEAN dozen, the 2 Live Crew radio-friendly As Clean As They Wanna Be oysters – a dozen, a CLEAN dozen, cousin. Want one each shucked and served on the half shell for your slurpin' pleasure? Hey, it's your money. Let us shuck a dozen for ya. A CLEAN dozen. 
A CLEAN DOZEN OF VARIETIES OF FRESH OYSTERS AS OF FRIDAY FEBRUARY 18TH, OF COURSE
Aphrodite – Washington
Baywater Indigos – Washington
Baywater Sweet – Washington
Chelsea Gems – Washington
Fin de la Baies – New Brunswick
Kusshi – British Columbia
Los Rucos – Washington
Mere Point – Maine
Netarts – Oregon
Shigoku – Washington
Tidepoint – Washington
Whaleback – Maine
So many ofs. OOF.
NO BHRIMP, ONLY SHRIMP
To be clear, this is not bhrimp. It is shrimp. Photo by Natalie, styling by Matthew.
We apologize for typo last week – Oregon Bay BHRIMP. We cannot and will not abide the bhrimp industry, on account of its well known unethical bhrusiness practices. We do, however, stand by Oregon Bay Shrimp, caught wild off the Oregon Coast, cooked, peeled, and ready to eat after you thaw em out slow and low overnight in your fridge. A little ramekin of Flying Fish cocktail sauce and BOOM, you're eatin' finger food. But never bhrimp.
SELECT FROZEN PRODUCTS AS OF FRIDAY, FEBRUARY 18TH
Alaskan Sablefish
Copper River Sockeye
Ikura
Masago
Mexican Blue Shrimp Easy Peel and Peeled & Deveined
Octopus

Oregon Bay Bhrimp

 – NEVER. We do not sell bhrimp.
Oregon Bay Shrimp
Premium Lobster Tails
Salt Cod
Tobiko
Weathervane Scallops
PREPARED PRODUCTS TO GO AS OF FRIDAY, FEBRUARY 18TH
Cold Smoked Ora King Salmon
Smoked Salmon Dipº
Smoked Whitefish Dipº
House Pickled Mushroomsº
House Smoked Fishesº
Pickled Herring
Grab n Go Pokeº →
Sushi Style Pickled Ginger
º – Flying Fish house-made products
OUR RESTAURANT MENU
For dining here or to-go.
CLICK MENU TO ORDER ONLINE FOR PICKUP: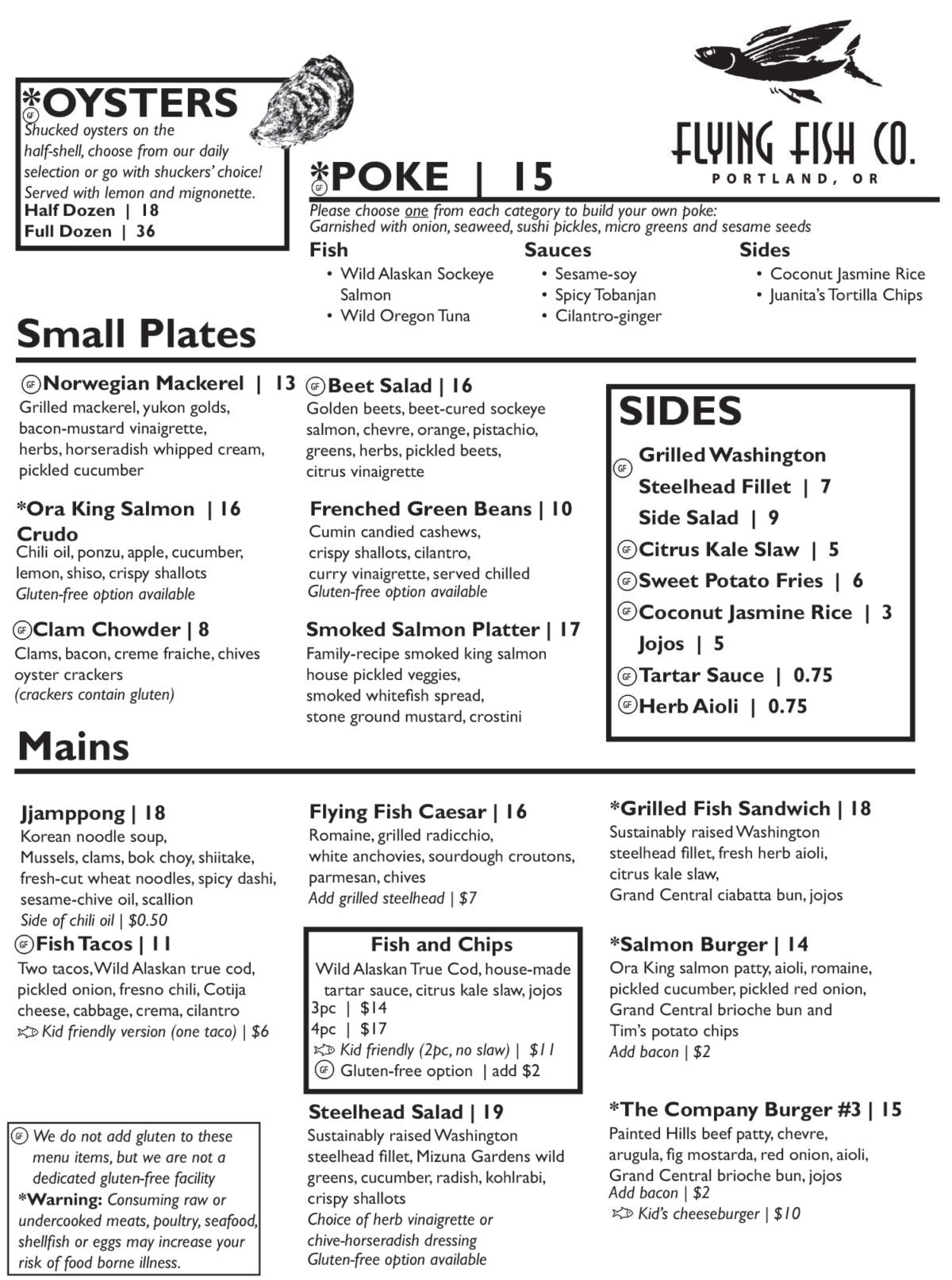 ALSO: Cocktails, sake, wine, and beer for dining onsite. Inquire within.
INSTAGRAM JAM OF THE WEEK

Seriously: How spicy is this pic of jjamppong from @alanaland???
FLYING FISH DISCLOSURE
PLEASE NOTE: This email was accurate at the time of its weekly writing. Some products come and go quicker than others, so for best results on the freshness, follow us on the social medias: Facebook, Instagram, and Twitter. And tag us in your Instagram pics @flyingfishpdx – we love seeing your food pics!
---
Cheers,
Lyf and the Flying Fish Team: Alana, Alex, Alyssa, Boo-boo, Chris, Danny, Elowynn, Erik, Gabby, Jack, Jaelyn, Jesse, Jordan, Kenneth, Kevin, Luis, Mad Dog, Madeline, Mike, Neebs, Ross, Ryan P, Ryan S, Sam, Sarah, Sawyer, Trever, Wyatt, and Brad
Lyf Gildersleeve: Owner, Chief Fishmonger
Erik Englund: Culinary Director
Danny Atkins: Sous Chef
Jack Bressoud: General Manager
Ross Richardson: Beverage Director
Genevieve "Boo-Boo" Jen: Operations Manager
Sam Moser: Oyster Bar Manager
Sawyer Lovell: Fish Market Manager
Alana Ginster: Assistant Manager
Trevor Gilbert: Chef Shack Executive Chef
FLYING FISH, FAMILY OWNED SINCE 1979
Craig and Sandy Gildersleeve opened Flying Fish Company in Sandpoint, Idaho in 1979. The next year, their son Lyf was born into the family business. Now president of Flying Fish, Lyf has spent his entire life around fish, including an aquaculture education at the Harbor Branch Oceanographic Institute at Florida Atlantic University.
Lyf opened Flying Fish in Portland in 2010 as a food cart at the D Street Noshery on Division Street. In 2011, we opened the fish shack at Kruger's Farm Market on Hawthorne Boulevard. In 2016, we moved into a stand at Providore Fine Foods on Sandy Boulevard. And in February 2020, we opened our standalone location on East Burnside with a restaurant and patio, and in January 2022 we added the Chef Shack.
Flying Fish has sister locations in Sandpoint, Idaho and Durango, Colorado.
* * *
FISH MARKET • RESTAURANT • OYSTER BAR
3004 East Burnside Street • 971-806-6747
OUR HOURS
MARKET: 10am–8pm every day except Tuesday
RESTAURANT: 11am–8pm every day except Tuesday (walk-in only, no reservations)
CHEF SHACK: 1–8pm Friday–Sunday
HAPPY HOUR: 3–5pm every day except Tuesday
TUESDAY: CLOSED
Please read our Covid-19 house rules HERE  •  We accept EBT/SNAP/Oregon Trail.
Thank you for supporting our family-owned business. 
—Lyf, Natalie, Juniper, and Miles Gildersleeve (and Hazel the Dog)
* * *
PHOTO BY NATALIE GILDERSLEEVE PHOTOGRAPHY: Hug that tree, Juniper.
Copyright © 2022 Flying Fish Company, All rights reserved.
You are receiving this email because you opted in via our website.

Our mailing address is:

Flying Fish Company

3004 E Burnside St

Portland, OR 97214-1950