Lamb and Spring Vegetables
During April, a Cena Ristorante is celebrating Spring and some of the essences of Italian Cuisine.
Lamb
For many Italians, Easter and Spring without lamb on their table is hard to imagine. The tradition of eating lamb at Pasqua (Easter, in Italian)—the most important religious celebration of the year in Italy—is strongly rooted in history. The lamb ("agnello," in Italian) is an important symbol in many religions, but especially in Christianity. The image of the lamb appears in some of the most treasured Renaissance masterpieces-Da Vinci's "Madonna and St. Anne," for example-and the symbol of a lamb is represented in thousands of ecclesiastical images, as well as secular emblems, seals and flags all over the world. The custom of eating lamb at important religious feasts goes back thousands of years, spanning many cultures and religions, especially in the regions around the Mediterranean Sea.
a Cena wishes to celebrate this across-region meat by presenting Chef Gabe Gabreski's familial and recent recipes. Please come and enjoy this experience at a Cena. Of course our regular dinner menu is always available.
Primavera
April has arrived and we're excited about spring vegetables, fresh peas, ramps, young onions, garlic, favas, asparagus and artichokes. The winter is finally behind us. These lovely items will enhanced an already abundant menu this month.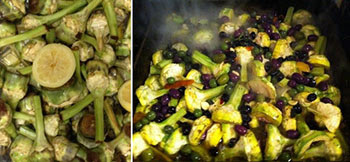 Chef Gabreski's recipe for:
Braised Lamb Shoulder
For this braised lamb recipe you'll need a large Dutch oven or brazier – one that's big enough to accommodate the meat and stock, and safe for both stovetop and oven. Make sure it has a tight-fitting lid, too.
Braising is a form of moist-heat cooking that breaks down connective tissues in tough cuts of meat, leaving them tender and succulent.
Prep Time: 30 minutes
Cook Time: 4 hours, 30 minute
Total Time: 5 hours
Ingredients
5 lbs boned, rolled shoulder of lamb, excess fat removed
1/2 cup canola oil (or other vegetable oil)
1 large onion, peeled and chopped
2 medium ribs celery, chopped
1 large carrot, peeled and chopped
5 cloves garlic, peeled and slightly crushed
1 cup canned tomato puree (or canned crushed tomatoes)
5 cups brown stock or lamb stock
1/2 cup all-purpose flour
Kosher salt, to taste
——– For Sachet: ——–
1 bay leaf
1/2 tsp dried thyme
3-4 fresh parsley stems
6 whole black peppercorns
Directions
Pre-heat oven to 300ºF (150ºC).
Make a sachet by tying the thyme, peppercorns, parsley and bay leaf into a piece of cheesecloth.
In a heavy, cast-iron dutch oven or brazier, heat the oil over high heat, then add the lamb and sear it thoroughly, using a pair of tongs to turn it. When a nice brown crust has developed on all sides of the meat, remove it from the pan and set it aside.
TIP: To enhance the browning of the lamb, pat off excess moisture with clean paper towels before searing it.
Add the carrots, celery, onions and garlic to pot and cook for 5 minutes or so, or until the onion is slightly translucent.
Now return the lamb to the pot and add the tomato puree, stock and the sachet. Heat on the stovetop until the liquid comes to a boil, then cover with a tight-fitting lid and transfer the whole thing to the oven.
Cook 4-5 hours or until the lamb is tender.
Remove pot from the oven; take out the lamb and set it aside, covered, while you make the sauce. You can throw away the sachet – its work is done.
You'll see a layer of fat on top of the braising liquid. We're going to use this fat to make a roux for the sauce. Skim off as much fat as you can, and save about 1/4 cup of it. You can discard the rest, as it would make the sauce too greasy. Heat the fat in a separate saucepan, then gradually stir in the flour until a paste forms. Heat for a few minutes, stirring, until the roux is a rich brown color.
Now return the remaining braising liquid to a boil, reduce to a simmer and whisk in the roux. Reduce for about 15 minutes, then strain through a fine-mesh sieve and season to taste with Kosher salt. Slice the lamb across the grain, arrange slices on warm plates, sauce generously and serve right away.
---
Open for Lunch
11:30am – 2:30pm, Tuesdays – Saturday. Here is a sample of our current lunch menu. There will always be something new to try as our menu does change frequently.
---
Kiosk and Walking Map
The Sellwood Westmoreland Business Alliance has constructed an informational 3-sided kiosk placed permanently at the key intersection of Milwaukie and Bybee on the NW corner. One side displays the newly created map showing our SWBA members, while the second panel displays the same map but with neighborhood resources and amenities such as parks, walking trains, library, community center, etc. All three panels feature upcoming neighborhood events.
More Local Farmers
Grazie to SuDan Farm (our featured lamb purveyor), Creative Growers, Sweet Briar Farms, Braesco, Weppler, Backyard Bounty Farm, Bonnie Stern and Deep Roots Farm for their wonderful products and their great service.
If you are aware of any upcoming Sellwood events or happenings, shoot us an email or call Chris at a Cena. We would be pleased to include them in our next communication.
---

A Cena's individualized attention
Plan a Party
Intimate and Special – Allow us to plan a Party that your guests will appreciate and remember Contact Gabe at a Cena and together you can design your next private party. In-house or catered, we will do the food, service and clean-up. The Spring and Summer Party Season will need some planning.
A Great Gift
Gift cards are available for that special someone; family celebration, birthdays, anniversary, business or a special 'thank you'. Order a gift card at your next dinner or over the phone.
Again, a gift card is a thoughtful and delicious present.
---
Specials for our Facebook Friends
Like us on Facebook and "ride the wave".
A Cena Ristorante e Enoteca
7742 SE 13th Ave
Portland, Oregon 97202