---
To Our Market Community,
One of the best things about camping is eating meals outdoors. However, the more challenging caveat about camping is actually preparing a meal outdoors. Depending upon your camping style there may be few pieces of equipment to work with and your only surface to work on is a crumbling picnic table. In addition, having to wash dishes and equipment after you are done can make even the most enthusiastic camp cook want to do little more than grilled cheese.
When faced with the food prep dilemma for campouts, Alex Beggs from Bon Appetit's Basically, has a go-to dinner that requires no pots, pans, or even plates. In her blog titled "It's That Simple" she talks about the "easiest, maybe healthiest, kinda fanciest dinner that I make, without fail, every time I go camping". Her go-to favorite is "fish and vegetables in a foil packet, steamed to perfection in the campfire coals". Click here for her basic formula for one packet.
*If you aren't going camping but want to make a tasty foil packet meal, fire up your barbecue and set the packet off to the side of the coals or flame, never over direct heat.*
Almost any veggie will work for your packet, Beggs suggests broccoli or broccoli rabe, a handful of greens, asparagus, mushrooms, mandoline-sliced potatoes you packed ahead of time, fennel, peppers and/or onions. If you want to use fresh corn, we suggest you cut it off the cob before you leave home and use the kernels in your packet.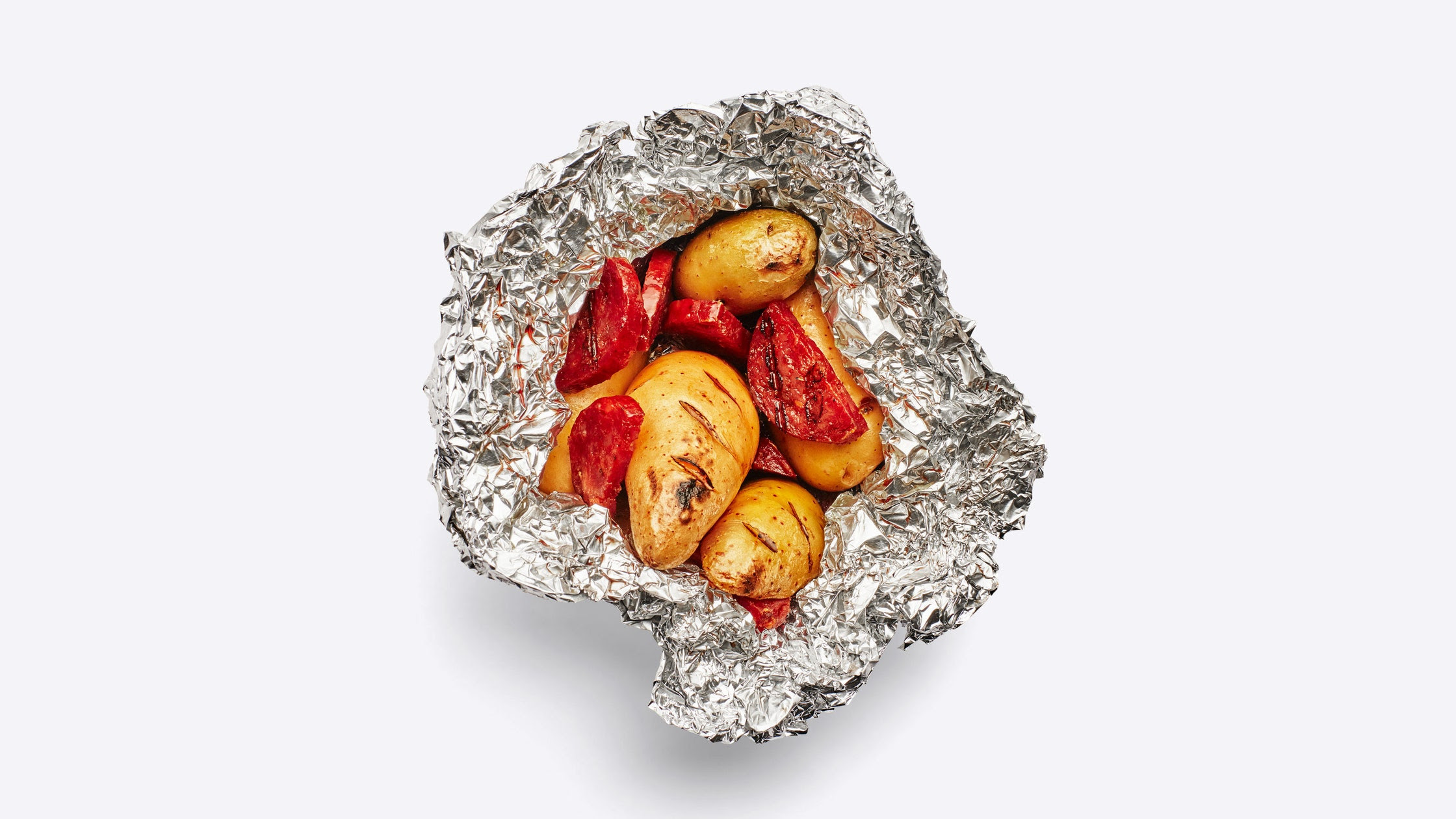 Photo By Emma Fishman
Begg's fish of choice is something rich and fatty such as salmon or char because they are forgiving and hard to overcook.
Beggs tops her fish and veggies with a healthy portion of butter to help flavor the food cooking inside. We recommend using the garlic butter from Lady Lane Farm, home of Garry's Jersey Cow's Milk. Mix in a few herbs if you like, or a pinch of cayenne to spice it up.

Photo courtesy of Dinner at the Zoo.
To top off your meal don't forget to bring along some packets of Howl at the Spoon sauces. They are "wildly convenient artisan sauces for meals on-the-go". Ideal for taking your campout foil dinner to the next level. Chief Howler, Melanie Jenkinson, makes individual serving packets of three sauces – Lemon Dill, Chimi Churri and Al Pastor. Melanie's sauces can be used inside the foil packet in place of the butter, or they can be used as a marinade for your ingredients before you assemble the packets.
Melanie is an avid camper, hiker and backpacker who likes to eat well. As a recipe developer and creator of Trail Forked https://trailforked.com/ she has shared countless ideas for cooking in the outdoors and has a forthcoming cookbook aptly titled The Great Outdoors Cookbook which will be available in just a couple of weeks, which you can Pre-order here.
Warm Regards,
The Beaverton Farmers Market
---
We will see you this Saturday at the Market, from 9:00AM – 1:30 PM
---
Updates on Market Layout and Disabled Parking
Because of the pandemic in the 2020 season, the market had to expand its footprint into the surrounding streets in order to comply with the Oregon Health Authority's social distancing requirements. We deeply regret having to use the streets that we previously used for disabled parking but there was no other choice. Given the uncertainty of the future of the pandemic, we are maintaining our wide aisles and expanded footprint to give shoppers more space to move about. We don't know when we might return to the high-density layout of pre-pandemic years.
We are working on alternative solutions, but in the meantime, we have a drop-off area on the corner of 4th and Waston where customers can get dropped off and wait while someone parks the car.
---
Improve the Lives of Youth in Foster Care
On any given day, there are 8,000 children in Oregon's foster care system. Many of these children are coming from situations of abuse and neglect only to find themselves facing uncertainty and instability once they enter foster care. Boys & Girls Aid wants to change that. Through our Foster Care, Adoption, Permanency, and Homeless Youth Programs, Boys & Girls Aid helps children and youth building trusting relationships and opportunities for a successful future.
Boys & Girls Aid is looking for compassionate people to help improve the lives of kids in foster care. Whether as a foster parent, adoptive parent, donor, or volunteer, you can provide support and consistency at a pivotal point in a child's journey. Learn more at www.boysandgirlsaid.org.
Boys & Girls Aid will be joining us this Saturday in the market. Stop by their booth to learn more about their services and how you can help support the children in their care.
---
This week we're excited to have a two part Market Sprouts activity! Market Sprouts will receive a nature collection container and label that they can color, as well as a nature picture. With their container, kids can venture out for a nature walk and collect small nature artifacts to fill their container. After sorting their collection Market Sprouts will use their nature items to decorate the butterfly nature picture. Kids can choose to color the picture beforehand or not. Items can either be placed temporarily or glued. We can't wait to see what your little ones come up with so don't forget to tag us on Instagram or FB!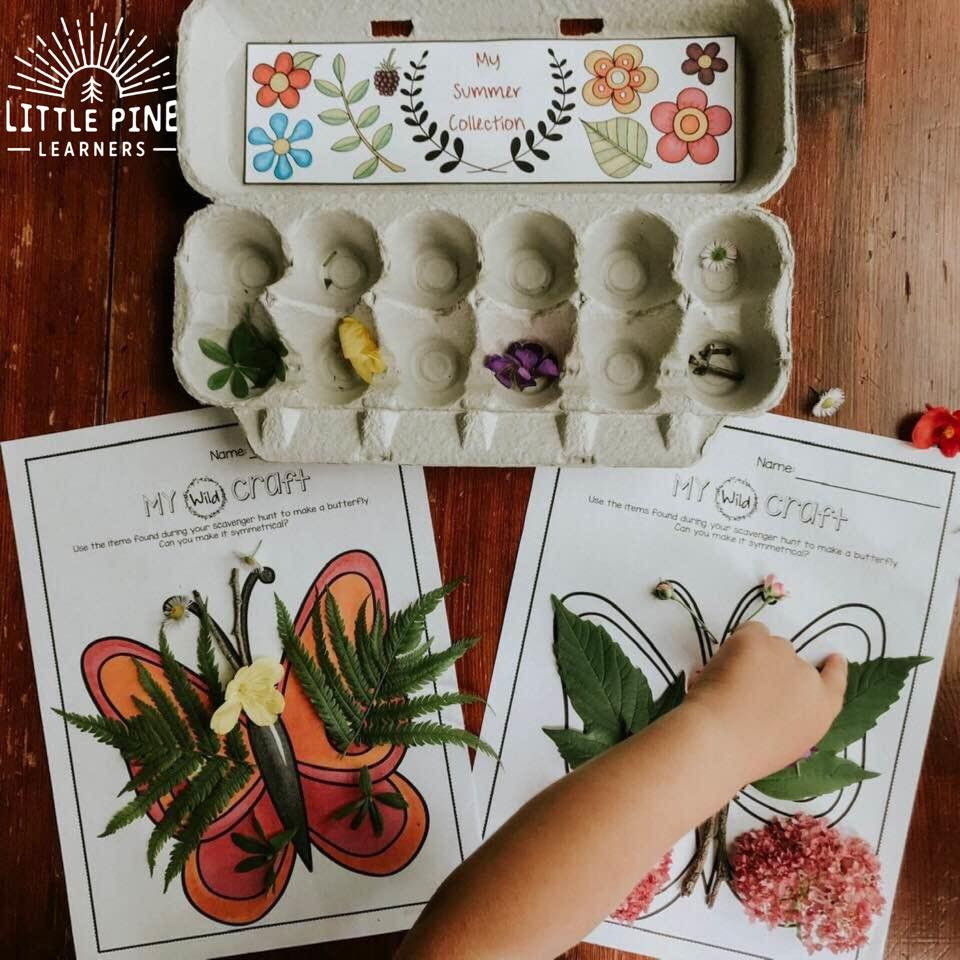 Copyright © 2021 Beaverton Farmers Market, All rights reserved.
You are receiving this email because you opted into the Beaverton Farmers Market email list.

Our mailing address is:

Beaverton Farmers Market

PO Box 4

Beaverton, OR 97075