---
To Our Market Community,
The peach originated in China, and the Chinese believe the peach tree to be the tree of life.  The peaches are a symbol of immortality and unity. In America, we like them simply because they are juicy and delicious. They are the third most popular fruit grown in the States. Here at the Beaverton Farmers Market, they are synonymous with summer, and are at their peak right now!
Among its many attributes, a medium peach is a mere 37 calories and is high in vitamins A, B, and C. Because a fully ripe peach is delicate and easily bruised, you will often find them sold just "under-ripe." To fully ripen your fruit, place them on the counter in a brown paper sack, folded closed, for two or three days. (Do not try this in a plastic bag. As the fruit respires, it gives off moisture which will collect on the plastic bag and cause the fruit to rot.) The ripe fruit will be soft and fragrant. Refrigerate them at this point.
Peaches come in two categories – cling or freestone. The flesh will either cling to the pit or easily pull away. Depending on what you will do with it, make sure you know which kind you are buying. A cling variety will thwart your efforts if you plan on cutting them in half to place on the grill.
Like the plum and the apricot, peaches are members of the rose family (Rosaceae), distinguished by their velvety skin. If the peach fuzz bothers you, try rubbing the fruit with a terry handtowel after washing, it will diminish the feel of the fuzz on your mouth. Of course, you could also choose to purchase nectarines instead if the fuzzy skin bothers you.
Nectarines and peaches are nearly the same genetically, but a gene variant between the two causes peaches to have fuzzy skin and nectarines to have smooth skin. As a result, peaches and nectarines have a similar flavor profile and can be used interchangeably in recipes.
Should you wish to peel a peach, nectarine, or tomato for that matter, either for eating or cooking, we recommend the following method:
Make a small X in the bottom of the peach with a paring knife. Immerse in a pot of boiling water for 20 – 30 seconds or until the skin splits. Be careful not to over-boil, or you will start cooking the flesh. If the skin never releases, your fruit isn't ripe enough. Remove from water with a slotted spoon and place in a bowl of ice water to stop further cooking. Next, remove the skins, which should easily slip away.
Once the flesh of the peach is exposed, it will begin to brown. Keep submerged in the ice water until you are ready to use it. Toss cut peaches with lemon juice to delay the browning process.
If you are looking for delicious ways to enjoy peaches this summer, The Pioneer Woman website has assembled 25 of their favorite dessert recipes here.

Photo credit: Con Poulos for The Pioneer Woman
We are fond of the Arugula Salad with Peaches, Goat Cheese, and Basil from the NYTimes Cooking, which would be incredibly delicious with cheese from Portland Creamery.

Photo credit: Andrew Purcell for The New York Times.
The sweet taste of peaches paired with tangy goat cheese is so addicting that you will also want to try Paula Deen's recipe for Grilled Peach Salad. The recipe calls for topping a bed of mesclun lettuce mix with grilled peaches, feta cheese, and pecans. Pick up some goat cheese feta at Fraga Farms Creamery, and instead of pecans, use Oregon-grown hazelnuts.
 Warm Regards,
The Beaverton Farmers Market
---
We will see you this Saturday at the Market from 8:30 AM-1:30 PM.
---
Nectarine or Peach and Cherry Salad with Roasted Hazelnuts
1 1/2 lbs. nectarines or peaches (yellow or white), sliced
1 1/2 c. bing cherries, pitted and halved
1/2 c. roasted hazelnuts, roughly chopped
Combine all ingredients (reserving some chopped nuts) in a bowl and toss. Garnish with remaining hazelnuts.
---
Brothy's Newest Products!
Julia Baker has been busy creating new products for Brothy and we are here for it! Brothy now has added a vegan broth to its lineup, Seaweed Shiitake Broth made with shiitake mushrooms from The Mushroomery, as well as seaweed from Oregon Seaweed. Pictured below, Julia made a simple ramen with the broth using lettuce and egg from Santos Family Farm.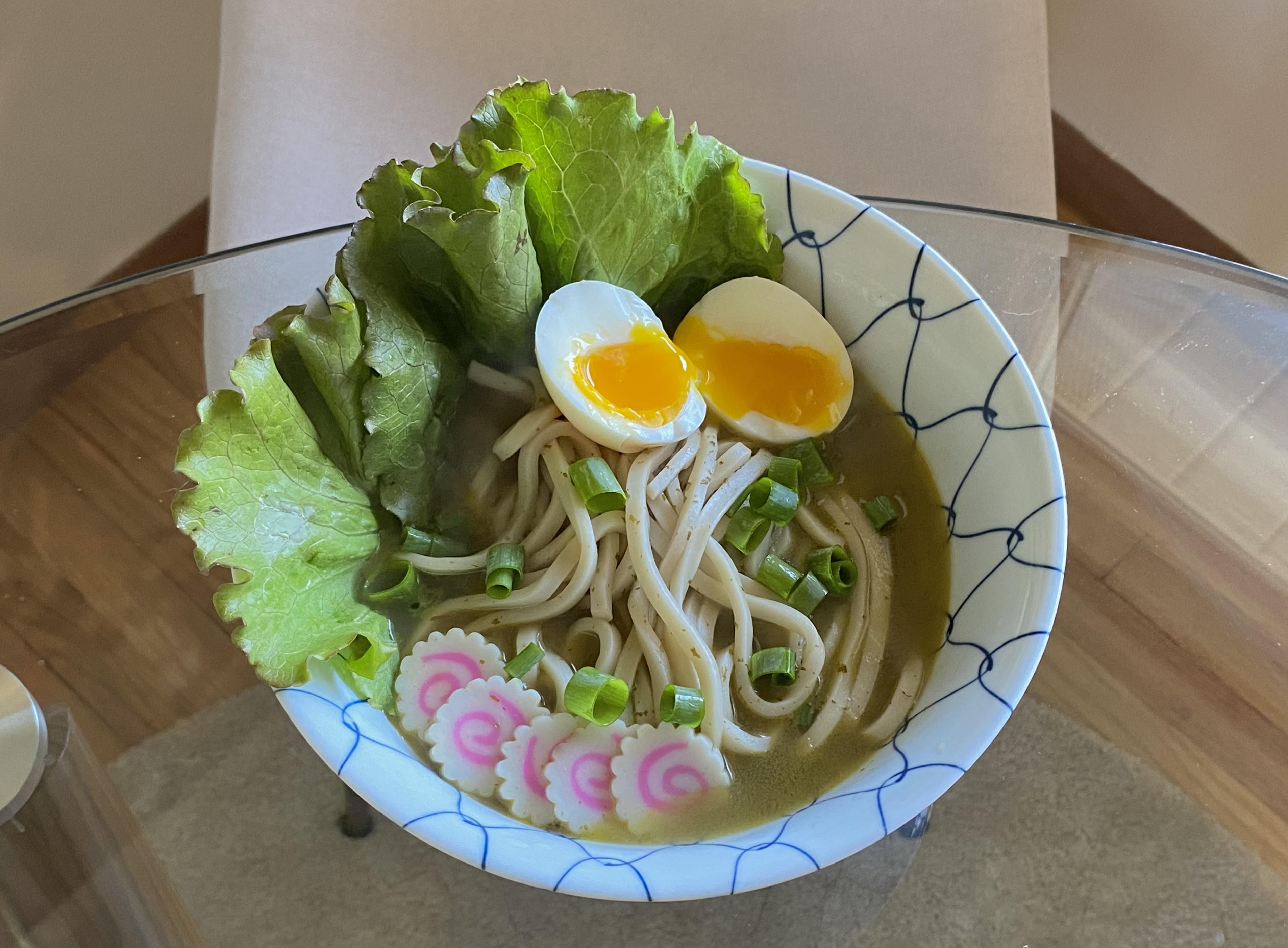 Also, Brothy now offers beef tallow! Beef tallow is rendered animal fat high in vitamins, minerals, and omegas. Tallow has a high smoke point so you can also use it in place of oil for deep frying, or high-heat cooking.
---
Disabled Parking
We are happy to announce that there will be designated parking spaces for handicapped parking on Washington St. between 2nd and Third streets beginning this week. We are grateful to the local businesses that made this possible — Thomas Family Dentistry, WellSpring Natural Health, the Real Work, North Rim Property Management, and Bridge City Foot and Ankle.
---
The Beaverton Farmers Market Is Hiring!
The Beaverton Farmers Market is hiring! We are looking for just the right person to be the market bookkeeper.
The bookkeeper role is part-time and an in-person job with a flexible schedule.
For more information, please email market@beavertonfarmersmarket.com.
---
Sosa Farms and Thompson Farm will be joining us this Saturday.
This week's music is Dave Degman & the Hometown Review.
Copyright © 2022 Beaverton Farmers Market, All rights reserved.
Our mailing address is:
Beaverton Farmers Market
PO Box 4
Beaverton, OR 97075