---
To Our Market Community,
It may have been slow to start, but we are happy to say that berry s eason is in full swing. Strawberries, blueberries, tayberries, Marionberries, raspberries, blackberries… so many delicious varieties to choose from!
In case you get tired of eating them fresh, the Oregon Raspberry & Bla ckberry Commission has some great recipes on their website for dishes ranging from Blackberry Mango Frozen Margaritas to Grilled Chicken with Blackberry BBQ sauce. Market Master, Ginger Rapport, can't wait to make their Raspberry Chocolate Chip cookies.
After a month-long absence, Lindsay's Sourdough Pancake and Waffle Batter will be back this week. Pair one of Lindsay's signature batters with your favorite berries. Truly a match made in heaven!
Bumper Crop Betty, the commission's mascot, will visit the market on Saturday from 9 AM-11 AM. If you see her, walk up, say Hi, and ask for one of her recipe bookmarks.
While all of the recipes on the Commission's website are tempting, we are incredibly excited about making the Blackberry Watermelon Salad this weekend because not only will there be fresh blackberries in our growers' stalls, but Hermiston Watermelons will finally be in the market as well!  You will find Hermiston Melon Co. at the intersection of 4th and Washington, near the music.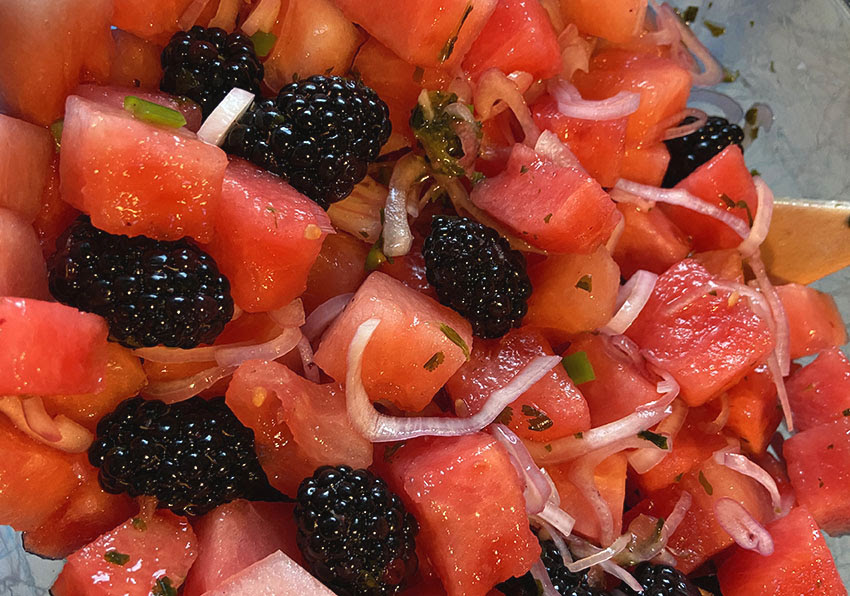 Our band this week is a local favorite – Shanghaied on the Willamette.
 Warm Regards,
The Beaverton Farmers Market
---
We will see you this Saturday at the Market from 8:30 AM-1:30 PM.
---
I Dream of Favas 
By Marketing Director Kate Laubernds
While making my usual rounds in the market to see what's new, I spied gigantic fava bean pods at Campo Collective/DeLeon Family Farm's booth. I was surprised to see fava beans so late into the summer season, but then again at this point, I shouldn't be surprised by the irregularity of the season. Feeling like I had somewhat missed the spring season of these tasty legumes I decided to purchase a couple of pounds worth. As I was waiting to pay, my attention was stolen by the sweet scent of mint and a selection of romanesco zucchini and globe squash by the scale. My imagination took me away to how to marry these wonderful summer items on the plate. Cooking and food are my passion so you can often find me excitedly chatting with customers, vendors, and staff throughout the market about what their favorite produce or product is and how they are going to prepare it.
Fava beans, or broad beans,  are usually spring produce in the legume family and are one of the oldest cultivated plants in the world. A staple in the Mediterranean and Middle Eastern diets that can be prepared in a myriad of ways from sauteeing to grilling, pureeing – you name it! Fava beans have a slightly sweet and buttery flavor. Many people are often intimidated by the prep work, but I assure you it's quite painless. Shuck, blanch, peel. That's it! For more detailed information on fava beans and how to prepare them, visit The Spruce Eats. 
Jade of Campo Collective has an incredible recipe she learned while working in Italy, homemade fava bean and gorgonzola ravioli with fresh herbs. I was salivating over her telling of how to make them. However, as a parent who just returned from vacation, I knew that might be more than I could handle. If you're feeling adventurous visit her for the recipe or try this one for Fava Bean Ravioli With Brown Butter.
I settled on a bright side dish with my vegetable and mint haul to accompany fresh chinook salmon.
Lemony Fava Beans and Globe Squash With Red Quinoa, Mint, and Ricotta Salata
Ingredients
2 lbs fava beans (in the pod)
1 zucchini or assorted other summer squash
2 tablespoons olive oil
shallot, finely diced
pepper
1/4 cup veggie broth or chicken stock or water
1 cup red quinoa
1 teaspoon lemon zest
lemon juice to taste
salt to taste
fresh mint
Ricotta Salata- or sub pecorino
Drizzle of olive oil
Steps
Shuck the fava beans.
Bring a small pot of salted water to a boil. Blanch the fava beans for 15- 20 seconds, then drain and place in ice water.
Remove the tough outer peel of the large and medium-sized fava beans, leaving the tiny beans as they are. You will end up with roughly 2 cups. (Allow 20 minutes for this)  Tip: you could do this ahead and refrigerate until close to serving time.
In a small saucepan cook quinoa according to package instructions.
In a large skillet heat olive oil over medium heat. Add shallots and a bit of fresh cracked pepper. Turn the heat to medium-low to prevent burning. Cook until slightly caramelized. Add zucchini/summer squash and turn up the heat to medium. Cook until slightly tender. Add fava beans and season with salt. Sautee a minute or two and then add broth to simmer until liquid is absorbed and vegetables are tender. Remove from heat.
Fold in reserved quinoa and lemon zest and add juice to taste. Season to taste and finish with fresh torn mint leaves and shaved Ricotta Salata on top.
---
The market is seeking a new member for the Board of Directors!
The Beaverton Farmers Market is one of Beaverton's most valued resources due, in large part, to the engagement and involvement of the community. In addition to the market's dedicated staff, the market has a governing Board of Directors, made up of vendors and community members who volunteer their time to meet regularly and help the market management team determine policies and procedures for the market. The Board of Directors also provides oversight of the market's budget, coordinates the annual vendor grant program, and assists the staff with vendor appreciation events and efforts.
Following the retirement of one of our longtime board members, we are looking for a new board member! The board consists of at least two community representatives, two vendor representatives, and one member of the Beaverton business community. We are currently seeking a community representative. The term for a board member is three years and is a volunteer position. We are looking for an enthusiastic and engaged community member who has a passion for the market and is willing and able to attend monthly board meetings and provide input on important market matters. We also encourage board members to help market leadership with specific tasks, including the vendor grant program, budgets, and other important efforts as designated by the market manager.
If you are interested in becoming a member of the Beaverton Farmers Market Board of Directors, please complete an application by August 5, 2022! The board term will begin in October and we're looking forward to welcoming a member of our community to join us.
Find the board member application here: https://www.surveymonkey.com/r/6K3W279
---
Attention pie makers! Kiyokawa Family Orchards will have pie cherries this week (and likely this week only). Quantities are extremely limited so preorders are best. Email preorders to orderkiyokawa@gmail.com by Thursday at 6:00 PM.
Santos Family Farm has ducks! This week Santos will have whole ducks available for sale, including Pekin ducks and their popular Cornish Cross chickens. Whole ducks average 5 lbs. Here are some of their flocks enjoying a happy farm life!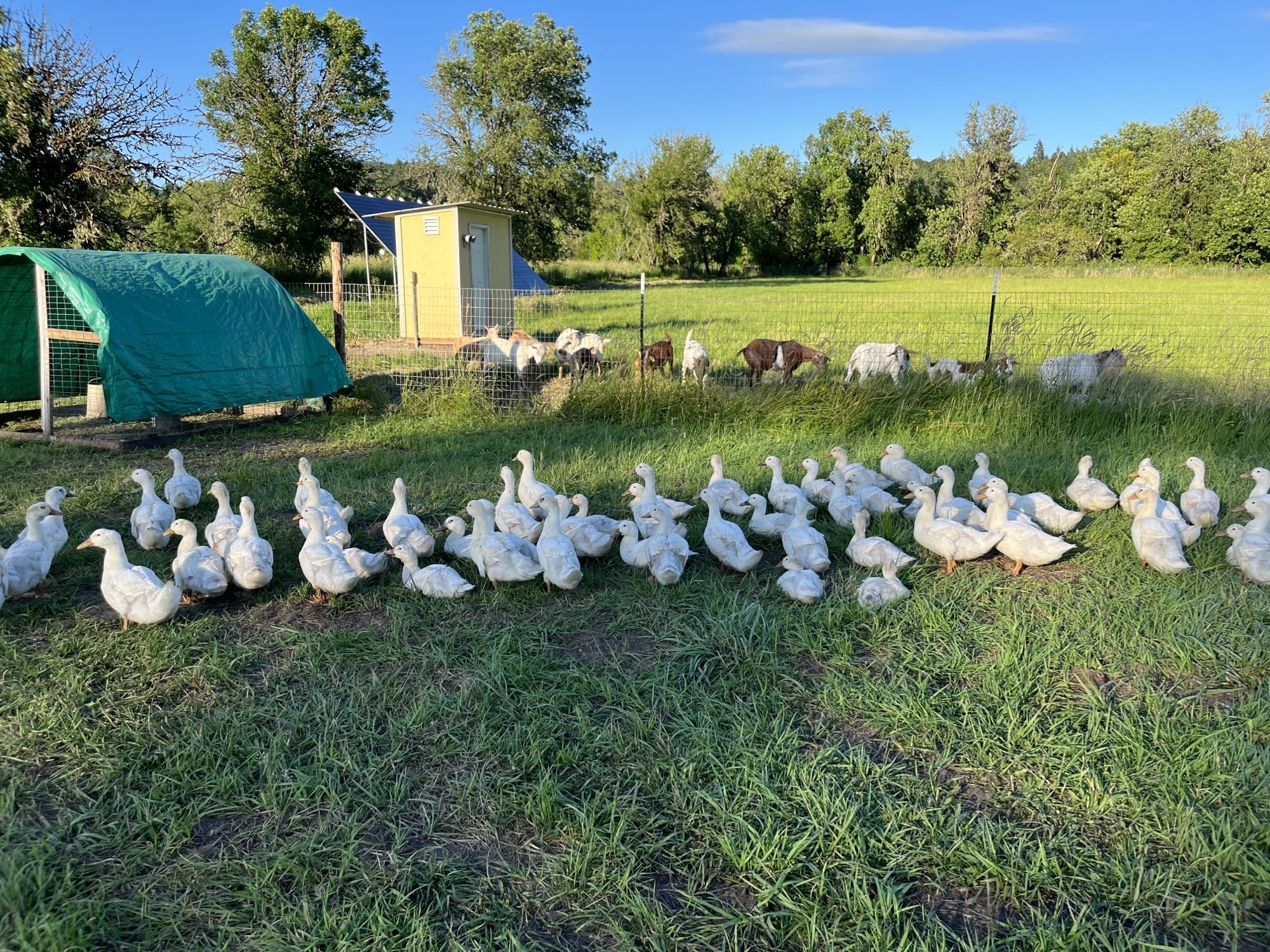 Copyright © 2022 Beaverton Farmers Market, All rights reserved.
Our mailing address is:
Beaverton Farmers Market
PO Box 4
Beaverton, OR 97075