There have only been a few instances where my Vietnamese has been mistranslated and resulted in a questionable outcome.
One happened when I went to Vietnam. At that time, I had shaggy hair down past my shoulders (and a matching mustache) that was becoming too much for the humidity as it was crammed into a motor bike helmet. I went to a local barber in search of a hip, shorter haircut, explaining what I wanted and had seen on someone in Berlin. The result was far from what was expected, resulting in one of those cuts that you end up being stuck with for awhile, as the effort of growing back shaved sides to match a longer top rarely matches the patience it takes to do so. It's a haircut I actually kept for 8 years?…up until I was homebound due to COVID lockdowns.
Another instance was more recent. It wasn't a result of my own Vietnamese but, rather, my parent's. We had a gathering with the elders of my family to celebrate the engagement of me and my partner, Mallory. My parents arranged for a cake to be made for dessert and expressed to the restaurant that they'd like "Congratulations Vince and Mallory!" written on the cake. When it came time to cut the cake, they wheeled it out and with it, a big surprise, as the cake read "Congratulations" "Vinant and Mallory"
In the end, we weren't that bothered and kind of found it to be hilarious.
Just like the haircut, little harm was done, and a humorous memory was had.
Here's hoping that our marriage lasts longer than that haircut…. :)
It's been a busy start to the New Year as we've continued to adapt to navigate the pandemic.
Although challenging, I've seen this as opportunity to grow.
I was raised Catholic and, although I consider myself more so spiritual now than religious, I still pray everyday. In my younger years, when I was faced with hardship, rather than praying to God in search of a solution, I always made it a point to ask for the strength to overcome the hardship. I was reminded of this recently, oddly enough, through a TikTok, where someone states "I asked for wisdom, and was given problems to solve. I asked for strength and was given difficulties to make me strong. I asked for courage and was given danger to overcome."
…..I must've asked for the strength of a body-builder :)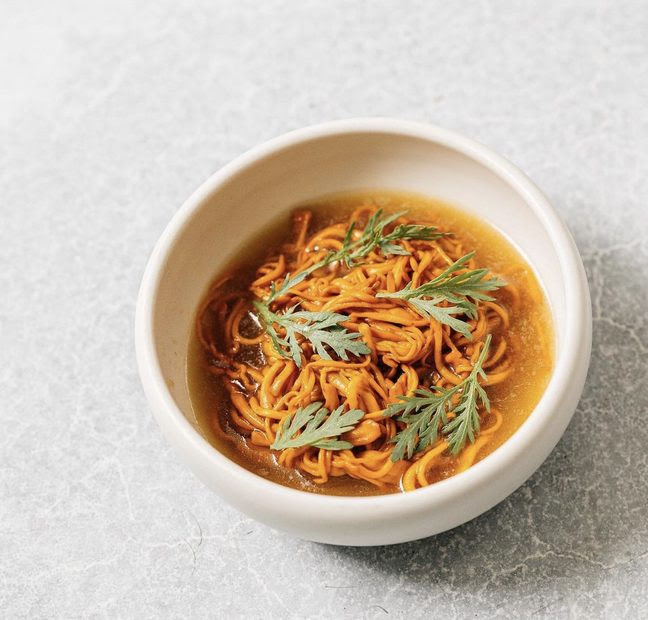 Grilled cordycep mushroom with fermented greens and a shiitake/lemongrass broth
Sorry I was a little late to mention it, but this week we'll be dedicating our Vietnamese inspired tasting menu to reflect a plant-based diet. We're happy to accommodate dietary restrictions nightly, but each season like to offer a whole week committed to a vegan menu as some of our friends prefer to not dine in the presence of meat. Bookings can be made through Tock.
Beets cooked with lemongrass. Coconut/quince custard, bay leaf, passion fruit, grilled pineapple sorbet.
Chewy shallot cake with turmeric hot chocolate
Many of those that have joined us for dinner have had the opportunity to pair their meal with wines curated by our Sommelier, Katie Sombat. You've had plenty of opportunities to get to know me, Vince, and now on Sunday evenings, you have the opportunity to hang with Katie through our Sunday Wine Bar pop-up.
In keeping with our continuous exploration of Vietnamese cuisine, we'll accompany Katie's selection of wines with a few of our favorite traditional Vietnamese dishes. The menu be centered around bánh xèo (pork/vegan available), with other menu items changing weekly. As always, all items will be gluten/dairy-free.
Wine Bar service will be from 5pm-9pm with seating first come first served.
We're incredibly grateful for your support and hope to see you then, here, there, soon :)
Vince
Copyright (C) 2022 Berlu LLC. All rights reserved.