Note from Food Dude: These are the only press releases I really look forward to. Well worth the time to read.
I've always been fond of writing to friends and loved ones, whether it be in a greeting card, little piece of torn paper, post-it note, or post card (my favorite). With the ease of email, text, and one-click online shopping, there's something very meaningful, to me at least, in someone taking a few minutes of their time to pick a card, specific to the recipient, and writing out a few words on their mind. For as long as I can remember, it's been my only request for Christmas or birthdays; a simple card. Maybe that's because, although I see value and charm in writing letters, many don't. Very rarely would I receive a picturesque post card or response to a letter. I've never been short on receiving gifts (they're greatly appreciated). I'm just partial to cards or letters. So much to the point, I've saved every one for the past 15 years or so. Whether it's a note from my partner, birthday card from my sister or friend, little cardboard note stuffed in my luggage by my Pops, or even an automated birthday card from my bank, they all get read, appreciated, and tucked away in the pocket of my old suit case.
When I opened Berlu, I wanted a restaurant that was ambitious and offered a tasting menu, but wanted it to be approachable. One of my fears was that it would become a "special occasion restaurant," so my approach to help avoid that was to use humble/familiar ingredients and offer a lower price point (relative to other tasting menus). I tried but, ultimately, it became a restaurant many would go to to celebrate. What started as a fear turned into an honor. People were coming here to impress, enjoy, celebrate, and be treated. We began offering a little extra dessert to those celebrating anniversaries or any special occasion and would add a candle for birthdays. I feel that little extra effort was appreciated.
When shifting to a Vietnamese bakery, potentially the opposite of a tasting menu restaurant, the last thing on my mind was people coming to celebrate. Of course cakes are synonymous with celebration, but my individual pastries never came to mind. What came to be was, in asking guests of their day's plans, some would mention that they're picking up pastries to celebrate a birthday. I still had a few candles from the tasting menu days, so my natural response was to offer if they'd like a candle thrown in their pastry box. A little extra effort hopefully appreciated
So I began thinking, how I could merge my love for greeting cards with an aesthetic of cute pastries, often intertwined with the sentiment of celebration.
What came was the idea of Berlu greeting cards. :)
One representing the many flavors of my favorite Vietnamese pastry, bánh bò nướng, and another a bit more celebratory with a bánh bò nướng ready to eat a mango roll. Both are blank inside and come with an envelope.
I'm calling them, "cute cards."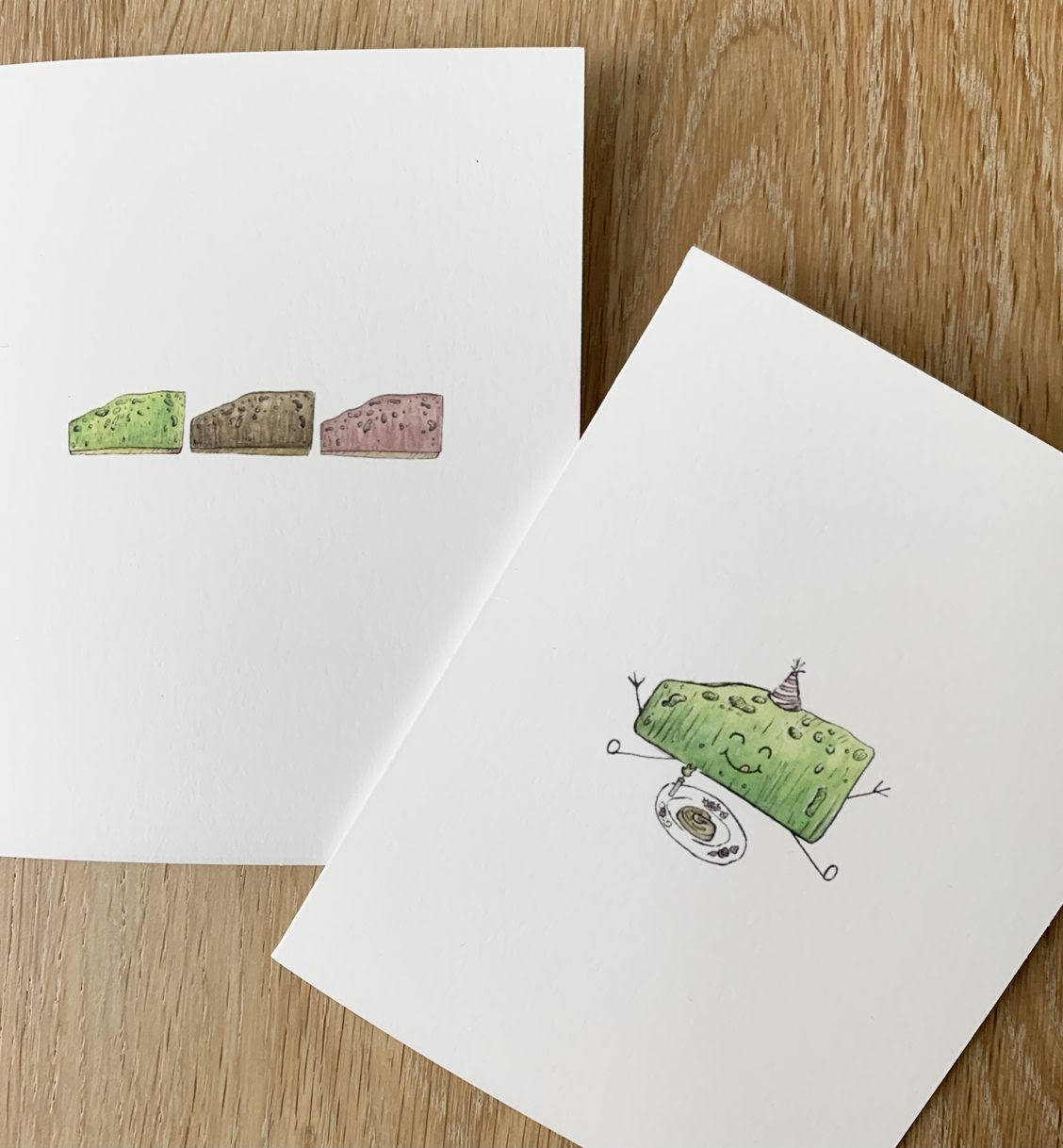 They'll be available for purchase at the bakery, can be added to your pre-order through Tock, or purchased on our online shop.
In addition to our cute cards, we're offering bánh bò nướng socks. They're super soft and make for a great stocking stuffer ;)
For the Holidays, we'll be offering snow-skin mooncake sets that come with six different mooncake flavors: pea flower/lychee, pandan/coconut, hibiscus/persimmon, coffee/banana, turmeric/quince, apple/tamarind.
One liter bottles of not-too-sweet plant-based egg nog, as well as a selection of individual pastries will also be available. Holiday orders can be placed through Tock until Dec. 22nd, with pick up on the 24th between 10-11am.
I really appreciate all of your support. This year has been a great challenge for everyone, not just restaurant workers. I'll continue to never take your support for granted and wish you all the best this Holiday season.
There's a line from the movie, 500 Days of Summer, that has always resonated with me. "Why make something disposable like a building, when you can make something that lasts forever, like a greeting card." Maybe now, this is more relatable than ever.
With gratitude,
Vince
Copyright (C) 2020 Berlu LLC. All rights reserved.
Berlu LLC
605 SE Belmont St
Portland, OR 97214