---
To Our Market Community,
In honor of the end of Pride Month and in celebration of Beaverton's Pride Festival we are dedicating this newsletter to Pride! Beavertonians are lucky to have such a rich and diverse community of people, but in particular, we want to honor the GAY community. We are heeding the declarations by Pride Beaverton, Executive Director, Kate Kristiansen, and using the word Gay, because that is what Pride is all about, amplifying Gay voices, and Gay experiences, in all their Gayness. Lately, it seems Pride has been co-opted and capitalized by companies to sell more without highlighting its community members, their struggles, their history, or benefiting the community that it's supposed to uplift.
We asked our Market vendors what Pride means to them; how are they celebrating, and who are they honoring, and like the tapestry colors of the LGBTQIA+ rainbow we received a diverse response from a small handful of vendors in the LGBTQIA+ community and its allies.
Our friends Bozorth Beverages, makers of ginger beer concentrate, canned ginger beer, and bottled lemonade and limeade,  identify under the LGBTQIA+ umbrella and share what pride means to them. "Pride is the celebration the progress the LGBTQIA+ community has made, the reaffirmation of the support and welcome to all people under the umbrella, and a reminder that we need to continue to fight for safety and equality for all members of the LGBTQIA+ community." Bozorth Beverages will be donating a portion of their June sales to Outside In. Founded in 1968, Outside In is a medical and youth service nonprofit organization in Portland, Oregon which provides primary care and "wraparound services" for low-income and homeless clients. It also has several other programs such as needle exchange programs for drug addicts, and eligibility-restricted tattoo removal services.
Pride isn't always about splashy events and declarations. For Brothy owner, Julia Baker, Pride is quieter, more personal. "​​Pride comes to life in smaller, quieter ways for me. It means being comfortable enough to openly talk about my marriage, the instrumental part my wife [Kaitlin] played in Brothy's branding, and her favorite bone broth flavor. Brothy wouldn't be possible without the partnership of my wife. She is the creative force behind our brand, and more importantly, she keeps me grounded so I can continue showing up for the community." Brothy makes nutrient-dense nourishing beef and chicken bone broths from pasture-raised animals. You can find them on the Hall street aisle under their playful red Brothy logo, designed by Julia's wife, Kaitlin.
Allies of the LGBTQIA+ community, Intentional Lotions, will be donating 10% of Market sales to Bridging Voices. Bridging Voices (The Portland GSA Youth Chorus) is a youth chorus for LGBTQ+ and allied youth, ages 13-21, and strives to be a safe, accessible place for youth to experience empowerment and unity through music. It is Portland's first Queer/Straight Alliance Youth Chorus and is one of the largest choruses of its kind, in the nation.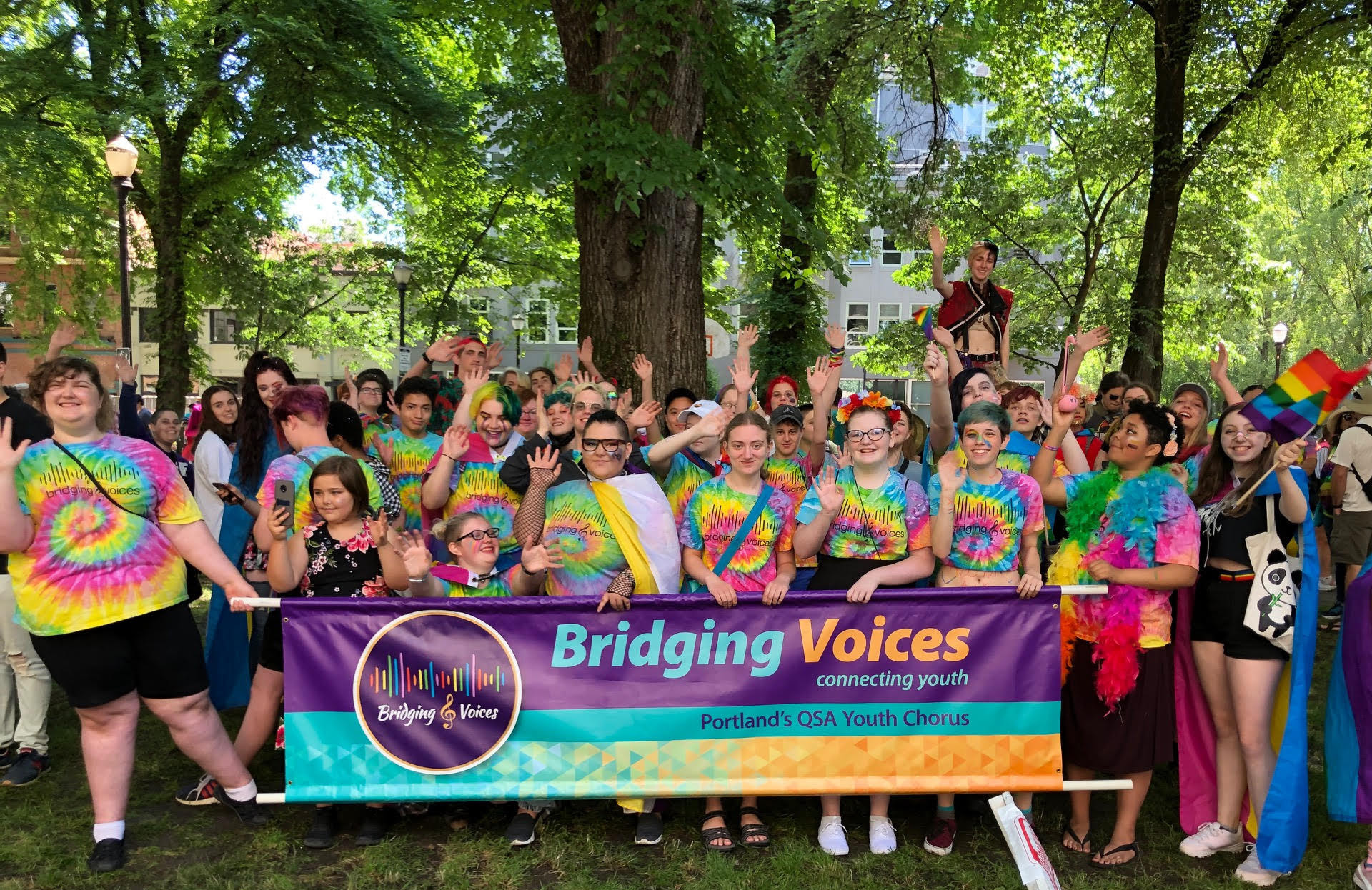 While NOLA Doughnuts owner Robert Herkes does not identify as a member of the LGBTQ community, many of his employees, friends, and family do. "It is important to us to create a supportive and nurturing environment not only at home but also at work. We want everyone to thrive and grow at NOLA Doughnuts and always feel accepted." In celebration of Pride, NOLA Doughnuts has "Filled With Pride" and "Lavender Menace" doughnuts, as well as NOLA Pride shirts. 15% of proceeds from Pride Doughnuts and 100% of proceeds from Pride shirts will be donated to the Q Center. Q Center is the largest LGBTQ+ community center in the Pacific Northwest. Its mission is to provide safe spaces, community building, and empowerment for the positive transformation of LGBTQ2SIA+ communities and allies in the Pacific Northwest.
Newly joining us this month is Ricochet Wine Company. Owner, Erich Berg, is an advocate for equal rights for the LGBTQ community and has many friends within the community.  "I have bigoted and/or ignorant friends and family members who lack the sympathy or empathy that all human beings deserve.  As such, Pride symbolizes both the celebration of one's true self – and the right to exist fully and authentically – as well as the continued fight to expand and preserve those unalienable rights." Ricochet Wine Company is donating 5% of Market sales to Basic Rights Oregon. Basic Rights Oregon works to ensure that all lesbian, gay, bisexual, transgender and queer Oregonians experience equality by building a broad and inclusive politically powerful movement, shifting public opinion, and achieving policy victories.

Sasquatch Botanicals, makers of adaptogen-rich seasoning blends, coffee, and teas, is a queer-owned and operated company. They are celebrating Pride Month with limited-edition Queer Joy uplifting tea, Rooster Rock seasoning blend, Rise Up! Green tea blend, & Rainbow Kisses coffee dusting sugar! They will be donating 11% of profits to support fighting the injustices against our trans youth and black trans community.
Wild Roots Spirits are celebrating Pride Month in their Portland tasting room, with their special Pride cocktail flight. $5 from each flight will be donated to the Q Center. "We understand the all-gender mosaic that encompasses the spirits industry and we strive to make our spirits accessible, inclusive, and enjoyable for all! At Wild Roots, some of our core values are Diversity, Equity, and Inclusion. We believe that LGBTQIA+ Pride Month embodies those values and we are passionate about supporting the cause."
We have many more vendors within the LGBTQIA+ umbrella and we hope that you continue to shop and support them this month and in all the months that follow.
 Warm Regards,
The Beaverton Farmers Market
---
We will see you this Saturday at the Market from 8:30 AM-1:30 PM.
---
2022 Beaverton Pride
Don't forget to return to the location of the market on Sunday to celebrate Pride for Beaverton's Big Gay Pride Parade.
---
Baird Family Orchard will be joining us this week with Black Pearl cherries!
Music this week is The Noted.
Copyright © 2022 Beaverton Farmers Market, All rights reserved.
Our mailing address is:
Beaverton Farmers Market
PO Box 4
Beaverton, OR 97075