---
To Our Market Community,
Some like Hot!
If you are one of those people then this is your time of the year because it is chile season.
Chile vs. Chili – According to Chef Mark Miller, author of the Great Chile Book, the generally accepted convention is that chile refers to the plant or pod while chili refers to the dish made from meat and chiles. The name pepper is a misnomer that has existed since Christopher Columbus discovered capsicum and erroneously thought that he had found the plant that produces black pepper which has no relation to capsicum. However, the name pepper is still used interchangeably with chile.
The chemical in chile peppers that gives them heat is capsaicin which is technically a neurotoxin. It stimulates the adrenal glands to release hormones, which theoretically creates an energy rush. The fiery sensation you feel also triggers the brain to produce endorphins, natural painkillers that promote a sense of well-being and stimulation. They can also make you sweat which is your body's natural air conditioner. This would explain why chiles figure prominently in cuisines in and around the tropics.
Below is our guide to the most common chiles found at the BFM.
 Warm Regards,
The Beaverton Farmers Market
---
We will see you this Saturday at the Market from 8:30 AM-1:30 PM.
---
Depending upon whether you like them hot, mild, or somewhere in between, you will want to make informed decisions when purchasing chiles. The first thing that you should know is that the heat level in a single chile is rated on a scale known as the Scoville Heat index. Invented by Wilbur Scoville, it ranks chiles in order from mildest to hottest with zero being the mildest and the hottest being over a million. In general, the smaller the chile, the hotter it is.
We've included the Scoville ranking* for each. Most of the heat is located in the seeds and white ribs inside. Removing the seeds and ribs, using only the flesh of the chile will give you all of the flavor and less of the heat. Keep in mind that you should use gloves when handling the hottest peppers to avoid irritating your skin.  It is important that you do not touch anything, especially your face, before disposing of the gloves and washing your hands thoroughly.
*Scoville rankings are often given in a range because varieties and growing conditions vary.
Bell Peppers – Scoville 0
Bell peppers are sweet chiles. They add flavor but no heat to your food.
Anaheim Peppers – Scoville 1000
Big and mild, perfect for stuffing. The skin is a little tough but peels easily if you roast it first.
Poblano Peppers – Scoville 1,000 – 2,000
The classic chile for Chiles Rellenos. They have great flavor and enough heat to be zesty but not scorch anyone. As they mature, the skin reddens at which point they are dried and sold as Ancho chiles.
Jalapeño Pepper – Scoville 2,000 – 8,000
This is the most commonly used pepper in the U.S. It is spicy but not overwhelming.
Serrano Pepper – Scoville  10,000 – 25,000
Similar in flavor to the Jalapeño only much hotter, Usually small, about 2", and green in color. A general rule of thumb is that the smaller the serrano, the hotter it will be.
Cayenne Pepper – Scoville  25,000 – 50,000
When you want to add heat to food this is a good choice. Red in color, the Cayenne is usually dried and used in powdered form.
Thai Chile – Scoville 50,000 – 100,000
This chile is classified as "very hot". It is a very small pepper and is commonly called for in Thai recipes.
Habanero Chile Pepper – Scoville  150,000 – 350,000
Of the hot chiles most commonly used, this is the hottest. Its color ranges from green to yellow to pink. It is very short but don't let that fool you, this chile is scorching hot!
Other chiles you will find in the market:
Padron Peppers
Originally from Spain, they are harvested young and small, they typically have no seeds. This makes them mild, perfect for eating whole. Farmers tell us that about one in every 12 will be surprisingly hot and there is no way to know which one packs the extra punch. Sauté in olive oil and toss with salt.
Shishito
Popular in Japan, these are very similar to Padron peppers but are more sweet and mild. Serve them sautéed and drizzle with soy sauce and sesame oil. Very tasty in tempura.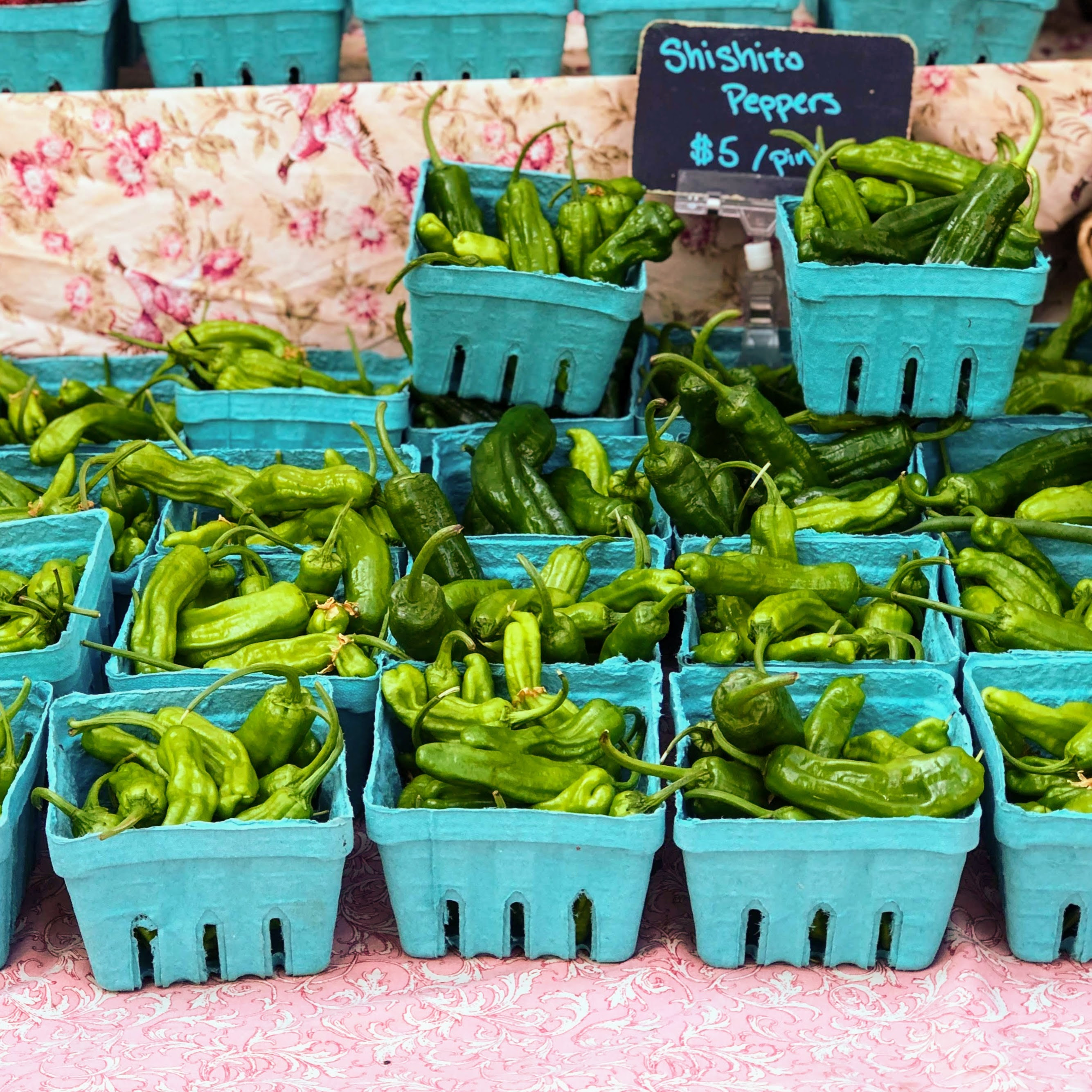 ---
Roasting Red Pepper Primer
Many recipes call for roasting your peppers and roasted red peppers are a great addition as a condiment to sandwiches or added to hummus. We found two foolproof methods for roasting and skinning your red peppers, no matter your kitchen setup.
Our favorite method is charring over a gas burner shared by Chowhound. It's quick and easy with very little cleanup.
If you have an electric stove the next best option is to roast the peppers in the oven under the broiler. Food52 has a great method for oven-roasted red peppers.
---
Woven Oats New Flavor Alert!
Sami of Woven Oats informed us she has her first seasonal flavor — Blackberries and Cream! The blackberries are handpicked on Wapato Island (Sauvie) and freeze-dried by Sami. Stock up now so you can enjoy this summer flavor well into fall!
Woven Oats makes sweet and savory instant oatmeal packed with healthy nourishing ingredients.
---
Tualatin Water and Soil Conservation District Fall Webinars
With a wealth of resources, Tualatin Water and Soil Conservation District have some new fall webinars on Naturescaping basics and design, as well as water collection. For the full list of webinars and detailed information visit their Facebook Events page.
In addition to the webinars, TWSCD recently launched its Watershed Navigator.
The Watershed Navigator includes tools for your home, yard, and community and information about where to access parks, trails, and the Tualatin River. Explore the site to learn more about our water; how we use it, how it moves across and shapes the land, and what to do when there's too much.
Visit https://watershednavigator.org/ to learn more.
---
Red Hat Melons will be in the market this week!
Copyright © 2022 Beaverton Farmers Market, All rights reserved.
You are receiving this email because you opted into the Beaverton Farmers Market email list.

Our mailing address is:

Beaverton Farmers Market

PO Box 4

Beaverton, OR 97075