To Our Market Community,
The last market of the season is always one of our favorites, and not for reasons you might think. It is not because it means a tiny break for us before the Winter Market opens the first week in February but because we have a holiday meal and gift shopping on our minds.
As we look ahead to holiday gathers, we always like to start with festive beverages, with or without alcohol. Fresh pressed apple cider, warmed with a bit of cinnamon, cloves, and orange peel, is always welcome (recipe from the Minimalist Baker). Add some Pumpkin Spice Liqueur from Drop Shop Distillery, and it becomes a fun libation. Make a Christmas Classic by adding Pumpkin Spice Liqueur to Garry's Meadow Fresh/Lady Lane Farm's Egg Nog.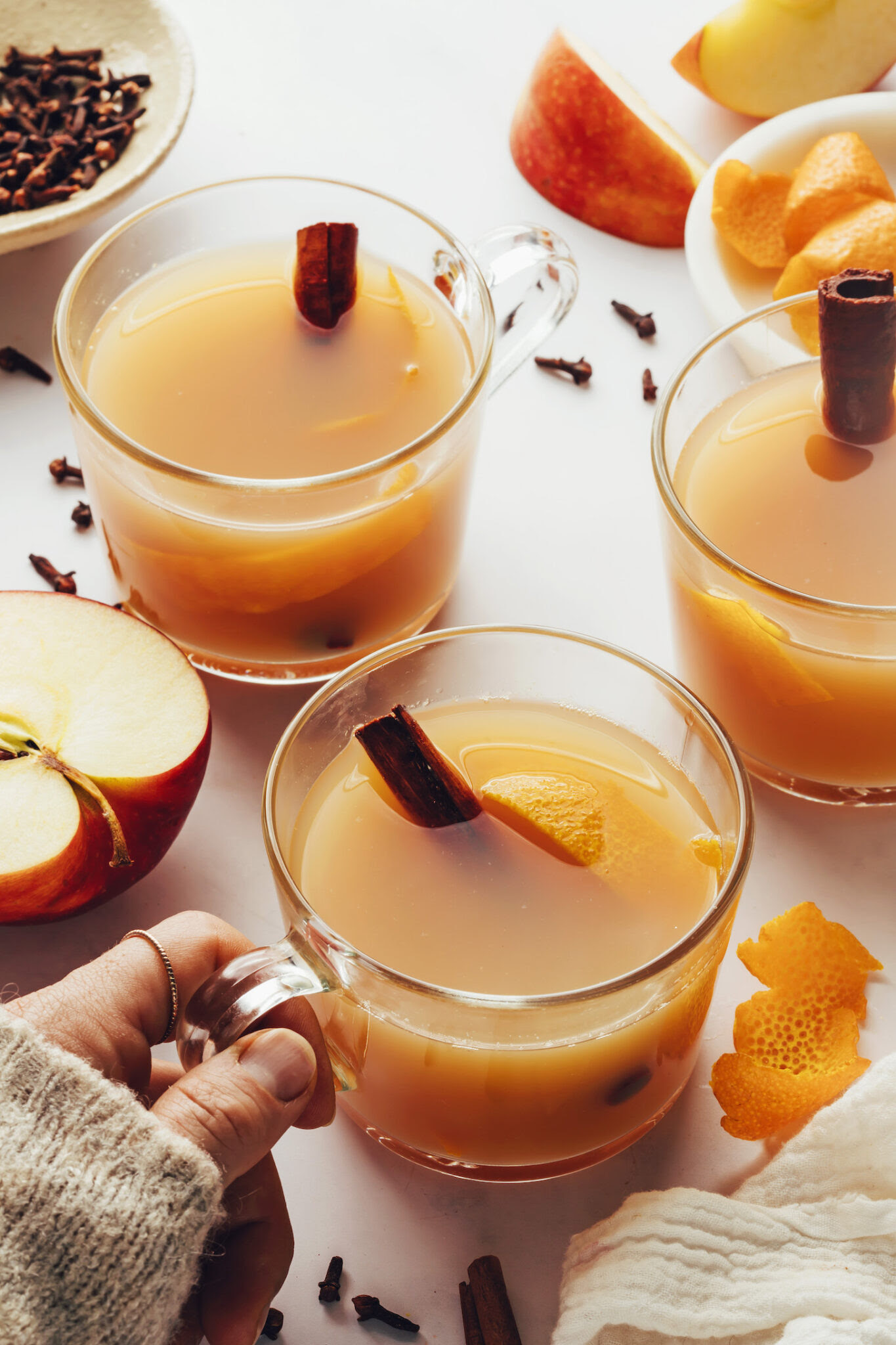 Photo courtesy of The Minimalist Baker
If hot cocoa is your preference, we recommend Momo Cocoa, an Oregon-based premium cocoa company whose aim is to make quality cocoa available to all. Enjoy Momo's mixes with the non-dairy or dairy milk of your choice. We look forward to a warm cup of Momo's Classic Cocoa with a splash of The Aimshir Distilling Co.'s Cold Brew Bourbon.
Daddy's Cocktail Syrups are designed for both mocktail and cocktail enjoyment. Daddy's Cinnamon Demerara syrup is made from natural demerara sugar. It has a cinnamon punch and warm molasses flavor that pairs with aged spirits. It is also delicious, poured on creamy vanilla ice cream. And if you're looking for a great gift for your favorite mixologist, Daddy's Cocktail Syrups has the perfect gift boxes!
Great drinks need great snacks to go with them. Pair your favorite beverages with cheeses from Briar Rose Creamery, Helvetia Creamery, and Portland Creamery. Round out a charcuterie tray with Olympia Provisions' salamis, sausages, and deli meats. Add zing to your snacks with Rose City Pepperhead's pepper jellies which range from Mild to Wild to Wicked.

Photo courtesy of Olympia Provisions
Regarding favorite snacks, Cranberry Kitchen's trail mixes use their own sweetened dried cranberries (Crannies), dried blueberries mixed with nuts, and BFM staff favorite, M&M's. Simple Trail's Artisan Granola contains whole nuts, 100% pure organic maple syrup, and beneficial seeds like chia and flax. While Simple Trail is delicious with yogurt, fruit, or as a topping for ice cream, we love it right out of the bag as a crunchy, tasty snack. Either of these premium trail mixes would be an excellent addition to your holiday snack tray.
Finish your snack tray with pieces of dark chocolate from Buddah Chocolate. They stone-grind single-origin Peruvian cacao and gently sweeten it with organic coconut sugar. They direct source their heirloom cacao from small family farms along the Ucayali River in the heart of the Peruvian Amazon. It is sustainably and ethically grown using regenerative agroforestry and biodynamic practices. The bars are formed into flavors, including Wild Rose & Sea Salt, Cacao Nib Crunch, Salted Alchemy, and Oregon Hazelnut.
Many of our vendors will offer holiday gift boxes that will surely delight those tough-to-shop-for names on your list.
We expect Bill at Edgemaster Knife Sharpening to be super busy this Saturday getting all our knives into tip-top shape for all the chopping and carving we have planned in the next month. So if you bring your knives to Bill for sharpening, we suggest you come early and get in his queue.
Fresh Wreaths and Decorations 
May's Flowers and Pumpkin Ridge Gardens will feature farm-fresh, hand-assembled holiday decorations, including wreaths and table arrangements.
 Warm Regards,
The Beaverton Farmers Market
---
We will see you this Saturday at the Market from 8:30 AM-1:30 PM.
---
Side Dishes for Spectacular Tables
Riverland Family Farm is excited about the splendid sweet potatoes they grew this year. Naturally sweet and creamy, we are looking forward to making this sweet potato casserole courtesy of the Food Network. The casserole ingredients can be mixed and transferred to a baking dish, covered, and refrigerated until ready to bake.

Photo courtesy of the Food Network
Cauliflower is widely available in the market, and our favorite way to serve it is to roast it whole. Again, the Food Network is our go-to recipe source for Mustard Parmesan Whole Roasted Cauliflower. Prep and brush your cauliflower ahead of time, then let it sit at room temperature until you are ready to cook it.

Photo courtesy of the Food Network
For a fun and unique way to serve corn, try these Corn Ribs from Ree Drummond, The Pioneer Woman. Start with strips of corn on the cob cut lengthwise, then toss them in olive oil and sprinkle with a spice mix of brown sugar, paprika, garlic powder, salt, and pepper. Bake in the oven and serve with a spread made by mixing mayonnaise, BBQ sauce, mustard, and honey.
---
Also this week, Wake Up Beaverton! and the Oregon Health Authority are back putting on a free Covid-19 Vaccination Clinic at the market. Walkups are welcome, no appointment necessary. 9:30 AM – 1:30 PM.
---
And Beaverton's Winter Lights Holiday Bazaar and Tree Lighting is happening Saturday, December 3. For all of Beaverton's holiday festivities and information visit BeavertonOregon.gov/WinterLights.
Copyright © 2022 Beaverton Farmers Market, All rights reserved.
Our mailing address is:
Beaverton Farmers Market
PO Box 4
Beaverton, OR 97075