To Our Market Community,
"The apple has been far more eager to do business with humans, and perhaps nowhere more so than in America. Like generations of other immigrants before and after, the apple has made itself at home here. In fact, the apple did such a convincing job of this that most of us wrongly assume the plant is a native. (Even Ralph Waldo Emerson, who knew a thing or two about natural history, called it "the American fruit.") Yet there is a sense—a biological, not just metaphorical sense—in which this is, or has become, true, for the apple transformed itself when it came to America. Bringing boatloads of seed onto the frontier, Johnny Appleseed had a lot to do with that process, but so did the apple itself. No mere passenger or dependent, the apple is the hero of its own story." 
If you have yet to read Michael Pollan's NY Times bestselling book, The Botany of Desire, you are missing out on a beautiful exploration of plants' and humans' reciprocal relationship. Marketing Manager, Kate Laubernds, recalled the passage above while reading this story that came out last week in the New York Times on research orchards' role in the future of the apple.

Photo credit: Paul Atwood for the New York Times
Many research orchards exist to cultivate new apples for hardiness, pests and disease, environment, and of course, flavor! The next Honeycrisp could be happily growing in one of these orchards and eventually undergoing years of cultivation and testing to land in our market or the grocery store. While many research orchards produce thousands of wild apples for environmental impacts or cross-pollinating, these apples are mostly inedible – dry, bitter, too tart, etc. However, research orchards and agricultural orchards are cultivating new apples every day, which is evident when you see the wide varieties in the stall of Kiyokawa Family Orchards.
Kiyokawa Family Orchards is a family-run orchard growing fruit in Parkdale since 1911. They grow stone fruit, pears, and of course, apples – over 100 varieties! While you may not see all the varieties in their booth, they have a healthy amount to choose from. Depending on the growing season, we've rounded up our favorite apples in their booth. Unfortunately, the growing season is behind by a couple of weeks, so some of the varieties listed won't be available for a few weeks.
Akane (Tokyo Rose) – Juicy, crisp, tart-sweet, with bright red skin. Fresh eating, drying, cooking. (Makes delicate pink sauce if the peel is left on).
Crimson Crisp – Small to medium. Very bright mid-range red over yellow. Delicious, rich flavor. Moderately acid, spicy. Explosively crisp and tangy.Fresh eating, cider, drying, and cooking.
Randy Kiyokawa told us that if he were only to grow one apple, he would choose Crimson Crisp.
Empire – Crisp, tender, dessert-quality flesh, juicy, sweet-tart. Blessed with both qualities of both parents. Good all-purpose apple: Fresh eating, dessert, cider.
Golden Delicious – Crisp, juicy, mellow flavor, thin skin. Fresh eating, dessert, baking, drying, cider (distinctive aroma carries over in cider).
Hokotui – Very sweet, crisp, and juicy, with excellent flavor. The Japanese say this apple is 'better than Fuji' with its high sugar content and excellent taste. Early harvest season: fresh eating, baking, dessert, cider.
Honeycrisp – Described as "explosively crisp," making an excellent fresh-eating apple. The flesh is crisp, dense, and juicy with a good balance of sweet and tart and possesses a delicate aroma. A perfect all-purpose apple that stores remarkably well. Fresh eating, pies, cider, sauce, drying.
Pink Pearl (Red Flesh) – Unassuming greenish-yellow exterior. Crisp, very tart, aromatic pink flesh, with a hint of grapefruit. Fresh eating, desserts, pies, sauces. (Makes beautiful pink sauce).
Sansa – Firm, crisp, juicy, exceptionally sweet! Fresh eating, desserts, cooking, cider.
Tsugaru – Yellow with red blush, the Tsugaru ("SUE-GA-ROO") resembles Golden Delicious but is firmer fleshed. Intensely sweet apple. Crisp apple. Fresh eating, desserts, sauce, cider.
Winesap – Described as a perfect distillation of a crisp Fall day, the Winesap's flesh is very juicy and aromatic, with a rich, wine-like, tart-sweet flavor. Exceptional in the kitchen, its distinctive aroma and flavor remain after cooking and enhance any recipe. Wonderful for hard cider.
Zestar – Bright red with greenish-gold. Crisp, firm, juicy, sweet with a hint of tartness. Very similar to the Honeycrisp texture. Fresh eating, dessert, sauce, cider.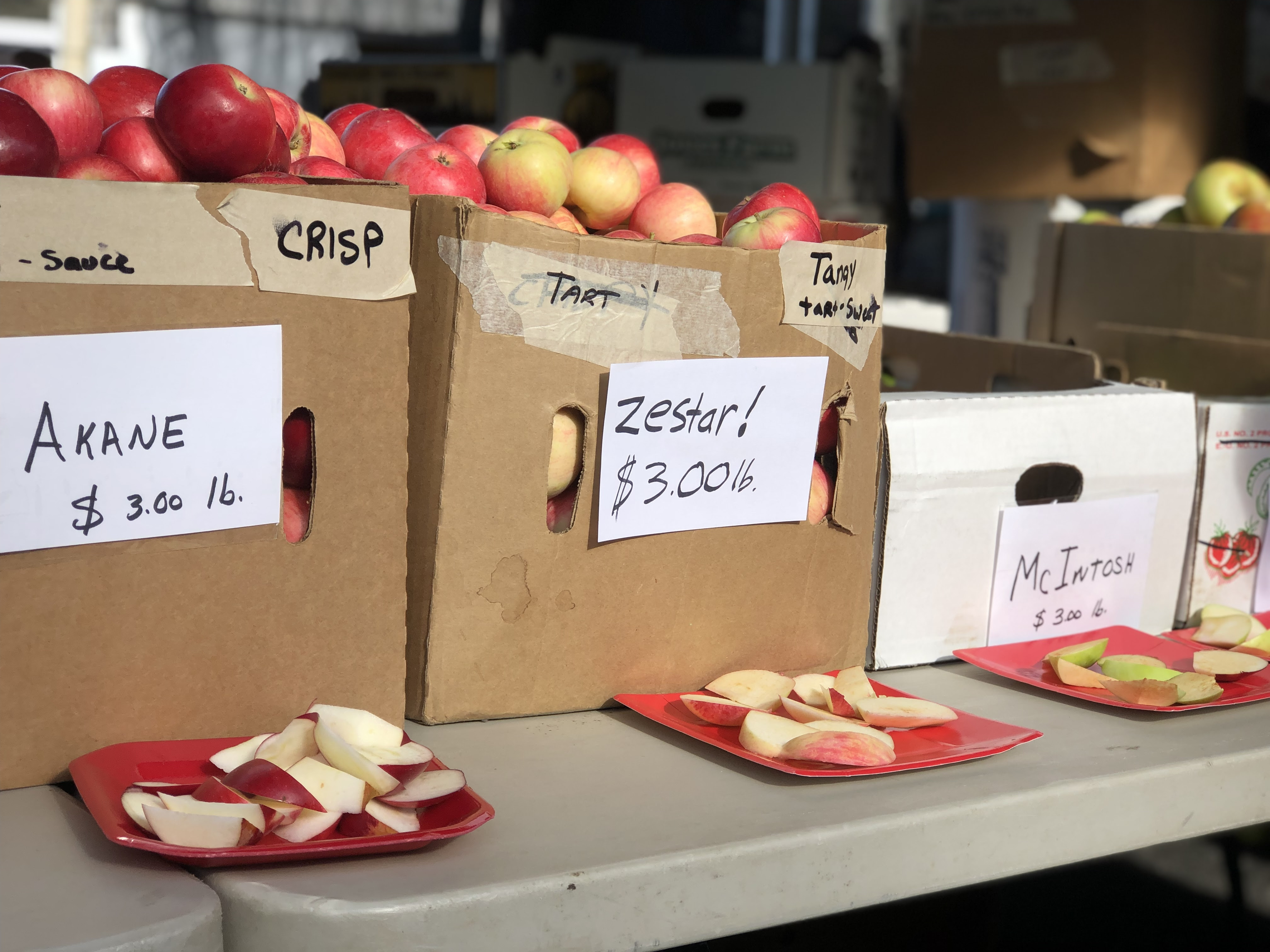 Warm Regards,
The Beaverton Farmers Market
---
We will see you this Saturday at the Market from 8:30 AM-1:30 PM.
---
Fresh Apple Cider
The abundance of fresh apples means another favorite treat in the market: freshly pressed apple cider! Both Greensbridge Gardens and Kiyokawa Family Orchards will have cider in the market this week.
If you're looking to add a little more flavor and complexity to your cider, a new market vendor, Daddy's Cocktail Syrups' Cinnamon Demerara is a great choice. Make it a cocktail by adding Aimsir's Straight Bourbon Whiskey. Served cold or hot this cocktail has all the fall vibes!

Photo credit: Tidy Mom
---
Emergency Preparedness Fair Event
The Sexton Mountain, West Beaverton, and Highland NACs are hosting a free, family-friendly emergency preparedness event on Saturday, October 8 from 12:30 – 3:30 pm at the Beaverton City Library.
Informational booths will include pets in a disaster, managing utilities, disaster sanitation, emergency food storage, mitigating damage to property, and hands-on CPR demonstrations.
Speakers will present useful, ready-to-implement ideas and tools for families in Beaverton to prepare for an emergency.
This event is made possible by the Neighborhood Matching Grant Program.
---
In The Market This Week
Hotdogitty Hot Dog Cart will be joining us this Saturday featuring classic hot dog preparations from around the country.
Koa Roots and Queen Chili will be back on the roster this week.
Missing This Week
Three D Ranch, aka The Garlic Guy, is sold out of garlic for the season, as is Red Hat Melons.
Himalayan Dumplings
Bastion Coffee
Dan Felipe Chorizo
Copyright © 2022 Beaverton Farmers Market, All rights reserved.