Your Feast Awaits
We are so thankful for you. Really. Every single person who reads this little letter is someone who we've been able to share with – share a favorite fruit, a new vegetable, a cooking tip or a new small farm. We get to do what we love, and we learn more every day, because of you. 
Because we are thankful for you, we want to make your day of thanks easier. That's why we've brought back our Thanksgiving Discovery Boxes! 
Whether you are making a feast for 10 or an intimate dinner for two, our boxes include all the vegetables, fruits and herbs you'll need for a beautiful feast. You'll find flavor building vegetables, unusual and spectacular specimens – like Robin's Koginut squash or Brussels sprouts on their stalk – and heirloom apples for your dessert.
Order your box now for pickup next week.
And thank you! 
Allow 24-48 hours for us to make your box. All orders must be placed by Tuesday, November 23rd at 2pm.
Providore Fine Foods is now open every day, 10 am- 7pm.
Rubinette boxes are available for curbside pickup during business hours.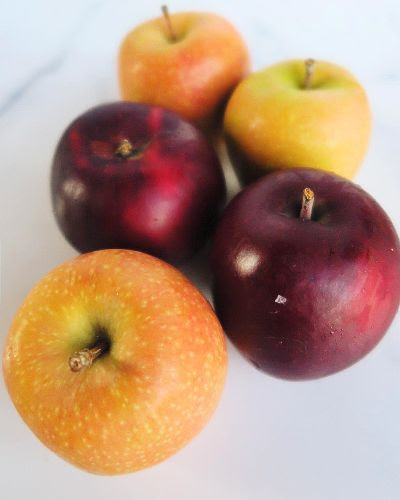 Apple pie time! To be fair, we're more likely to make a crisp than a pie, but either way – this year we've been LOVING a mix of apples in our desserts. Heritage apples like Newtown Pippin, Winesap and Ida Red for classic flavors. Apples that won't break down like Rome – to keep that crust up! And a few Mountain Rose apples for a bit of pink surprise! Our apple crisp: equal parts brown sugar, oats, flour and butter with spices galore sprinkled over a giant pile of apples and baked for an hour. Of course, this pie sure looks good!
Have you ever made pumpkin pie from scratch? We've been doing some research and did you know that most canned pumpkin is actually butternut squash?! Well, if that's the case, why not upgrade your pie with fresh squash that you already know you love! Pick up a little honeynut for more sweetness, or a red Kabocha for more color! And if you roast your own, you can make a dryer puree – which means more yummy cream and eggs! Win/win!
Don't forget the flavor! Confession: we don't make gravy from drippings – we make it from a dark, spiced double stock. That's why we never forget to include stock-making vegetables in our Thanksgiving Discovery Boxes (they're handy for making great stuffing, too!). Simmer onion, leek, carrot and celery trimmings with a few herbs and whole spices (Pastaworks has true cinnamon!) in good chicken stock. Strain and reduce for hours – you'll make the best gravy you've ever had!
Copyright © 2021 Rubinette Produce Market, All rights reserved.
Our mailing address is:
Rubinette Produce Market
2340 NE Sandy Boulevard
Portland, OR 97232