During May a Cena is celebrating spring and the essence of Italian cuisine – spring vegetables and we are continuing to feature Spring Lamb.
Weddings, graduations, proms and of course, MOTHER'S DAY are on our mind. Spring is in full-swing and the essence of our Italian Cuisine is flourishing.
Eating Spring:
Seasonal Vegetables
It is with great fortune that Oregon's artichoke season is just beginning and a Cena Ristorante will take advantage of our local harvest with authentic Italian recipes throughout our season.
Then we have another wonderful harvest: Asparagus, a favorite mushroom—the Morel, and fish.
a Cena wishes to celebrate these across-regions vegetables by presenting Chef Gabe Gabreski's familial and recent recipes. Please come and enjoy this experience at a Cena.
Of course, our regular dinner menu is always available.

Asparagus with Vin Santo Vinaigrette
1 1/2 cups vin santo (about 375 milliliters)
1 tablespoon lemon juice
1 tablespoon Dijon mustard
1/4 teaspoon kosher salt
1/4 teaspoon freshly ground black pepper
1/3 cup extra-virgin olive oil
1 bunch asparagus, bottom ends trimmed
6 leaves of Bibb lettuce
1 hard boiled egg, sliced
1/4 cup chopped toasted almonds
In a small saucepan over medium heat, reduce the vin santo to 1/3 cup, about 10 minutes.
In a small bowl, combine the reduced vin santo, lemon juice, mustard, salt, and pepper. Whisk to combine, making sure the mustard is fully dissolved. While whisking slowly drizzle in the olive oil.
Bring a large pot of salted water to a boil over high heat. Add the asparagus. Cook until just tender, about 3 minutes. Transfer the asparagus to a bowl filled with ice water and let cool, about 3 minutes. Remove from water and pat dry with paper towels.
Place the lettuce leaves on a serving platter and top with the asparagus, then the slices of hard boiled egg and chopped almonds. Drizzle the entire platter with the vinaigrette. Serve immediately
Yield: 4 to 6 servings
Scarmorza Stuffed Morels
Tempura Batter
2 cups AP Flour
2 tsp. baking powder
2 TBLSP Corn Starch
2 1/2 – 2 3/4 soda water
Mix all dry ingredients well. Add soda water gradually until desired thickness. Stuff the morels with small chunks of scarmoza, chill. When ready to serve, drop in tempura batter and lightly fry. Season with sea salt & lemon.
Morel Risotto
2 tablespoons butter
2 cloves chopped fresh garlic
2 cups sliced morel mushrooms
2 tablespoons butter
2 cups Arborio rice
2 cups Nebbiolo or red wine
5 cups vegetable broth
2 cups freshly grated Parmesan cheese
salt
freshly ground black pepper
In a large skillet over medium-high heat, melt 2 tablespoons butter. Cook and stir the garlic and mushrooms in the melted butter for three minutes, being sure to brown the mushrooms little. Set aside.
Meanwhile, melt 2 tablespoons butter in a large saucepan over medium heat. Stir in rice and cook for 1 to 2 minutes. Deglaze with red wine. Slowly add vegetable broth 1/2 cup at a time, stirring frequently and allowing all the liquid to be absorbed before adding more broth. Continue cooking until the rice is tender to the tooth. Stir in the mushroom mixture and heat through, about 1 minute. Stir in cheese and season with salt and pepper to taste.
Serves 6
Spring Chinook Salmon, Asparagus, Potato puree, Fiddlehead Vignarola, Rhubarb agro-dolce
Four 6oz salmon filets Serves 4
Vignarola
1 bunch of asparagus, sliced in 2 inch pieces
1 cup fiddlehead ferns
2 artichoke hearts, sliced into quarters
1 tsp chopped garlic
2tbs extra virgin olive oil
2tbs chopped mint
1/2 lemon juice
Rhubarb agro-dolce
2 cups small diced rhubarb
1/2 cup honey
1/4 cup vinegar
red wine
For the agro-dolce put the honey, vinegar, and rhubarb in a pan and simmer until rhubarb is soft. The compote can be served room temperature. (Adjust sweetness to your liking; you can always add more honey).
In a stainless steel pan add the olive oil, garlic and sauté on medium heat, after a minute add the vegetables and slowly cook until tender. Add the chopped mint and lemon juice and set aside.
In a hot pan sear the fish (always season with salt and pepper) and cook skin side up for 8-10 minutes depending on how rare you like your fish.
In the restaurant we serve this dish over potato puree, but rice is a good substitute. Or without starch is also good.
A Hint from Gabe
We use a lot of Parmesan cheese. We buy good quality cheese that we grate ourselves, and we grate it right down to the rind. We save the rinds for other dishes. If you've been throwing away your rinds, you've been missing out on putting them to a delicious second use. Here are some ways to use the rinds:
Throw them into tomato sauce when cooking. They'll impart some flavor. Pull them out and discard when the sauce is done cooking.
Place them in a jar, pour olive oil over them (perhaps add some garlic cloves, too) and make Parmesan-infused olive oil. Great for dipping bread into.
Throw them into bean soups or Minestrone. Discard the rinds before serving.
Throw them into the pot when you're making stock.
Add to stew. Remove rinds before serving.
Use them to flavor steamed artichokes. Add some chicken broth, onion and lemon juice and a cheese rind or two, and it's a delicious broth!
Put a rind in the pot when you're cooking risotto or other rice. Remove the rind before serving.
---
Lamb
For many Italians, spring without lamb on their table is hard to imagine. The tradition of eating lamb during this season is important for its symbolism; religious, historic, and cultural-economic-even political. We will not argue with any of that; besides it tastes so good.
Chef Gabreski partners with SuDan Farms, one of our farmer vendors, for our featured cuts of Lamb!
Chef Gabe prepares the locally grown, grass fed, hormone free, USDA SuDan lamb in many of his authentic Italian recipes. Join us for this very special menu. Of course, our entire regular menu is available every evening.
If you would like to read more about SuDan Farms visit their website sudanfarm.com.
---

Special Hours
Mother's Day Sunday, May 12th we will be open from 3pm to 9pm.
Memorial Day We will be closed Monday, May 27, 2019 to remember those who fought and died to insure the freedom of The United States of America.
Open for Lunch
11:30am – 2:30pm, Tuesdays through Saturday. Here is a sample of our current lunch menu. There will always be something new to try as our menu does change frequently.
Kiosk and Walking Map
The Sellwood Westmoreland Business Alliance has constructed an informational 3-sided kiosk placed permanently at the key intersection of Milwaukie and Bybee on the NW corner. One side displays the newly created map showing our SWBA members, while the second panel displays the same map but with neighborhood resources and amenities such as parks, walking trains, library, community center, etc. All three panels feature upcoming neighborhood events.
More Local Farmers
Grazie to SuDan Farms (our featured lamb purveyor), Rising Stone Farms and Bonnie Stern of Fruitlandia Farms (our featured farmers), and of course, Creative Growers, Sweet Briar Farms, Braesco, Weppler, Backyard Bounty Farm, and Deep Roots Farm for their wonderful products and their great service.
If you are aware of any upcoming Sellwood events or happenings, shoot us an email or call Chris at a Cena. We would be pleased to include them in our next communication. Don't forget to read about all the fun, both business and social by going to sellwoodmoreland.com.
---

A Cena's individualized attention
Plan a Party
Intimate and Special – Allow us to plan a Party that your guests will appreciate and remember. Contact Jonathan or Eugene at a Cena and together you can design your next private party. In-house, catered or in a Cena's Private Dining Room, FESTA. We will do the food, service and the clean-up.
A Great Gift
Gift cards are available for that special someone; family celebration, birthdays, graduation, anniversary, business or a special 'thank you'. Order a gift card at your next dinner or over the phone. Again, a gift card is a thoughtful and delicious present especially for springtime and for Mother's Day.
---
We are a community minded…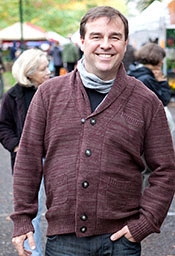 …and thoughtful business. We have committed ourselves to using the freshest of ingredients. Most of our food is prepared in our own kitchen and many items are provided by other Portland and Oregon businesses. We strive to be a good Sellwood neighbor. We will endeavor to continually raise the standards of our restaurant. We will meet and surpass your expectations.