a Cena's JUNE & JULY BLAST is celebrating an inspiration from the Italian Cuisine that is both delicious and intriguing—the artichoke. Artichokes are abundant now in America and Chef Gabreski will use them in several of his recipes.
Artichokes are one of chef's favorite foods
for its uniqueness and versatility
Carciofi alla giudía (literally "Jewish style artichokes") is one of the most famous dishes of the Roman Jewish cuisine.
This recipe originated in Rome and is basically a deeply fried artichoke. Especially suited for this dish are the Artichokes of the Romanesco variety, which are harvested between February and April in the coastal region between Ladispoli and Civitavecchia, northwest of Rome. They are a specialty of the Roman Ghetto, where Jewish restaurants prepare them each year during spring. Here in Oregon we are able to get and use baby artichokes for several months. They are from Northern California.
a Cena wishes to celebrate this Roman region tradition by presenting this and other of Chef Gabe Gabreski's familial and recent recipes. Please come and enjoy this experience at a Cena.
Of course our regular dinner menu is always available.
---

Carciofi alla Giudia
There's no telling how old this recipe is—it could conceivably date back to Imperial times, when the Roman Jewish community numbered about 50,000. In any case, Carciofi alla Giudia are a wonderful treat: they look like golden sunflowers and their leaves have a delicious nutty crunchiness. This recipe uses large artichokes. If you can get baby ones, try it. Either way there will be a "hit". Download recipe here.
Crostata of Rhubarb and Strawberries
Golden-brown, a bit of tart, a bit of sweet fit for the summer. Download recipe here.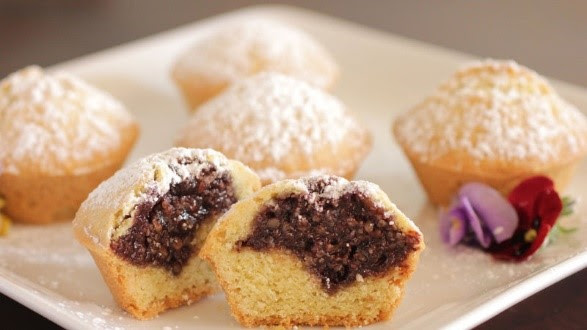 Bocconotti Calabresi
"Small bites" filled with chocolate, almonds, cinnamon, and cloves. Download recipe here.
---
During June and July, a Cena is celebrating the cuisine of Lazio. This includes Rome, capital and largest city of Italy.
Chef Gabe Gabreski and the staff of a Cena Ristorante welcome you to enjoy the food and wine of this dual-personality region and city. At once, Rome and this very Roman area blend the ancient and the modern.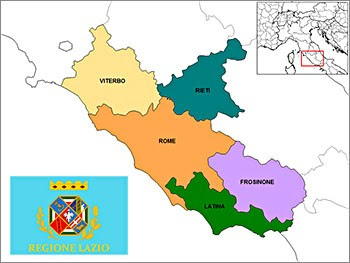 Lazio
Much of Lazio is flat or rolling. Agriculture, crafts, animal husbandry and fishery are the main traditional sources of production. Agriculture is characterized by the cultivation of wine grapes, fruit, vegetables and olives. Chef Gabe will use these cultural, healthy and delicious products in several of our menu items and for specials throughout this season.
The Italian word Lazio descends from the Latin word Latium. The name of the region also survives in the tribal designation of the ancient population of Latins, Latini in the Latin language spoken by them and passed on to the city-state of Ancient Rome.
Left: panorama of the Roman Campagna. Right: The Appian Way (Via Appia), a road connecting Ancient Rome to the southern parts of Italy, remains usable even today.
---
Open for Lunch
11:30am – 2:30pm, Tuesday through Saturday. Here is a sample of our current lunch menu. There will always be something new to try as our menu does change frequently.
More Local Farmers
Grazie to SuDan Farms, Rising Stone Farms and Bonnie Stern of Fruitlandia Farms (our featured farmers). And of course, Creative Growers, Sweet Briar Farms, Braesco, Weppler, Backyard Bounty Farm, and Deep Roots Farm for their wonderful products and their great service.
---

A Cena's Individualized Attention
Plan a Party
Intimate and Special – Allow us to plan a Party that your guests will appreciate and remember. Contact Eugene or Jonathan, and with Chef Gabe you can design your next private party. In-house, catered, or in FESTA, a Cena's Exciting Private Dining Room. We will do the food, service and clean-up.
A Great Gift
Gift Cards are available for that special someone; family celebration, birthdays, anniversary, business or a special 'thank you'. Order a gift card at your next dinner, or over the phone. Again, a gift card is a thoughtful and delicious present throughout 2019, AND DON'T FORGET, Sunday JUNE 16, 2019-FATHER'S DAY.
---
We are a community minded…
…and thoughtful business. We have committed ourselves to using the freshest ingredients. Most of our food is prepared in our own kitchen and many items are provided by other Portland and Oregon businesses. We strive to be a good Sellwood-Moreland Neighbor. We will endeavor to continually raise the standards of our restaurant. We will meet and surpass your expectations.
Salute!