A new way to make reservations
for a Cena Ristorante
We are thrilled to announce our new reservation system, Tock.
With this new system, you now have a modern and easy way to make a reservation with us. It also provides us with the ability to welcome you with the utmost preparation.
In order to make a reservation, simply visit our website, find us on exploretock.com, or on the Tock app (iOS and Android).
Opentable reservations that were made before November 3rd, 2021 are still valid and have transferred over to Tock.
As always, walk-in diners are welcome! We look forward to seeing you again soon.
Cheers,
a Cena Ristorante
---
We are a community minded…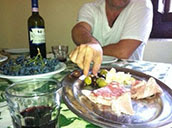 …and thoughtful business. We have committed ourselves to using the freshest of ingredients. Most of our food is prepared in our own kitchen and many items are provided by other Portland and Oregon businesses. We strive to be a good Sellwood neighbor. We will endeavor to continually raise the standards of our restaurant. We will meet and surpass your expectations.


Our mailing address is:
A Cena Ristorante e Enoteca
7742 SE 13th Ave
Portland, Oregon 97202