BenvenutoOn Tuesday, August 4th 2020 we will be reopening our restaurant for patio dining, delivery, and to-go orders.

We are only taking reservations at this time to ensure proper social distancing for guests and staff. Please make a reservation online or call us at (503) 206-3291 to reserve a table or join our waitlist. We will call you once your table is ready.

At a Cena, we share a love for elegantly cooked meals enjoyed with friends and family. We value fresh ingredients, local Pacific Northwest farmers, consistency, and seasoned and personable staff. We proudly serve handmade pasta and cured meats, daily prepared focaccia bread, a well-matched wine list. Our aim is to offer our guests a fine-dining experience with the comfort and warmth of an Italian country kitchen. Consistent with our mission, we take the Coronavirus (COVID-19) very seriously, and we are closely monitoring the situation to ensure that we take the necessary, preventative steps to mitigate risks and protect our guests and employees.

The safety, health and well-being of our guests and employees are our highest priority, and we are working diligently throughout our organization to ensure the highest possible standards of precautionary health measures for everyone. Read about how we are ensuring your safety while maintaining our high service standard.

We are delighted to serve our guests and our community, and we look forward to seeing you soon.

Sincerely,

Chris Custer
Owner

We are a community-minded…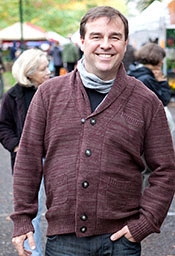 …and thoughtful business. We have committed ourselves to using the freshest of ingredients. Most of our food is prepared in our own kitchen and many items are provided by other Portland and Oregon businesses. We strive to be a good Sellwood neighbor. We will endeavor to continually raise the standards of our restaurant. We will meet and surpass your expectations.


Our mailing address is:
A Cena Ristorante e Enoteca
7742 SE 13th Ave
Portland, Oregon 97202
Copyright (C) 2020 A Cena Ristorante e Enoteca All rights reserved.