Winter is passed, and SPRING is here.
a Cena is open
for that in-House dining experience
that we have been waiting for
Some of our menu items clockwise from top-left: Burrata with Grilled Broccoli Rabe, Bistecca with Crisp Polenta, and submitted by our customer Penne with Fennel Sausage, Campanelle with Braised Beef Sugo.
Of course our entire regular dinner menu is always available.
---

a Cena's Individualized Attention
A Great Gift
Gift cards are available for that special someone; family celebration, birthdays, anniversary, business or a special 'thank you'. Order a gift online.
---
Safety and Health for All
The safety, health and well-being of our guests and employees are our highest priority, and we are working diligently throughout our organization to ensure the highest possible standards of precautionary health measures for everyone.
We are closely reviewing guidance from the Centers for Disease Control and Prevention (CDC), as well as local health authorities, to ensure that we are doing everything possible to keep people safe. We are committed to making decisions to best care for the health and safety of our guests and employees. As part of this commitment, we have taken important steps to elevate our focus beyond our customary high standards of sanitation, cleaning, and employee hygiene in response to COVID-19:
Cleaning & Sanitizing
Social Distancing
Personal Protective Equipment
We have established frequent, internal company-wide communications to:
Inform and educate our employees related to guest and employee polices on this illness;
Provide the latest guidance provided by the CDC and all local and state public health authorities on COVID-19;
Communicate specific and enhanced procedures for preventing the spread of the virus and steps to reduce the risk of exposure and other guidelines as this situation evolves. This includes testing of the entire team.
As this is a fluid situation, we believe that communication and preparedness are crucial in providing the necessary support and resources for all of our co-workers and guests, and to position our company with the ability to quickly validate information and respond in a timely manner.
We want you all to know that your health and safety are our highest priority. We remain committed to following the guidance from public health officials and stand ready to take every precaution necessary to keep you, our guests, and our employees safe. Read more.
---
We are a community-minded…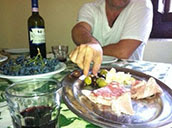 …and thoughtful business. We have committed ourselves to using the freshest of ingredients. Most of our food is prepared in our own kitchen and many items are provided by other Portland and Oregon businesses. We strive to be a good Sellwood neighbor. We will endeavor to continually raise the standards of our restaurant. We will meet and surpass your expectations.


Our mailing address is:
A Cena Ristorante e Enoteca
7742 SE 13th Ave
Portland, Oregon 97202
Copyright (C) 2021 A Cena Ristorante e Enoteca All rights reserved.