Winter is passed, and SPRING is here.
By popular demand,
a Cena is open six days a week now,
closed only on Mondays.
a Cena is open
for that in-House dining experience
that we have been waiting for
Check out our entire regular dinner menu.
---

a Cena's Individualized Attention
A Great Gift
Gift cards are available for that special someone; family celebration, birthdays, anniversary, business or a special 'thank you'. Order a gift card online.
---
Safety and Health for All
The safety, health and well-being of our guests and employees are our highest priority, and we are working diligently throughout our organization to ensure the highest possible standards of precautionary health measures for everyone.
We are closely reviewing guidance from the Centers for Disease Control and Prevention (CDC), as well as local health authorities, to ensure that we are doing everything possible to keep people safe. We are committed to making decisions to best care for the health and safety of our guests and employees.
---
We are a community-minded…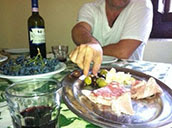 …and thoughtful business. We have committed ourselves to using the freshest of ingredients. Most of our food is prepared in our own kitchen and many items are provided by other Portland and Oregon businesses. We strive to be a good Sellwood neighbor. We will endeavor to continually raise the standards of our restaurant. We will meet and surpass your expectations.


Forward
 this email to a friend
Our mailing address is:
A Cena Ristorante e Enoteca
7742 SE 13th Ave
Portland, Oregon 97202