From February 12-14, we are celebrating
Valentine's Sweetheart Weekend
Febbraio e Arrivata
San Valentino is upon us, a Cena will be celebrating on February 12, 13 and 14. We'll be preparing some special menu items along with a lot of our favorite dishes. Beef, Scallops and al Forno Pastas.
Although St. Valentine was originally from Rome and Italy has a history of famous lovers such as Romeo and Juliette, there is not much celebration of Valentine's Day. Valentine's Day was once celebrated as a spring festival and young people would gather in gardens to listen to music and poetry before strolling off with a "valentine" partner. In some places in Italy it is a custom to become engaged on Valentine's Day. You may also find shops selling special candy for Valentine's Day.
Valentino was, according to legend, a Christian priest who was consigned to a Roman noble by the Emperor Claudius. He cured the noble's daughter's blindness, at which point the family converted and Claudius had them all executed. Valentino first, and on the eve of his execution he wrote the girl a letter, signing it "from your Valentine." After his death a pink almond tree, symbol of abiding love, blossomed near his grave. A beautiful testament for the most romantic of days. Auguri per San Valentino!
a Cena Ristorante Valentine's Day weekend Sweethearts Dinner
— Available February 12th thru 14th —
Four Courses and Wine $175 (chose 2 items from each course)
Pre-order your Valentine's for pick-up via Tock
Also available via Toasttab
— Antipasti —
Crab
Grilled baguette(2pc.), Oregon Dungeness crab, mascarpone, blood orange, agrumato
Caprese
Grilled baguette(2pc.), Roasted Roma tomatoes, Stracciatella, saba, basil
— Primi —
Mezzaluna
Beet infused mezzaluna w/ ricotta filling, roasted chioggia beets, poppy seed butter, shaved Grana Padano
Campanelle
Nebbiolo braised wild boar sugo, crispy shallots, Pecorino Romano, parsley
Agnolotti
Corn & Mascarpone Raviolini, Butter-Poached Maine Lobster, chive ($13 upcharge per item)
— Secondi —
Trota
Pan seared Washington Rainbow trout, roasted brussel sprouts, winter squash, beets, saba, toasted pecans
Fileto
Pan-seared Painted Hills Farm beef tenderloin, whole wheat gnocchi, wild mushrooms, marsala jus
Parmigiana
Eggplant Parmesan, basil, House-made Mozzarella, Pomodoro
— Secondi —
Cannoli
Nutella Ricotta filling, toasted hazelnuts, amarena cherries
Panna Cotta
Buttermilk, blood orange marmelata, candied zest
— Vino —
(Choose a bottle)
2019 Caves São João Brut Rose
Intense aromas of toast and rose petal before silky notes of tart strawberry and stony mineral flavors take over.
2018 Leah Jorgensen Cellars Rose of Cabernet Franc
From the Queen of Oregon Cabernet Franc. This southern Oregon gem starts off bright, tart and citrusy with persistent pink grapefruit. Then meanders into herbal and umami flavors with a little bit of texture on the finish.
2017 Pra Straforte Soave Classico
Strong notes of pear dominate the nose initially, but with aeration nuances of chamomile and white flowers also emerge. Fresh and lively with bright citrus flavors and mineral nuances, plus a savory edge that adds interest on the juicy, tactile mouthfeel.
2016 Loredan Gasparini Della Casa
Classic Bordeaux blend with a small percentage of Malbec. Beautiful notes of wild berries, tobacco, leather, bitter chocolate and clove on the nose. Powerful balanced full-bodied mouthfeel with plenty of fruit and delicate tannins.
Of course our regular dinner menu is always available to-go.

A Cena's individualized attention
A Great Gift
Gift cards are available for that special someone; family celebration, birthdays, anniversary, business or a special 'thank you'. Order a gift card over the phone or online.
Again, a gift card is a thoughtful and delicious present in 2021 especially for Valentine's.
We will be closed on Sunday, February 7th.
---
We are a community minded…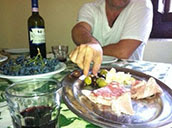 …and thoughtful business. We have committed ourselves to using the freshest of ingredients. Most of our food is prepared in our own kitchen and many items are provided by other Portland and Oregon businesses. We strive to be a good Sellwood neighbor. We will endeavor to continually raise the standards of our restaurant. We will meet and surpass your expectations.


Our mailing address is:
A Cena Ristorante e Enoteca
7742 SE 13th Ave
Portland, Oregon 97202
Copyright (C) 2021 A Cena Ristorante e Enoteca All rights reserved.