WELCOME TO THE HOLIDAYS…
a Cena wishes to celebrate the holidays with the global foods that Italians use in many recipes throughout Italy. Chef Gabe Gabreski's familial recipes will be highlighted, presenting wild game and autumn vegetables throughout November and December. Join us and partake in many of his specialties. His family traditions and later culinary experience are something that he will share with us throughout the holidays. Please come and enjoy this experience at a Cena. Of course, our regular dinner menu is always available.
---
The Holidays
highlighting our private dining room…
FESTA
[a feast, a festival, a party]
Not Too Late to Plan a Holiday Party. Intimate and Special – Let us plan a Holiday or 2020 party that your guests will appreciate and remember. If you or your social or business group are interested in a Cena Ristorante's private dining room and party space, contact Jonathan or Eugene at a Cena and together with Chef Gabe you can design your next private party. Here are some sample party items…
ANTIPASTI
Bruschetta – roasted mushroom, marsala, cream, parmesan
Bruschetta – braised short rib, arugula, horseradish crema
Arancini – four cheese, gorgonzola, fontina, parmesan, mozzarella
Panzarotti – fried ravioli stuffed with fontina cheese, shaved parmesan
Polpettine – House-made Meatballs, Pecorino, Rosemary focaccia
Antipasto Platter – Assorted Salumi, Cheeses, Olives, Pickled Vegetables
Fritto Misto – Fried Prawns, Calamari, artichoke hearts, olives, lemon caper aioli
Polipo – Grilled Octopus, Mama Lil's Peppers, Salsa Verde, olives, Arugula, garbanzo puree
Grilled Prawns – Served chilled with Salsa Verde & Lemon
INSALATA
Caprese – Burrata, Oven-roasted Tomato, Basil, Olive Oil, Saba
Casa – Field Greens, hazelnut, Honey-poached pear, caprino, champagne vinaigrette
Romano – Grilled Romaine salad, crumbled gorgonzola, Warm bacon, chive
Finnochio – Shaved fennel & apple, Grana Padano, arugula, lemon
Spinach – Served warm, walnuts, crumble goat cheese, balsamico
PRIMI
Rigatoni – butternut squash, sage, cream, parmesan
Risotto – wild mushroom, fontina, red wine
Tagliatelle – veal Bolognese, parmesan
Potato Gnocchi – veal Bolognese, parmesan
Ravioli – Butternut squash, brown butter, sage, pecorino
Spaghetti – Pomodoro, Basil, Parmesan (+meatballs upon request)
Garganelli alla Norcia – House-made fennel sausage, Cremini, white wine, cream, Hand-rolled penne pasta
Agnolotti – Corn & Mascarpone Raviolini, Butter-Poached Maine Lobster (available family style only) Bucatini Amatriciana- Smoked bacon, pecorino, red onion, black pepper
Spaghetti – clams, parsley, garlic, white wine
Short rib Ravioli – red wine, porcini, grana Padano
Bucatini – shrimp, chili, tomato, basil
Beet Ravioli – poppy seed, butter, parmesan
Pappardelle – rabbit, rosemary, garlic, white wine
SECONDI
Tagliata – Grilled Beef Tenderloin, Olive Oil, Rosemary, Contorni (choice of)
Lamb Shank – Crispy Polenta, Asparagus, Pine Nut Gremolata
Pan Seared Halibut – Potato Puree, Lemon Caper Butter, Pomodoraccio
Chicken Piccata – Lemon, Caper, Swiss chard, Potato Puree
Chicken Parmesan – House-made Mozzarella, Pomodoro, Basil
Capesante – Pan seared scallops, prosecco risotto, roasted beets, arugula
Parmigiana – Eggplant Parmesan, basil, House-made mozzarella, Pomodoro
Filet Mignon – porcini, mashed potato, wild mushroom, marsala
Baked Salmon – roasted fingerlings, swiss chard, mushrooms, salsa verde
Straccoto – Sangiovese braised beef short rib, Hand cut pappardelle, Horseradish Crema
Anatra – Crispy duck breast, parmesan polenta, kale, cherries, black pepper
Carne di Cervo – Pan seared Venison loin, butternut squash puree, huckleberry
CONTORNI
Funghi – Sautéed mushrooms, Garlic, Thyme, White wine
Caponata – Sicilian eggplant, Golden raisins, chili, capers, garlic, pine nuts
Steamed Broccoli – Lemon, Olive oil, Sea salt
Brussel Sprouts – fried in olive oil, crispy smoked bacon
Delicata squash – roasted with sage, balsamic onions
DOLCI
Panna Cotta – Amarena cherries, whipped cream
Tiramisu – Mascarpone layered with coffee-soaked ladyfingers, dark rum & cocoa
Cannoli – Bellwether Farms Ricotta, Pistachio, chocolate Butterscotch Budino- sea salt caramel, whipped cream
Featured Region
Emilia-Romagna
During November and December—throughout the Holidays—we will be celebrating the cuisine of Emilia-Romagna. One of the twenty regions of Italy.
December is the month that brings us back to more traditional foods. a Cena Ristorante will continue to bring you exciting food and wine choices throughout these Holidays utilizing many items that the Emilian-Romagnol people have long cherished. Chef Gabe has expanded his unique meat recipes that also will be highlighted as more veal. lamb, venison, rabbit, beef, and pork become available. And let us not forget our fish and vegetarian entrées.
A Few Words About Emilia-Romagna
Dubbed "Italy's Food Basket," Emilia-Romagna is home to many of the country's most renowned foods: Prosciutto di Parma, Mortadella, Parmigiano-Reggiano, and balsamic vinegar to name a few. Cooks in the region have a penchant for rich flavors and spectacular presentation, and are especially skilled at making all manner of stuffed pasta by hand. In Emilia-Romagna the honor roll of foods is led by pasta, made with fresh eggs and rolled by hand by a sfoglina to achieve perfect texture. The universal primo is tagliatelle con ragù, though cooks consider the meat sauce personal works of art. Bologna, whose specialties include green lasagne and curly gramigna, disputes with Modena the creation of tortellini (modeled after Venus's navel). Parma's prides are large square envelopes called tortelli and the rounded anolini, which are also made in Piacenza, home of the bean-shaped pisarei. Ferrara's cappellacci (big hats) are stuffed with squash. Reggio's cappelletti (little hats) differ from pasta of the same name in Romagna, whose specialties include the rolled tubes called garganelli and slim dumplings called passatelli. Pasticcio is pasta with other ingredients baked in a pie, though interpretations vary.
---

Make your own traditional Biscotti, Pine Nut Tarts, and Bocconotti with Chef Gabreski's recipes.
Biscotti
Make your own homemade biscotti with Chef Gabreski's recipe. Download recipe here.
Pine Nut Tarts
Tarts like this one are available in many pastry shops in southern Italy. Make your own from Chef Gabreski's recipe. Download recipe here.
Bocconotti Calabresi
"Small bites" filled with chocolate, almonds, cinnamon, and cloves. Download recipe here.
---

Decemberville 2019
Shop + Eat + Play In Sellwood Moreland Saturday Dec. 7th. From 11:30am to 2:30pm at a Cena. From 11:30am to 5:00pm at our sister pizzeria Sunny's Pizza. Visit the Sellwood Moreland Decemberville webpage for more info.
Kiosk and Walking Map
The Sellwood Westmoreland Business Alliance has constructed an informational 3-sided kiosk placed permanently at the key intersection of Milwaukie and Bybee on the NW corner. One side displays the newly created map showing our SWBA members, while the second panel displays the same map but with neighborhood resources and amenities such as parks, walking trains, library, community center, etc. All three panels feature upcoming neighborhood events.
More Local Farmers
Grazie to SuDan Farms, DeNoble Farms, Creative Growers, Sweet Briar Farms, Yamhill River Farms, Morning Star Farm, Backyard Bounty Farm, Wild Side, Bonnie Stern, Nature's Old Time Meats and Deep Roots Farm for their wonderful products and their great service.
If you are aware of any upcoming Sellwood events or happenings, shoot us an email or call Chris at a Cena. We would be pleased to include them in our next communication. Don't forget to read about all the fun, both business and social by going to www.sellwoodwestmoreland.com.
---

A Cena's Individualized Attention
Open for Lunch
11:30am – 2:30pm, Tuesday – Saturday. Here is a sample of our current lunch menu. There will always be something new to try as our menu does change frequently.
A Great Gift
Gift cards are available for that special someone during the holidays, family celebrations, birthdays, anniversaries, business or "thank you". Order a gift card at your next dinner or over the phone. Again, a gift card is a thoughtful and delicious present now or in 2020.
---
Holiday Hours
a Cena will be closed on Thanksgiving Day November 28th, and Christmas Day, 2019. a Cena will be closed also on January 1, 2020.
a Cena will be closed for private events on Sunday November 24th, Friday December 6th, and Saturday December 7th.
We wish you all a healthy and happy holiday season!
---
We are a community minded…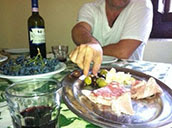 …and thoughtful business. We have committed ourselves to using the freshest ingredients. Most of our food is prepared in our own kitchen and many items are provided by other Portland and Oregon businesses. We strive to be a good Sellwood-Moreland Neighbor. We will endeavor to continually raise the standards of our restaurant. We will meet and surpass your expectations.
Salute!