a Cena Ristorante is offering options to enjoy the food you have loved and the food we love to offer you, for your holiday celebration…
Our Regular Menu
is available for to-go or delivery.
Order through acenapdx.com.
Our Four-Course Dinner for Two
is available for pre-order for pick up on New Year's Eve: Visit ToastTab. Schedule the pick up for Thursday 12/31, anytime between 4pm and 9pm.
B done with 2020
New Year's Eve Dinner for Two
$165
Bubbles or Barbera
Choose 1
– NV Loredan Gasparini Prosecco –
– 2017 Pio Cesare Barbera d'Alba –
1st Course – Burrata w/ marinated and roasted Beets, purple kale, walnuts, saba, evo & Lobster Bisque w/ chive, evo
Choose 1
– Burrata & Bisque –
– 2 Burrata –
– 2 Bisque –
2nd Course – Lasagna alla Bolognese w/ mozzarella, parmigiana and Basil & Butternut squash Mezzaluna w/ wild mushrooms, Brown Butter, shaved Grana Padano
Choose 1
– Lasagna & Mezzaluna –
– 2 Lasagna –
– 2 Mezzaluna –
3rd Course – Braised Oxtail w/ roasted fingerlings, horseradish crema, chive & Baked Salmon w/ farro, purple kale, oven-roasted tomatoes, Beurre Monte
Choose 1
– Oxtail & Salmon –
– 2 Oxtail –
– 2 Salmon –
4th Course – Butterscotch Budino w/ whipped cream, caramel & Brown Butter Panna Cotta w/ candied pecans and whipped cream
Choose 1
– Budino & Panna Cotta –
– 2 Budino –
– 2 Brown Butter Panna Cotta –
---
We are a community minded…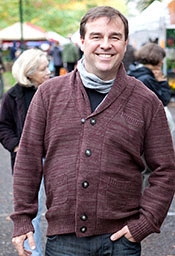 …and thoughtful business. We have committed ourselves to using the freshest of ingredients. Most of our food is prepared in our own kitchen and many items are provided by other Portland and Oregon businesses. We strive to be a good Sellwood neighbor. We will endeavor to continually raise the standards of our restaurant. We will meet and surpass your expectations.