PI DAY is here!  Celebrate with us on Tuesday 3.14!
This is our absolute favorite holiday of the year and we're excited to celebrate with you all. We get to get real wild and make a zillion different types of pie. We'll have all the classics – Heirloom Apple, Bourbon Pecan, Banana Cream, Tart Cherry, Chocolate Chess, Blackberry Raspberry Streusel, etc. Or, try one (or more!) of our specialty seasonal pies – Meyer Lemon Chiffon, Chocolate Oatmeal, Key Lime, Blueberry Victoria, Boston Cream, Grapefruit Meringue, and lots lots lots more!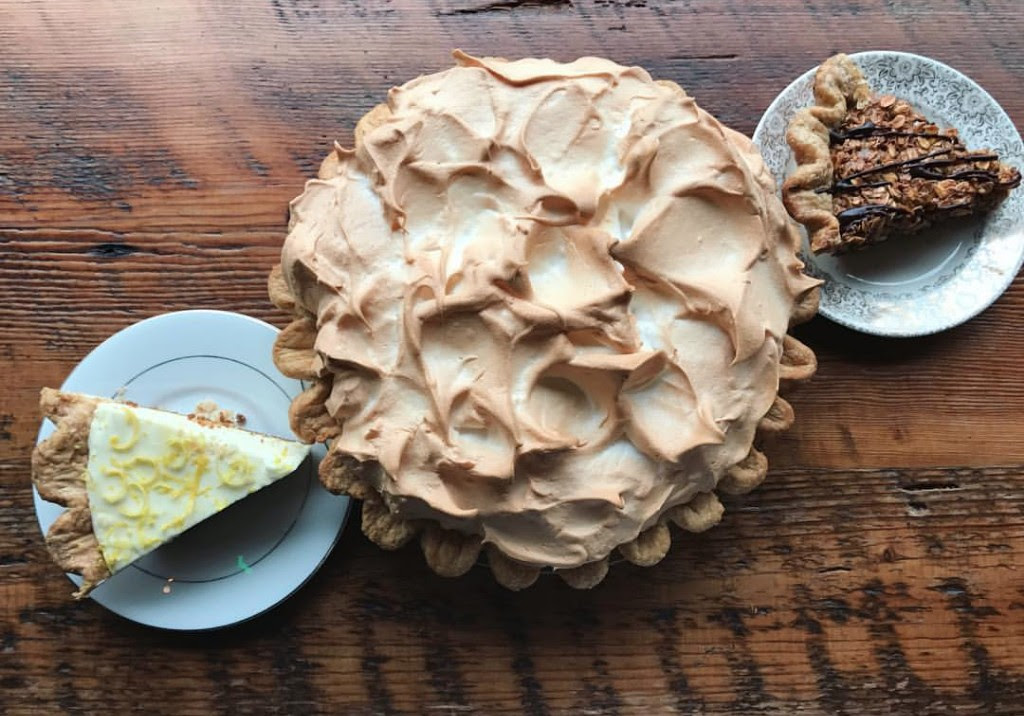 We're offering a Pi Day special on slices — get 3 slices for $14! (Haha, get it?!) Plus we'll have a lil Cherry Gin Rickey for $3.14 at Division for the cocktail lovers in the neighborhood.
Downtown will be open 7am-5pm and Division 8am-10pm so pop over and treat yo self to 3 slices in the name of PI and MATH and even EINSTEIN. (Fun fact – 3.14 was his birthday!)
See all you nerds on 3.14! AND HAPPY PI DAY TO ALL!
Back at the PSU Farmer's Market
This Saturday, March 11th, Lauretta Jean's will be back at the PSU Farmer's Market! Every Saturday, you can find us at the Market with an assortment of pies, quiche, hand pies, biscuits and biscuit sandwiches, brownies, and our famous cherry lemonade.
We love the farmer's market community (we've missed you all!) and we are thrilled to be back. We'll be there every Saturday, rain or shine, with pie and treats for all!
Pot Pie Fridays
Friday has always been the best day of the week, and somehow it just got better. Because, Lauretta Jean's now offers Pot Pie Fridays!
Every Friday we'll have a rotating selection of cozy and delicious pot pies. We'll have everything from classic chicken pot pie to a spicy pork verde pot pie and a vegetarian broccoli and potato pot pie. We've even been known to make a MAC N CHEESE POT PIE from time to time. (YASSSSSS)
Essentially, we are taking all of your favorite winter comfort foods and we are enveloping them in a warm and buttery herb pie crust. It doesn't get better than this. So, come one and all. Eat pot pies with us on Fridays.
Lauretta Jean's
3402 SE Division St, Portland, OR, United States
Portland, OR 97202